January 19, 2018
Ljubljanski Dvor has such a good location, just off Kongresni trg and by the river, with the outside tables getting good views of the Castle and Shoemakers' Bridge, that it's easy to dismiss it as an overpriced tourist trap, somewhere no one who knew better would go.
But this would be a mistake, as the prime site isn't reflected in the prices or attitude. Instead it's the kind of solid, high value-for-money place that has made it a family favourite for years. Although I know nothing about the place apart from the food, it seems like a well-run operation that found something it was good at and kept on doing it, to the point where they now have more than 100 pizzas on the menu.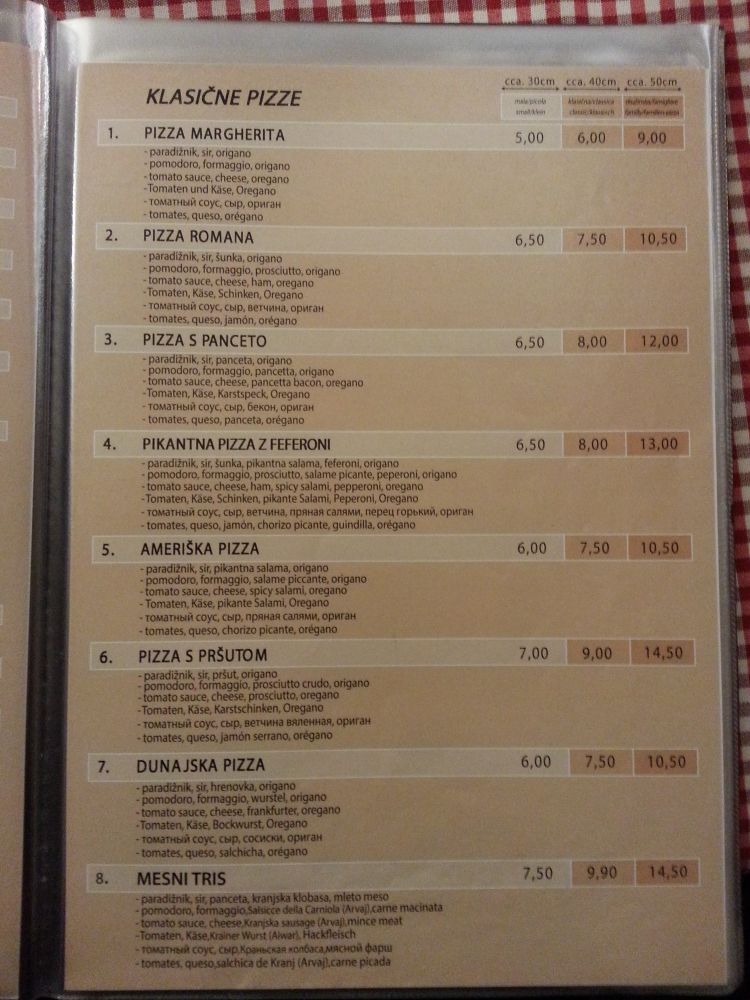 The first page of the pizza menu...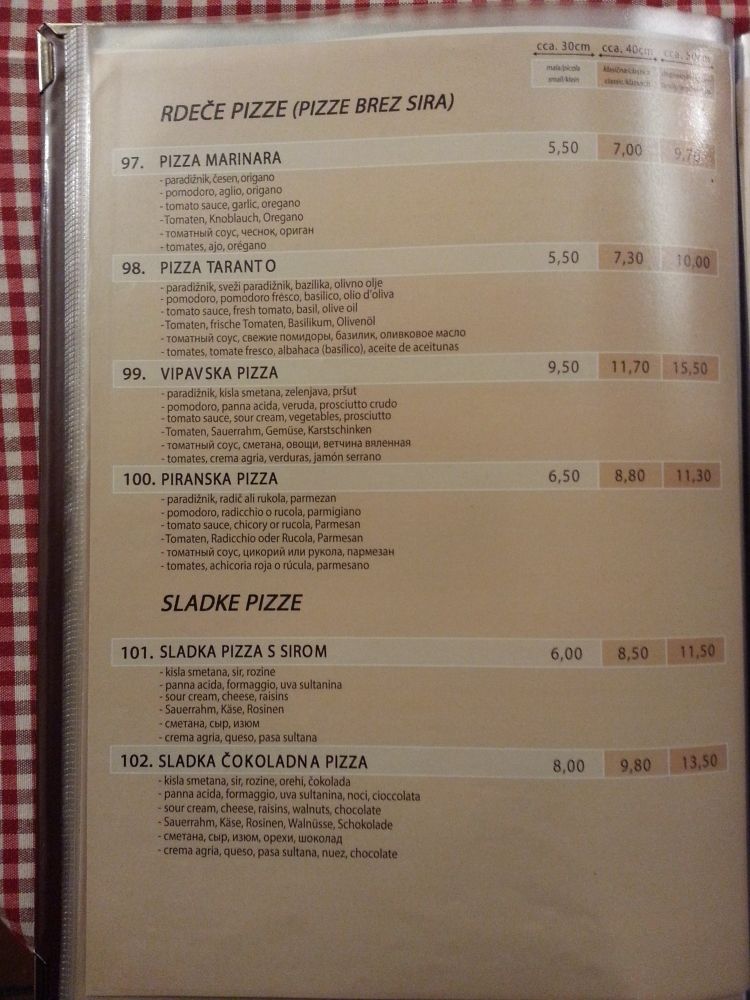 ....and the last Photo: JL Flanner
Sitting outside is recommended on warmer days, as the view really is delightful. But if weather or choice take you inside then the space is clean and well lit, and while the décor seems unchanged for decades it's now old enough to seem timeless and stylish. There's curved, vaulted ceilings and tiles on the walls. The tables are covered with red check tablecloths, and on these are salt and pepper sets and pots of live mint (to freshen the air or to chew? I didn't ask).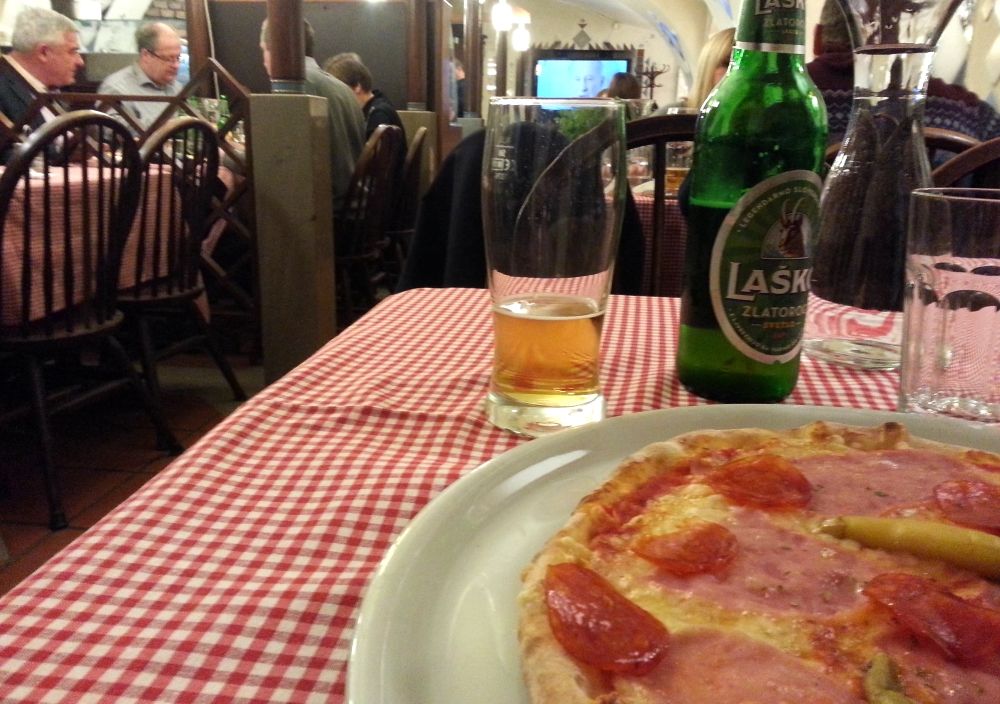 The view from my table, with a 30 cm pizza. Photo: JL Flanner
The menu lists 102 pizzas, with the last two being sweet, so it's safe to say that if they don't have one you like, then you probably don't like pizza. I've tried various sorts on a number of occasions, all of them good, but never took any photos. I hoped there'd be come good ones online, but Dvor seems to do well enough that it can scorn the Internet. It has no website, and is barely there on Facebook. So I went back for research purposes and took some bad pictures, took some more notes.
There are three sizes of pizza, 30, 40 and 50 cm, for total areas of about 706, 1,256 and 1,963 cm2, respectively, with prices starting from 6.50, 8.50 and 11.50 EUR (there are some cheaper, but these are ultra-minimal). I'd say the small is good for one person, medium for two, and large for four adults who know to how to behave and pace themselves around pizza, meaning that four people can go out, eat a light meal, have a drink (my big bottled Laško was 3 EUR) and pay 6 EUR or so each. This is a good deal when sitting inside, but outside, in fine weather, it's amazing.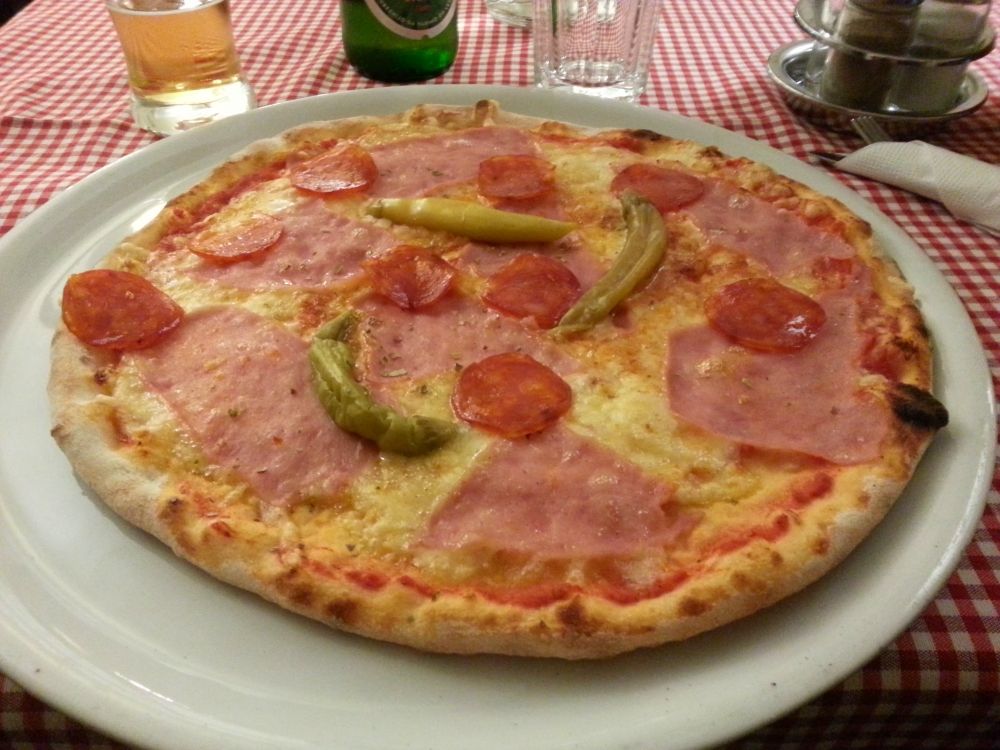 706 cm2. Photo: JL Flanner
The pizza itself is thin crust and very passable, with any improvements being a matter of taste towards your preferred style, although I'll note that everyone I've eaten here with, of various ages and nationalities, has enjoyed the food and been very impressed with the bill.
Turning aside from pizza and there's a little salad bar, 3.5 EUR for a small bowl and 5.5 for large, and there are various side dishes and options for mains, including Slovenian and Balkan dishes, but this is a pizza place, and that's what most people seem to come here for, and so I won't vouch for any other items.
Overall, a fantastic restaurant in a great location, and one you can enjoy without fear of feeling ripped off or underfed. It's at Dvorni trg 5, and open 10:00–00:00, except for Sundays, when the pies fly from 12:00–23:00.