When did you become disabled?
I broke my spine in March 2013, that's five and a half years ago. Since then I've been bound to a wheelchair, my diagnosis is paraplegia. But we never know what the future will bring in terms of medical research, so as I like to say, I am just currently in a wheelchair.
What places did you used to enjoy that are now difficult or impossible to access?
Unfortunately plenty of places in my home town of Murska Sobota are inaccessible, or hardly accessible. Some bars, restaurants, stores, even public offices. Also, while the theatre there has a solution in practice…well, let's say it doesn't work as well as it should. For Ljubljana I can think of a few places with stairs that are now inaccessible as well, although in some cases just the bathroom is the problem – it's usually too small.
Aljoša on the water...
What different places have you started to visit more often?
I have to admit I've tried a few things I "normally" wouldn't, just because they were accessible and possible to do, even though I am in a wheelchair. The best of these is water skiing! Some other activities were fun as well, like skiing on snow, hand bike-ing, flying (inside – in a wind tunnel), driving a scooter… Before my accident I never imagined doing this stuff!
I also started going to various events around Ljubljana more often. For example fairs at the Exhibition and Convention Centre (Gospodarsko Razstavišče), cultural events at the Cankar Centre (Cankerjev dom), museums, cinemas,… most of which are nicely accessible. That was another huge motivation for starting the Ljubljana by Wheelchair app – the fact that there are really plenty of things to see and experience for a person in a wheelchair in Ljubljana, and the lack of information about these, especially for short-term visitors.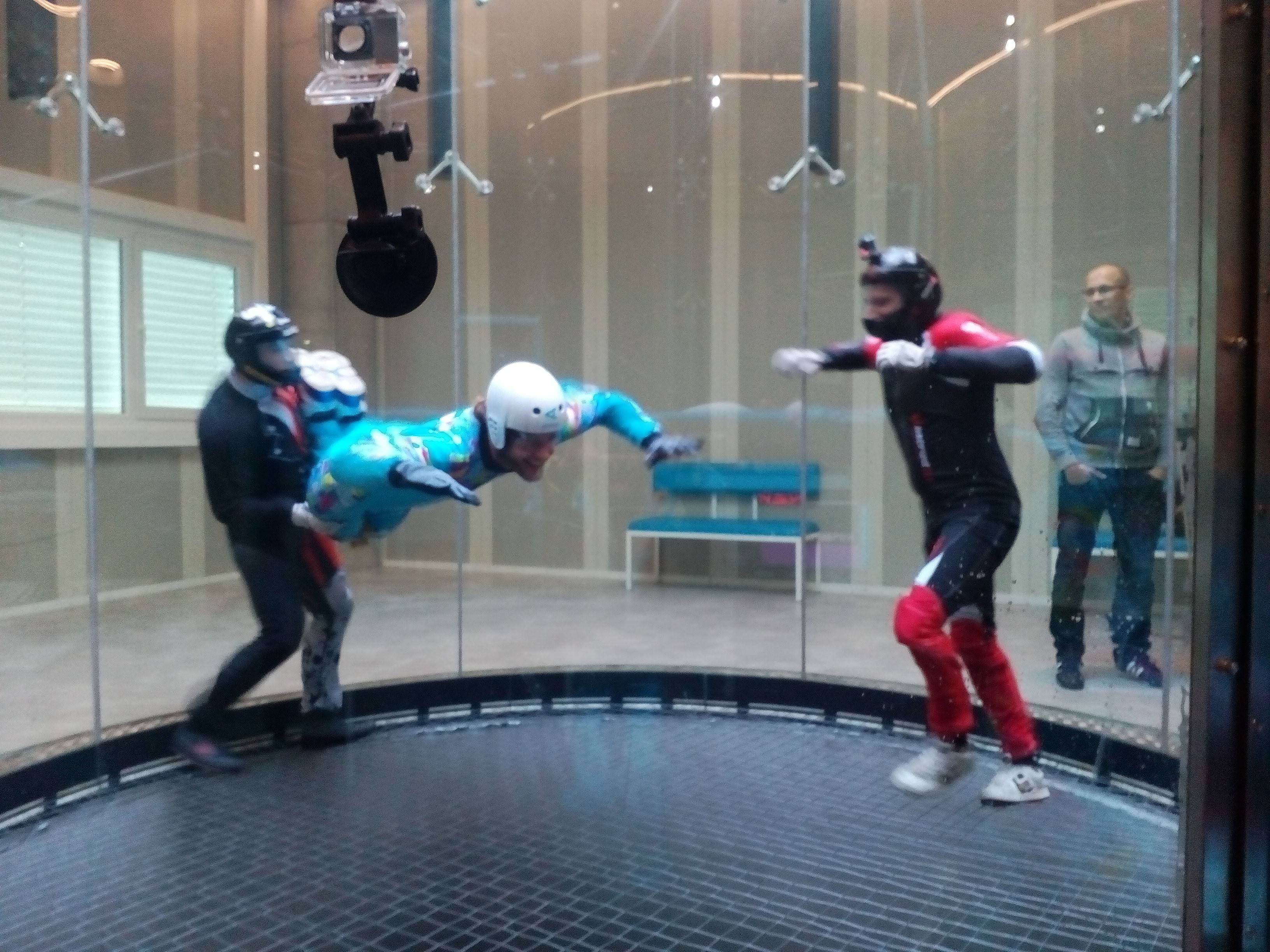 ...and in the air, courtesy of Aerodium in Logatec
Are there any public areas downtown that are difficult or impossible to access?
I started experiencing the city in a new way immediately after my injury. Now in the last year or so I had to revisit all the same spots, as well as many new, cool ones. And I still found the same problem, the main one for downtown, the inaccessibility of the Old Town. Not just to move around (cobble stones are difficult to overcome, but still manageable), but that in almost every place there's at least one step, be it a store, restaurant or bar. It's the same situation with Trnovo– another lovely place to visit.
Looking elsewhere at city centre, some place are nicely accessible, but many still aren't.
I think all the public areas are accessible, even most of the river banks. You also find (as shown in Ljubljana by Wheelchair) some public disabled toilets, all the underpasses are accessible and most of the buses. For more information on city accessibility – again – check the app!
What cafés do you usually go to?
Luckily most of the bars, restaurants and cafés around my home are either on the ground floor or have a ramp. The accessibility of a place is of course one of the most important criteria for whether I can go there. A few steps is doable, even more, with the help of my wife or someone else. But it's best to go to a place that's completely accessible, and has a large enough bathroom, then you know you have no worries.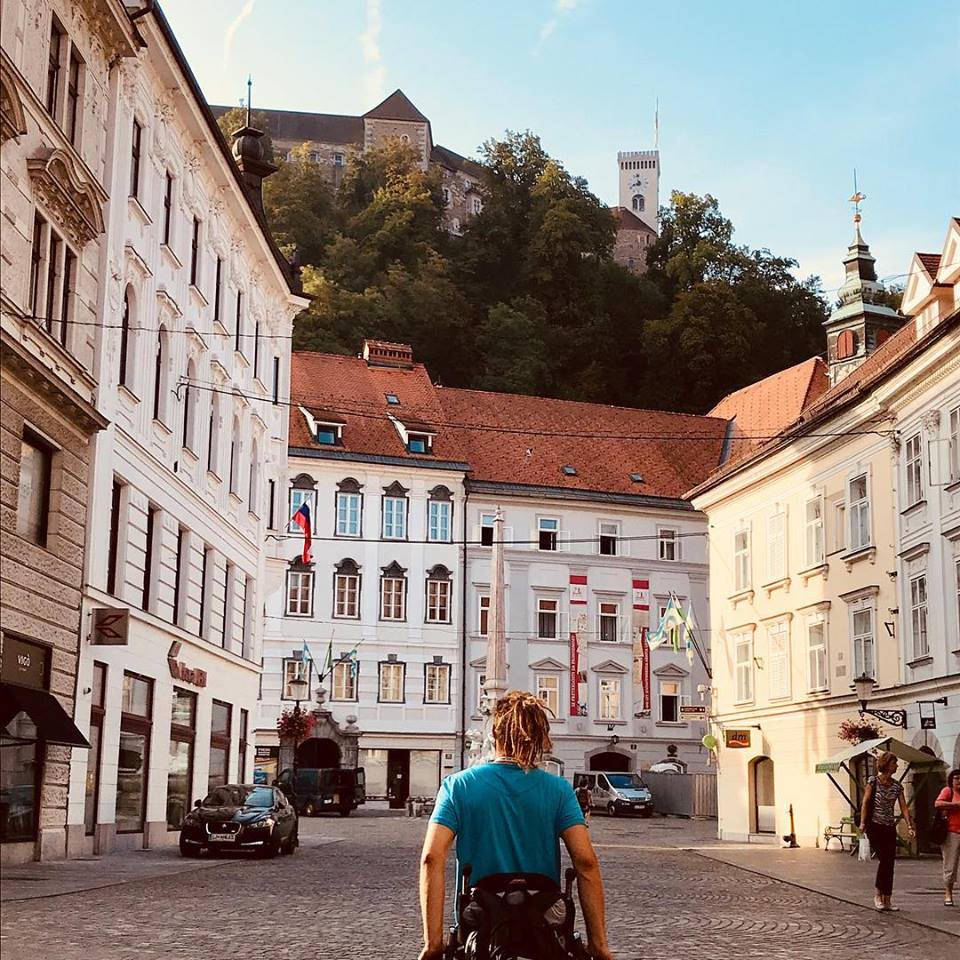 Aside from private businesses, what has the city government been doing to improve accessibility?
First of all I must add that I can only judge on mobility accessibility, not other forms.
As far as I know they still need to upgrade a few public buses with a ramp, which is very important. We will see what will happen with the accessibility of the new train and bus station. All newly built buildings are otherwise more or less accessible. However some historical buildings just can't be made accessible, for example the Museum of Illusions in Kongresni trg. I was positively surprised that they really tried, made inquiries, contacted the state, wanted to build an elevator or some other solution, but it just isn't possible.
What are some of the next actions the city needs to take?
I think the city should really raise their voice and ask each and every service provider in the centre to put up a ramp or come up with another solution, enabling us to enter with wheelchairs. And not just the centre, the whole city has to do it! I have seen so many places that are inaccessible just because of one step on the entrance. It's so easy to solve this you have no idea … Maybe just a wooden board would be enough.
Screenshot of the free (and ad-free) app Ljubljana by Wheelchair, available for Android and Apple devices
How does accessibility in Ljubljana compare with some other places you have been?
Ljubljana is still far from perfect, but comparing it to some other European cities I have to admit it is quite OK regarding accessibility. I do have to stress one very important thing for tourists – Ljubljana lacks cheap accessible accommodation. In all the other cities I've been to they all have many accessible hostels, but Ljubljana only has one, Celica, in Metelkova. I did some thorough research, and found that a few hostels have access, but then don't have a disabled and/or accessible bathroom.
On the more positive side – Ljubljana's advantage is that it's quite flat, and practically all the sidewalks are lowered (probably because of the cyclists), so you can walk everywhere. In some Italian cities I've been to that's quite hard. But comparing Ljubljana to some places in Northern Europe means there is still room for improvement, especially regarding public transport.
Screenshot of pridem.si, which covers the whle of Slovenia and accepts user submissions
What are plans, personally and professionally?
Personally – to see and experience as much as possible, and to do what I love and love what I do.
Professionally - besides pridem.si, which covers accessible places all over Slovenia, my main focus is on the new application, Ljubljana by Wheelchair, and other things should then just follow from those projects.
Finally, it's important that mobility impaired people who want to come to Slovenia know they can check out pridem.si to find accessible places around the country, and the mobile app Ljubljana by Wheelchair when visiting this beautiful city. And they're not just for people in wheelchairs, but for anyone who may have some trouble with mobility, or who knows someone like that. Everyone, really.