January 12, 2018
This week I went to Soba 102, a smart looking place on Cankarjeva cesta, the street that Čopova becomes as it heads towards Tivoli. It doesn't look like a burger joint, but often advertises a Black Angus Burger and beer deal, which is all I needed to keep the place in mind for the last few years without ever going inside. It looks too classy, and perhaps unfriendly to solo diners on a budget, while the outside seating's too open for my liking, as I've no desire to put on a show when I eat.
And to be honest, with this saying as much about me as the restaurant, Soba 102 looks like one of those places that might have been designed to keep people like me out. While this is also true of Zvezda, the café in Hotel Slon or Lolita, those all deliver on their promises of coffee and cake, being among the best downtown at what they do.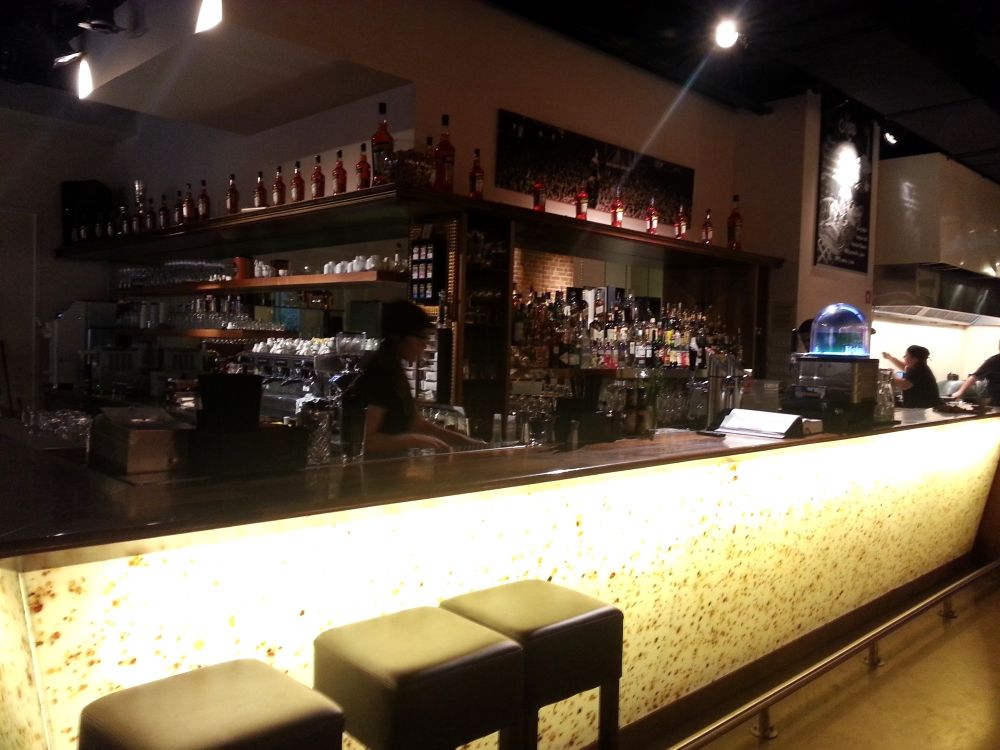 The long bar and grill, far right. Photo: JL Flanner
Soba 102 is large space with mirrors, blown-up photos of the stars of yesteryear, light jazz (on my visit), and waiters in white shirts (waitresses in black, although perhaps only on my visit). It's owned by the singer Jan Plestenjak and named after one of his hits. There's a long bar, an open grill area, various seating options and a fridge full of penina and champagne. This is not a craft beer spit'n'sawdust kind of place, nor one to take the kids to keep them quiet or let them run wild. It's in a similar style to the nearby Opera Bar, or the Dvorni Wine Bar, the kind of place where you might be wearing the wrong shoes and a little more attention to the price list is needed before ordering. Take a look at the photos on Facebook to see what I mean.
The food menu is a long one, as is the one for drinks, and I should state that I have no idea how the other food items are, so you shouldn't take this burger review further than it goes. Pick up the à la carte [here] and there are appetizers from 8.90 EUR, soups starting at 4.00, seafood at 15.90, pasta at 8.90, a rather limited vegetarian menu at 6.90, meat dishes at 12.90, including horse and foal, side dishes from 1.90, salads from 3.10. There are also cakes and ice creams, although I didn't note the prices. Instead I turned my attention to the less elegant and more street – streeter? – Street Food Menu (here), which has beef and chicken burgers, chicken strips, barbecue spare ribs and fried shrimp.
The song of the siren. Photo: Soba 102's Facebook page
My general rule in this series is to get the basic cheeseburger, fries and house beer, but the unfamiliar ambiance of Soba 102, combined with the rapid escalation in price when one added cheese (from 4.90 to 6.90 with cheddar and salad, and 7.90 for this plus bacon and onions) meant that I ordered the basic burger. On reflection I think it would, like most things, have been better with bacon and cheese, but at the time I thought I was striking a brave pose for economy and health, a matter I regret.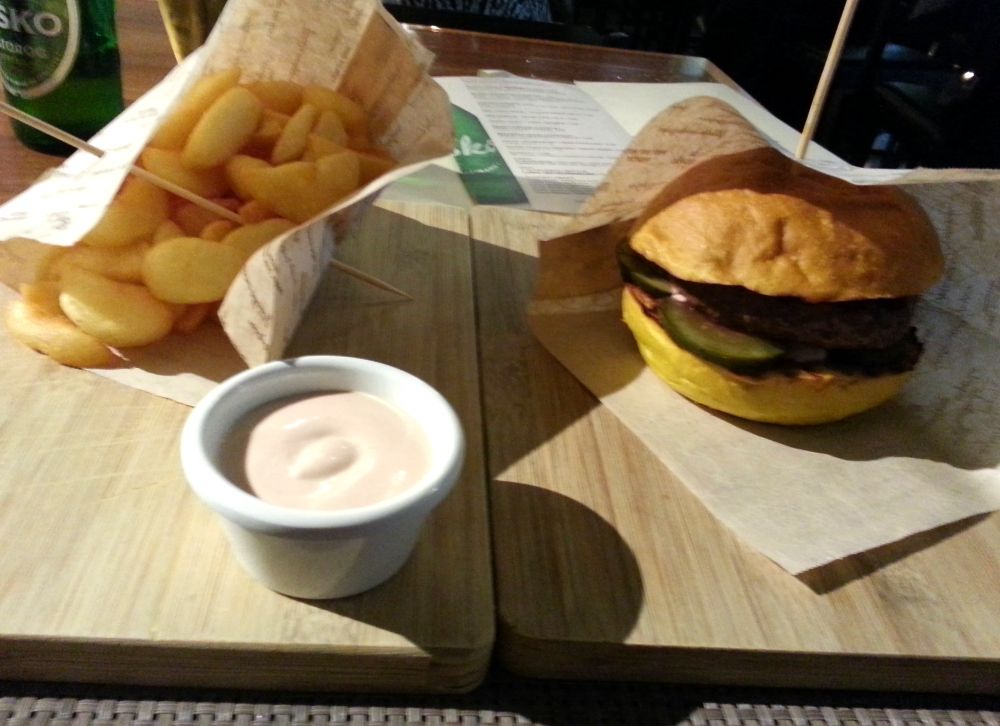 My dark and blurry picture of the meal. Soba 102 has some good pictures on its site and Facebook, but none of the burgers. However, they do look better than this in real life, and more like the promotional images.
The waiter warned me that the French fries (2.40) were potatoes wedges, and I almost didn't order them, envisioning a whole potato cut into sixths lengthwise and then deep fried. Then I remembered this was research, and I owed it to my craft to at least get fries, especially since I wasn't getting a cheeseburger, and only a small bottle of Laško (2.70). In total the meal came in at 10.50 in January 2018, the same price as Hood, albeit with a smaller beer and no cheese.
The burger comes in a yellow brioche bun, although I prefer simple white bread, so consider that in this review, and there's a sweet, tangy barbecue sauce, pleasantly reminiscent of Burger King. The fries come with a pot of ketchup mixed with mayonnaise, listed as "American cocktail sauce" on the bill, aka McD's special sauce. I asked for ketchup and the waiter was unsure if they had any, although soon came back with a pot.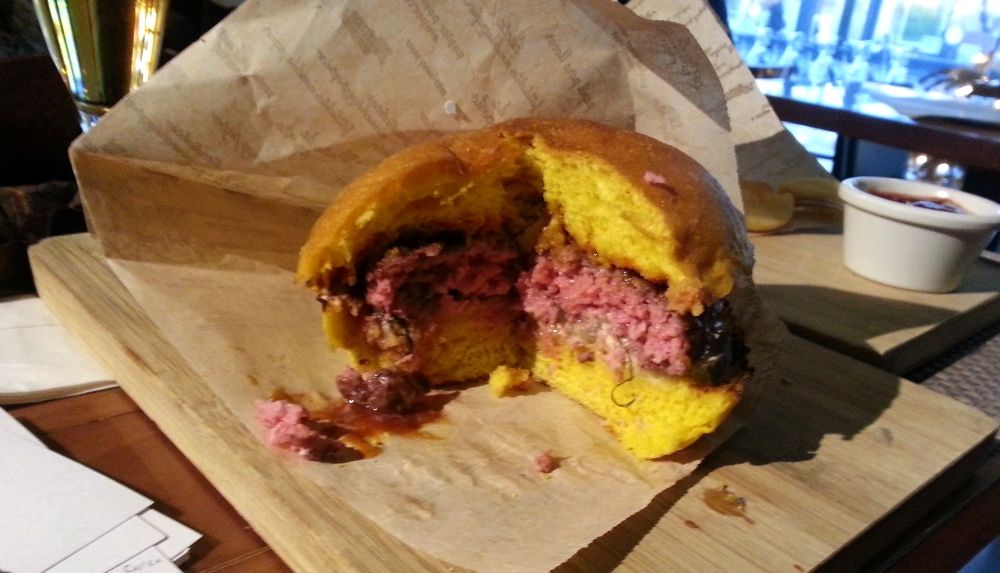 Another of my terrible pictures, but note the nice, even medium rareness of the burger.
I ordered the basic burger, so there was no salad or cheese, but even then the thing still felt half done, not in the sense of medium rare, which it was, and that's good, but in the sense of one of the cheapest items on the menu being perfunctorily done, rather than, as is the case with more burger-focused joints, the star attraction on which the whole business rests.
In sum, a meal like this makes you appreciate how lucky we've become in Ljubljana in recent years, as more dedicated burger places open and raise the general level. As such, it's not surprising that more established restaurants now need to rethink their approach if they want to appeal to this market.
Soba 102 can be found at Cankarjeva cesta 4, 1000 Ljubljana, near the Nama department store, and is open Mon, Tue, Wed 08:00–23:00, Thu 08:00-24:00, Fri 08:00–01:00, Sat 10:00–01:00, and closed on Sundays.
Coming soon, the arrival of Lars & Sven on Slovenska cesta (in front of Zvezda Park / Kongresni trg), due to open February 8, 2018, which should further heat things up in the reasonably priced, quality burger scene.
Other stories in this series can be found here.