STA, 23 September 2021 - Residential property prices rose by 4.5% in the second quarter of the year on the quarter before in the most substantial hike in ten years. The value of transactions was the highest on record, official statistics show.
Data released by the Statistics Office for second quarter shows prices of existing homes (apartments and family houses) in the country rising by an average 4.7% on the quarter before; apartment prices were up by 5% as family houses came 4.2% costlier.
Meanwhile, prices of new homes dropped by 0.7% as prices of newly built family houses fell by 8.5% after an 8.6% increase in the first quarter. Prices of newly built flats rose by 2.6%.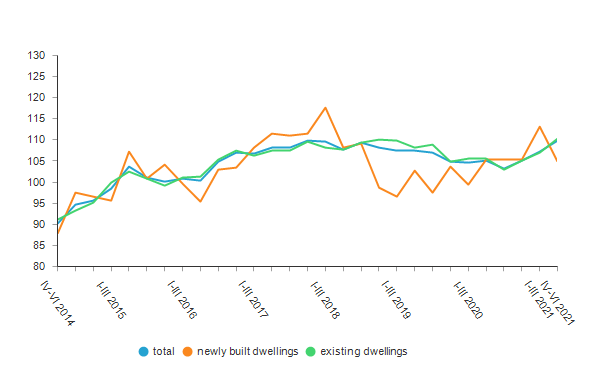 The most substantial hike in prices of second-hand flats was recorded in Ljubljana, at 5.4%, with a 4.1% hike recorded in the rest of Slovenia and a 3.9% rise in Maribor.
Year-on-year, prices of all types of residential properties rose by 9.9% on average where again the biggest increase affected second-hand flats, at 11.2%, and second-hand family houses, at 9.3%, with newly built flats going up by 8%.
Newly built family houses came 2.6% cheaper in a year.
The total value of transactions in all types of homes throughout the country was EUR 459 million, about EUR 162 million more than in the previous quarter and the highest value on record.
A total of 3,993 transactions were recorded, the highest number since the second quarter of 2017. The bulk, 3,927 were second-hand properties. The value of those transactions was a record high of EUR 446 million.