February 11, 2018
I don't travel far to eat burgers because if I did I'd eat more than I do, so this series will be more or less confined to downtown Ljubljana (although Kavarna Tiskarna is on my list because everyone raves about it, and there's a place in Kranj called Projekt Burger that may even get me on a bus).
So I was excited to hear some time ago that Lars & Sven Burgers (L&S), winners of a few popular votes as to the 'the best burger in Ljubljana', were opening an outlet on Slovenska cesta, facing Zvezda Park. The clear comparison here, in my mind before, during and after the meal, was and is Hood. Both offer a similar product with a similar atmosphere and price, and although I like both I suspect I'll be doing more research at L&S over the next few months, beach-body ready be damned, because I've already eaten enough Hood over the last year.
All images are from L&S's social media accounts, and are judged by the author to both authentic representations of the food on offer, and beyond his own abilities on a camera phone
As ever, I got the basic cheeseburger (aka the Lars Burger, at 4.90 EUR), fries (2.50) and large beer (2.90), with the full menu shown as a big image here, containing a short list of burgers and sandwiches, chicken and beef, with no vegetarian or vegan options, and both beer and wine. The pivo comes as Bevog or Bernard, and I got half a litre of the latter served in a glass, which was nice. And like Hood, when you order you get a plastic buzzer that'll let you know when the meal is ready (and there's really no need to keep watching the light as it flashes – you'll know when it's time to go up).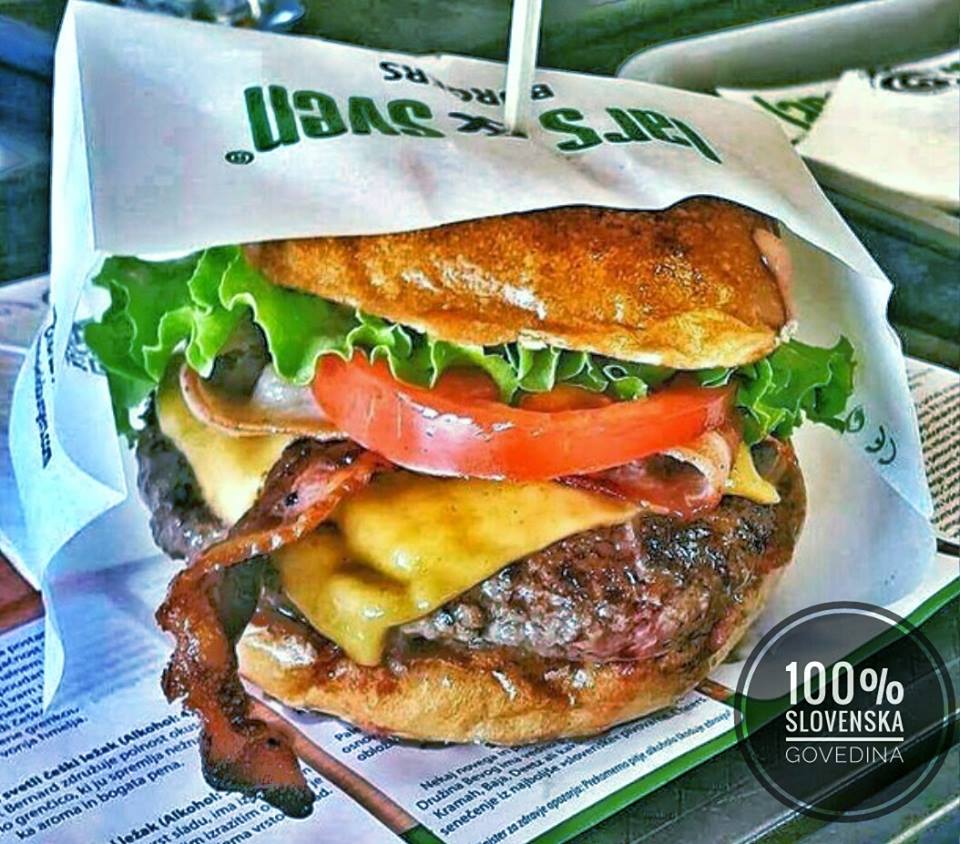 The burger is great, and much to my taste, with a medium rare order coming nice and pink inside and the cheese, salad and sauce adding to the experience without making a mess, a happy outcome much aided by the provision of both a wrapper and wooden stick to keep things together.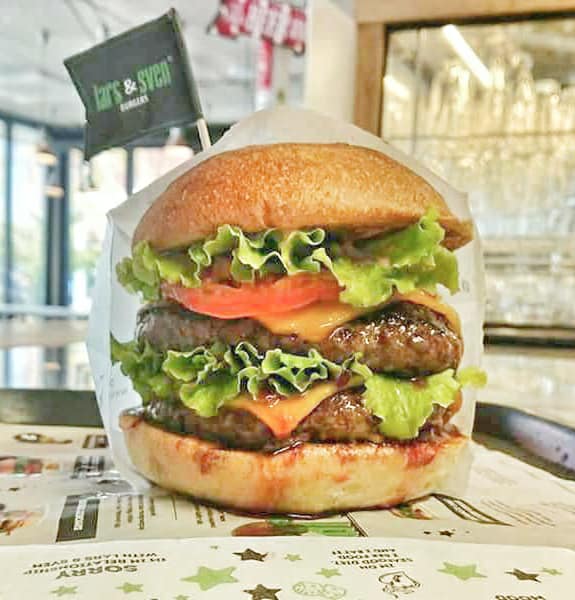 The fries are thick cut and crisp on the outside, soft on the inside. You order them with ketchup or mayonnaise, with both coming in a single sachet serving (and extra costing 20 cents each, thus eroding the small saving compared to Hood if you need two sachets or more). Other condiments on the counter include several bottles of locally produced chili sauce, and there's free access to straws, toothpicks, napkins and wet wipes, a sense of the attention to detail that plays out in other aspects this small but growing chain.
On price and quality L&S only has one rival so far in this series, and that's Hood. Both come in at just over 10 EUR for a cheeseburger, fries and beer, both are well worth the price increment from McD's, and both seem committed to what they're doing – burgers and fries – rather than faffing around with steaks, pastas, pizzas and so on. With zero complaints or niggles from this diner, and ample space and seating at the new branch, L&S is highly recommended if you like this kind of thing.
L&S is currently at three locations in Ljubljana, and there's also a food truck that offers a more mobile experience. The branch I went to was at 25 Slovenska cesta, as shown on the map below, but there are also ones by the E.Leclerc supermarket in Rudnik, and the Mercator in Šiška.
Other stories in this series can be found here.