Metelkova, or to give it it's full name "Metelkova City Autonomous Cultural Centre" (Avtonomni kulturni center Metelkova mesto), is a local institution sited in a former military barracks, taken over by squatters in the early 1990s, and now an area full of clubs, studios, offices, and miscellaneous cultural spaces. Although it still has the look and feel of a free-for-all, it's now well integrated into the city's cultural ecosystem, one of those places where ideas form and spread, even if their provenance often gets forgotten.
Related: A short documentary on Meteklova and Rog, two of Ljubljana's alternative cultural centres
There are many small details to enjoy. Photo JL Flanner
What happens in Metelkova...
Today the graffiti and grime of Metelkova sit right alongside a number of more formal cultural institutions, such as a branch of the Modern Gallery (Moderna galerija), the Slovenian Ethnographic Museum (Slovenski etnografski muzej), and even the Ministry of Culture itself. In the daytime the area is a magnet for photographers, with its sculptures, murals and curiosities, while at night the diverse venues that have sprung up over the years host live music, exhibitions, performances, talks, debates, club nights and other events, offering everything from death metal to techno burlesque, details of which can found on the official website. It's also a hub for the local LGBTQ scene, centered on the lesbian Klub Monokel and gay Klub Tiffany, although neither are open every night, so click on the names and visit their Facebook pages for details, or check out the latest edition of our weekly guide to what's on in Ljubljana.
Where to find Metelekova
But how should one behave in Metelkova? While the images you see online and the history of the place suggest the area is much the same as Copenhagen's Freetown Christiania, it would be a mistake to go there with the hope, or fear, of it being filled with drug dealers and sleaze. Indeed, those expecting a drug-fueled scene of excess, where nothing is true and everything permitted, may be disappointed. Instead, the powers that be at Metelkova work to cultivate a safe, welcoming and inclusive atmosphere for all visitors, rather than a post-apocalyptic orgy, as seen in the following rules, found in the bathroom of Klub Gromka, which have been typed up below the image for ease of reading.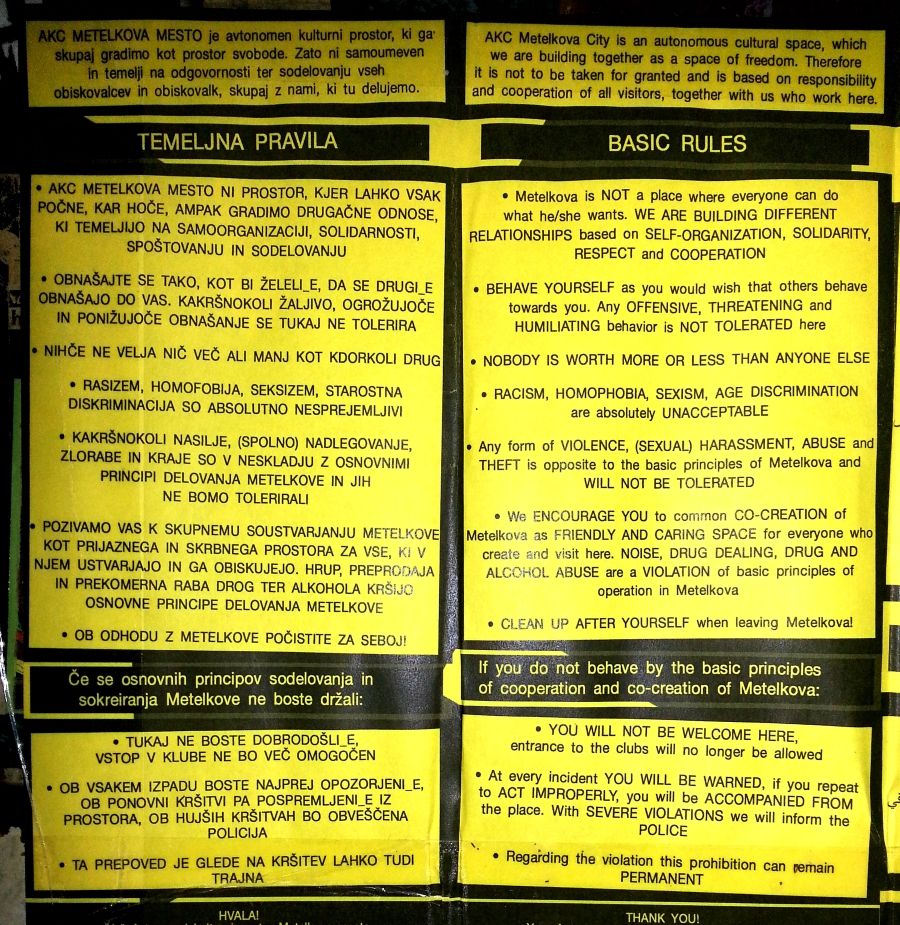 Photo: JL Flanner
AKC Metelkova City is an autonomous cultural space, which we are building together as a space of freedom. Therefore it is not to be taken for granted and is based on responsibility and cooperation of all visitors, together with us who work here.
Metelkova is not a place where everyone can do what he/she wants. we are building different relationships based on self-organization, solidarity, respect and cooperation.
Behave yourself as you would wish that others behave towards you. Any offensive, threatening and humiliating behavior is not tolerated here.
Nobody is worth more or less than anyone else.
Racism, homophobia, sexism, and age discrimination are absolutely unacceptable.
Any form of violence, (sexual) harassment, abuse and theft is opposite to the basic principles of Metelkova and will not be tolerated.
We encourage you to common co-creation of Metelkova as friendly and caring space for everyone who creates and visits here. Noise, drug dealing, drug and alcohol abuse are a violation of basic principles of operation in Metelkova.
Clean up after yourself when leaving Metelkova!
If you do not behave by the basic principles of cooperation and co-creation of Metelkova:
You will not be welcome here, entrance to the clubs will no longer be allowed.
At every incident you will be warned, and if you continue to act improperly you will be accompanied from the place. With severe violations we will inform the police.
Regarding violations of these principles, the resulting prohibition can remain permanent.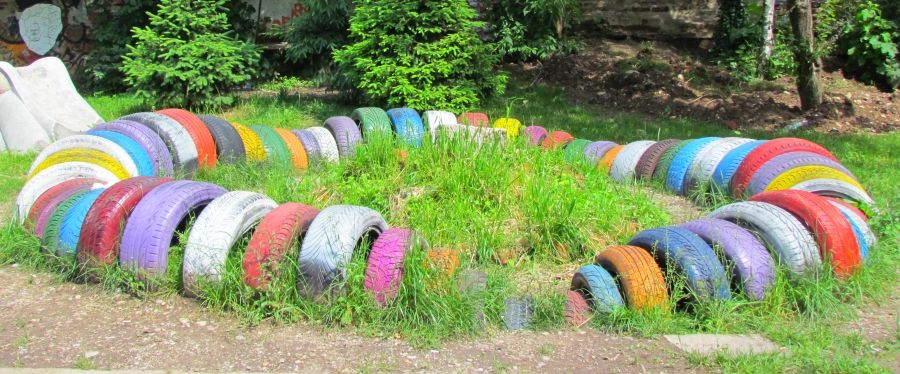 Photo: Flickr - Marika Bortolami (CC BY 2.0)