I was sitting outside a bar, reading a book and having a little too much fun when someone took my bag along with my temporary residence permit, health cards, and ATM card, in addition to cash, some language learning notebooks and personal items. After explaining to the barman why I couldn't pay (I returned the next day), I set out to get things back to normal as quickly as possible. It's now a little over three weeks later, things are almost how they were, and this is how that happened. (If you just need your first residence card, click here)
The ATM card was easiest, I just called up Bankart (+386 (0)1 583 41 83), the firm which runs the cash machine system, and cancelled it, then went to my bank on Monday and ordered a new one.
I applied for a new health card online. I got sent a confirmation email and had to pay 3.51 euros, then the card arrived in the post about a week later. With that in hand I was able to order an EU health card online here. Note that neither of the health card pages are in English, but Google does adequate translations.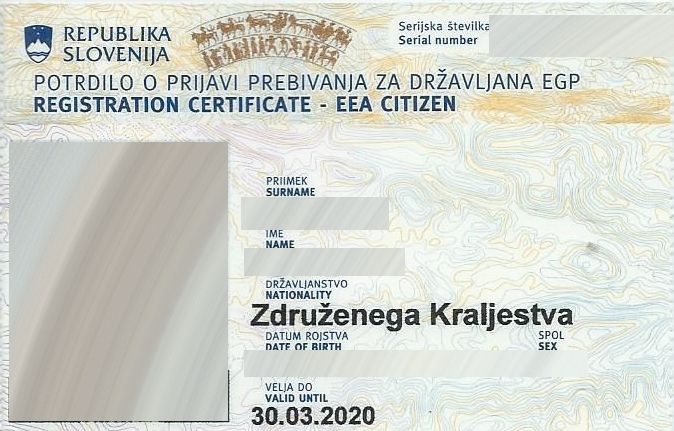 The somewhat obscured object of my desire
The residence permit was more complicated, although other than time spent still a cheap and easy process. Here's what I did:
1. You need to tell the authorities within eight days of losing your card, so I went straight to the police to make a report. My Slovene isn't good enough for situations like this, so I had to wait for an English-speaking police officer at 11pm on Friday. You may prefer to take along a Slovene speaker to speed things up.
2. I took the police report to my local administrative office (Upravne enote), along with a new photo and my passport. The photo should be a recent one, and if you get it taken at a studio then tell the photographer what you want it for and they'll do it in the correct format. Your admin office is most likely the same place where you got your temporary residence permit, and a list of locations is here. In my case this was in Ljubljana, in the complex at Tobačna ulica 5. You want to find the Department for Foreigners (Oddelek za tujce), which is in the car park marked on the map below.
The office is open from 08:00 – 18:00 Mon, Tue and Thu, and until 19:00 on Wed and 14:00 on Friday. All the staff I met there were able to speak English. I was waiting outside at 07:45, got ticket number 014 when the place opened, and was at the desk by 08:30. You'll need to fill in a form, as shown in the picture at the top of this article, and you can get that in the office.
3. After I handed over the documents I was told I'd have to wait eight days after the card went missing before starting an application, in case it was found and handed in. "It happens," the lady said, but it didn't.
4. I went back a week later with my passport, photo and completed form, and paid the 2.25 euros. A few days later I got a letter telling to come and pick up my card within the next two weeks.
5. I went back to the same office with the letter and my passport, picked up the card, came home, scanned it for my records, and then went on with my life
Overall, an easy process, but one that's best avoided, so be sure to keep an arm or a leg through one of the straps of your bag when theft seems a possibility.