Časoris is an online newspaper aimed at children. Each week we'll take an article and post it here as a Slovene-English dual text.
Beseda Leta 2020 Je Karantena
Word of the Year 2020 Is Quarantine
Written by Sandra Hanžič, translated by JL Flanner & G Translate
Katera beseda je najbolj zaznamovala leto 2020?
Which word marked 2020 the most?
Tokrat je odgovor na to vprašanje poenoten skoraj po vsem svetu. Snovalci angleških slovarjev so izbrali besede, tako ali drugače povezane s koronavirusom.
This time, the answer to this question is the same almost all over the world. The creators of English dictionaries have chosen words that are somehow related to the coronavirus.
Pri Collinsu so izbrali besedo lockdown (zaprtje), pri Merriam-Websterju pandemijo.
Collins chose the word lockdown, and Merriam-Webster chose pandemic.
Medtem so pri Oxfordu sklenili, da se nenavadnega leta ne da opisati s samo eno besedo. V posebnem poročilu so jih izbrali cel kup, poleg že naštetih tudi gozdni požar, ustavno obtožbo in socialno distanciranje.
Meanwhile at Oxford they concluded that the unusual year could not be described in just one word. In a special report, a whole bunch of them were selected, in addition to those already mentioned, there were bushfire, impeachment and social distancing.
Včeraj smo dobili še slovensko besedo leta, ki so jo petič zapored razglasili pri ZRC SAZU. Med finalistkami izbora, ki jih je izbrala strokovna komisija, je prevladovala ena tema, izražena z mnogo besedami – virus:
Yesterday we received the Slovenian Word of the Year, which was announced for the fifth time in a row at ZRC SAZU. Among the finalists selected by the expert commission, one theme prevailed, expressed in many words - the virus:
14 dni – 14 days
cepivo – vaccine
karantena – quarantine
kolesarjenje – cycling
mehurček – bubble
neleto – non-year
pozitiven – positive
predihovalnik – ventilator
rahljanje – easing
šolotožje – schoolsick
zoom – zoom
Enajsta finalistka je bila beseda cepivo, ki so jo za besedo leta izbrali pri časniku Delo.
The eleventh finalist was the word vaccine, which was chosen as the word of the year by the newspaper Delo.
Glasovalo je rekordnih 5000 ljudi. Zmago je osvojila karantena s približno 1050 glasovi.
A record 5,000 people voted. The victory was won by quarantine with about 1050 votes.
»Idealno jo, da je beseda čim bolj sveža, ilustrira pomembno družbeno spremembo ali pa je pogostost njene rabe občutno zrastla,« je dejala pobudnica akcije asist. dr. Simona Klemenčič.
"Ideally, the word should be as fresh as possible, illustrate an important social change, or the frequency of its use has increased significantly," said the initiator of the activity, Asst. Dr. Simona Klemenčič.
Nova beseda (neologizem) leta je postala wuhobran, kretnja leta – ki jo izbirajo v sodelovanju z Zvezo društev gluhih in naglušnih Slovenija – pa koronavirus.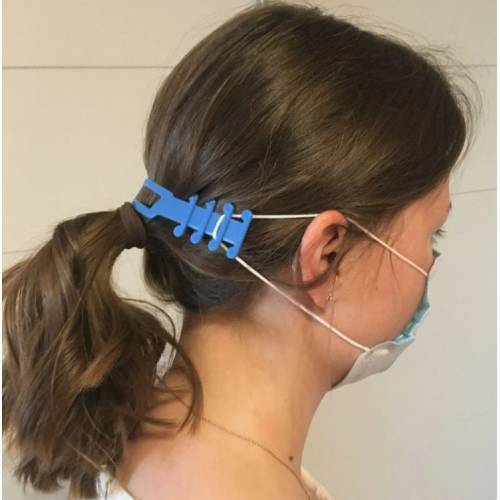 A 'wuhobran' - photo: covid.si
The new word (neologism) of the year was wuhobran, and the gesture of the year - chosen in cooperation with the Association of Deaf and Hard of Hearing Societies Slovenia - was coronavirus.
Med rekordnimi 70 prejetimi pesmimi, ki morajo vsebovati vse finalistke za besedo leta, so izbrali pesem anonimnega avtorja Naša vojna.
Among the record 70 poems received, which must contain all the finalists for the word of the year, they chose a poem by an anonymous author, Our War.
Odkar pri ZRC SAZU izbirajo besedo leta, so to postale podnebje (2019), čebela (2018), evropski prvaki (2017) in begunec (2016).
Since ZRC SAZU has been choosing a word of the year, it has been climate (2019), bee (2018), European champions (2017) and refugee (2016).
Dobili so že prvi predlog za besedo leta 2021, in sicer vialo, besedo za stekleničko s cepivom.
They have already received the first proposal for the word in 2021, namely the vial, the word for the vaccine bottle.
Read more stories and improve your Slovene at Časoris, while all our dual texts can be found here.