August 9, 2018
The museums and galleries in Ljubljana are clustered in various locations around town, so you can visit a couple in day without walking too far, or instead go from one end of the pedestrianised zone to the other (and still not walk far, as seen in this map of the city's various cultural attractions). Slovenia's Ethnographic Museum (Slovenski etnografski muzej) is in one such cluster, in that part of town anchored to the Ministry of Culture, just next to Metelkova, and which includes the more contemporary branch of the Moderna galerija, next to one branch of the National Museum.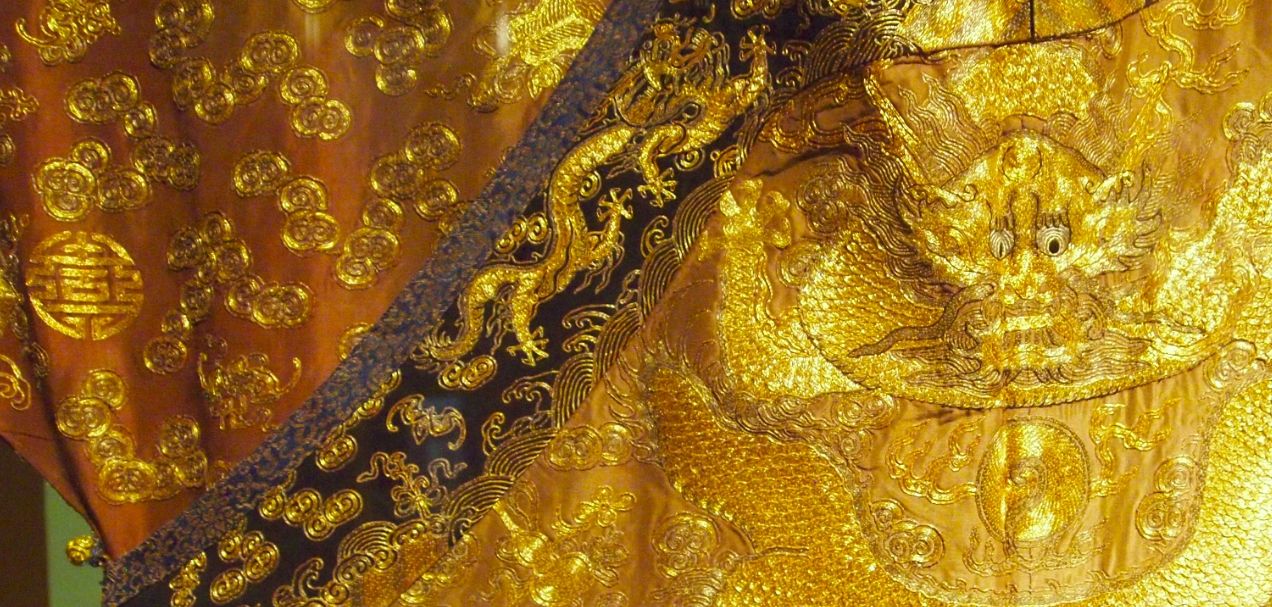 Detail of a Chinese robe
The Ethnographic Museum easily contains more than you can take in on one visit, unless you're willing to devote a whole morning and afternoon, perhaps with a break in the museum's excellent café, or instead choose to walk rather quickly through some of the rooms, pausing only when something really eye-catching grabs you.
Slovenian lace
It was the latter approach I adopted on a recent visited, a choice made easier by the fact the audio guides weren't working on the day I went, and so one of the permanent exhibitions, I, We and Others, which is almost entirely written up in Slovene, was mostly lost on me (although I did, as above, pause when something caught my eye).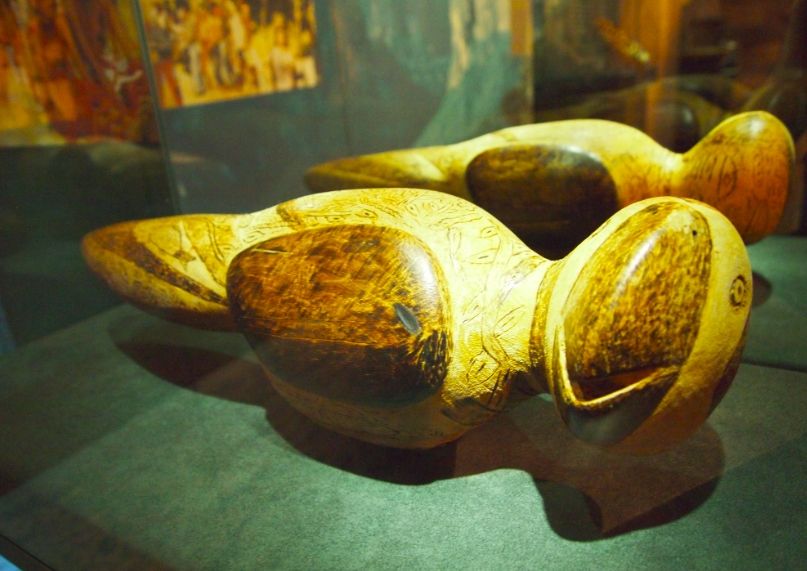 A carving of a mystic bird from Paraguay
But I wasn't disappointed, and not should you be, as the well-labelled and introduced exhibition on the third floor, Between Nature and Culture – subtitled The treasure house of Slovene and non-European heritage of the everyday and festive - which opened a few months ago, really is a treat, and the roughly 2.5 hours I spent there, leaving only as closing time approach, could easily have been extended.
Some carved Slovenian pipes
There's an encyclopaedic range of objects on display from all corners of the globe, from a shrunken head (hidden away in an alcove by the elevators) to bags of potato chips (in the children's section, aka Etnoabecedaž), and in between everything: from Inuit snow shoes to Chinese cabinets, African headdresses to Slovenian firefighters helmets, dormouse traps to Idrijian lace, kurenti costumes to Balinese masks, a mystic bird made of wood from Paraguay and even a Tom Jones record. And note that my photographs really don't due the objects justice, as the lighting and glass doesn't favour the camera, but everything can be clearly seen in person.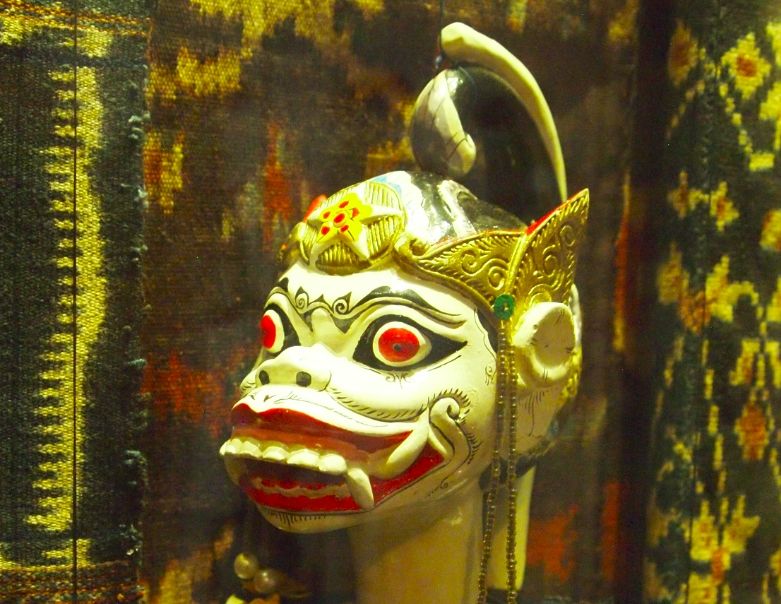 Indonesian puppet
The objects are grouped thematically and geographically, and enable visitors to take a deep dive into areas of specialist interest, or to simply stand and be amazed at the great variety of objects that have been produced to meet one specific need (say, for consuming tobacco, with an interesting collection of pipes).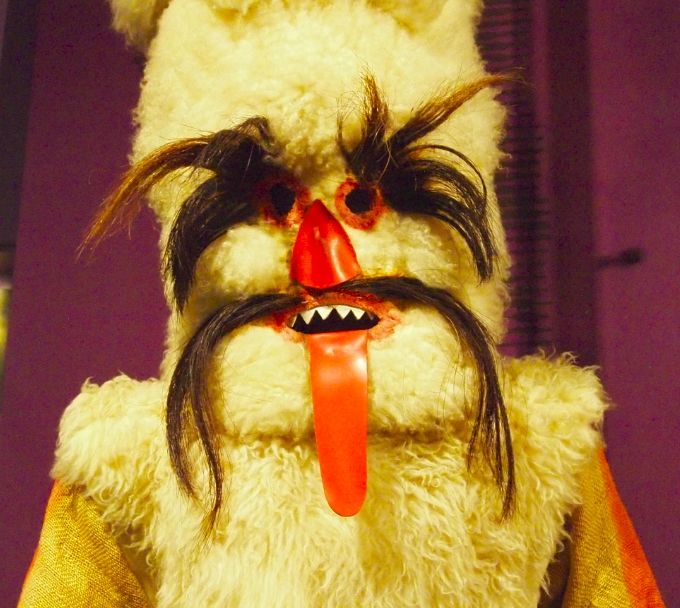 Slovenian kurent costume
My experience will not be your experience, given our different backgrounds and enthusiams, and the objects I turned out to photograph most often – masks from around the world – may not be your kind of thing. No matter and no fear, as the exhibition has something for everyone, of all ages, and I guarantee you'll come away delighted and impressed with the collection and how it's been arranged by the long list of curators.
A selection of pestles and mortars
Overall, this is one of the more fascinating exhibitions in Ljubljana at the moment, with a wealth of objects and curiosities to enjoy, covering such a broad range of areas – both geographic and cultural – that the term "something for everyone" is perhaps best employed here than anywhere else in town.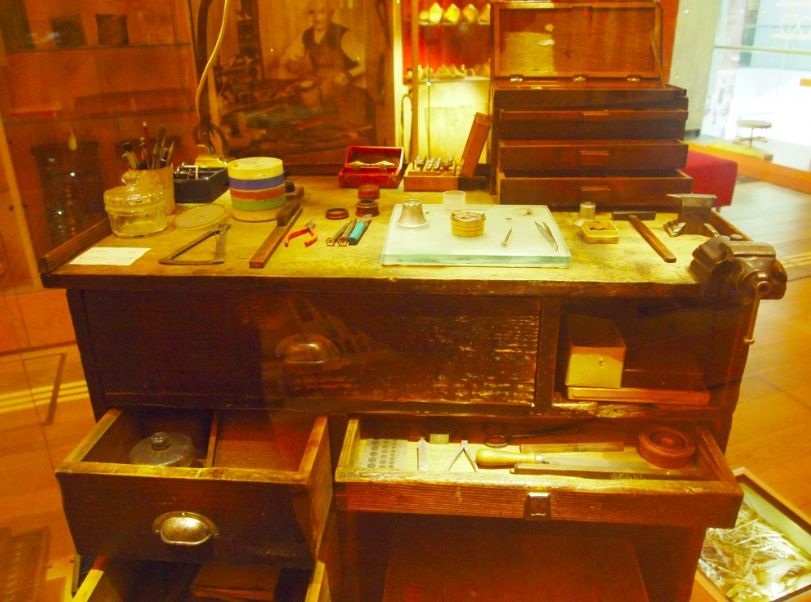 A watchmaker's desk
This show is on the third floor, and with the same ticket you can also see another permanent exhibition, I, We and Others, although without an audio guide non-Slovene speakers will struggle to understand things in context.. There are also two temporary shows on at the moment. Where Bees Are At Home, which runs until June 16 2019, and People From The Porcelain Factory, until the end of September 2018.
A beehive that looks like a dog.
A more contemporary beehive
The former has a nice selections of beehives, of historical interest and up to the present day, and tells the story of beekeeping in Slovenia. Perhaps the biggest attraction, to non-bee keepers, is the collections of painted beehive panels on display, like the ones shown above, as well as many painted beehive panels, like those shown below.
The smallest show, just one room, People From the Porcelain Factory, presents a collection of Polish porcelain. As the website explains: "The set was produced on a factory production line by workers wearing gloves with their fingertips dipped in cobalt salts. The traces of their touch remain almost invisible until firing, when they appear on the porcelain body, as the cobalt turns dark blue. In this way the porcelain tableware keeps the touch of the workers' hands, revealing the role of the 'human factor' in industrial manufacturing."
As noted in the introduction, can find the Ethnographic Museum at Metelkova ulica 2, a location that makes a visit part of an enjoyable, varied and productive trip to this part of town. Like all city owned museums and galleries it's closed on Mondays. It's then open Tuesday to Sunday 10.00 to 18.00. Entrance for adults is €4.50; for schoolchildren, students, and pensioners it's €2.50; and it's free for everyone on the first Sunday of every month.