December 21, 2017
Update: sadly, the comic book store is no longer here
At the end of 2015 there was a referendum on gay marriage in Slovenia, and the 'yes' side lost, a sign of the social conservatism that still stalks the land. But such attitudes are less held in Ljubljana, where promoting equality and inclusion is something of a city policy, with the rainbow flag flying with Pride from the Castle, and one of the most LGBT-friendly spots in town sitting right next to City Hall. In truth, though, that LGBT is just there in the headline as a come-on if you're looking for that kind of thing, and it's one of the friendliest, liveliest and nicest places in town, period.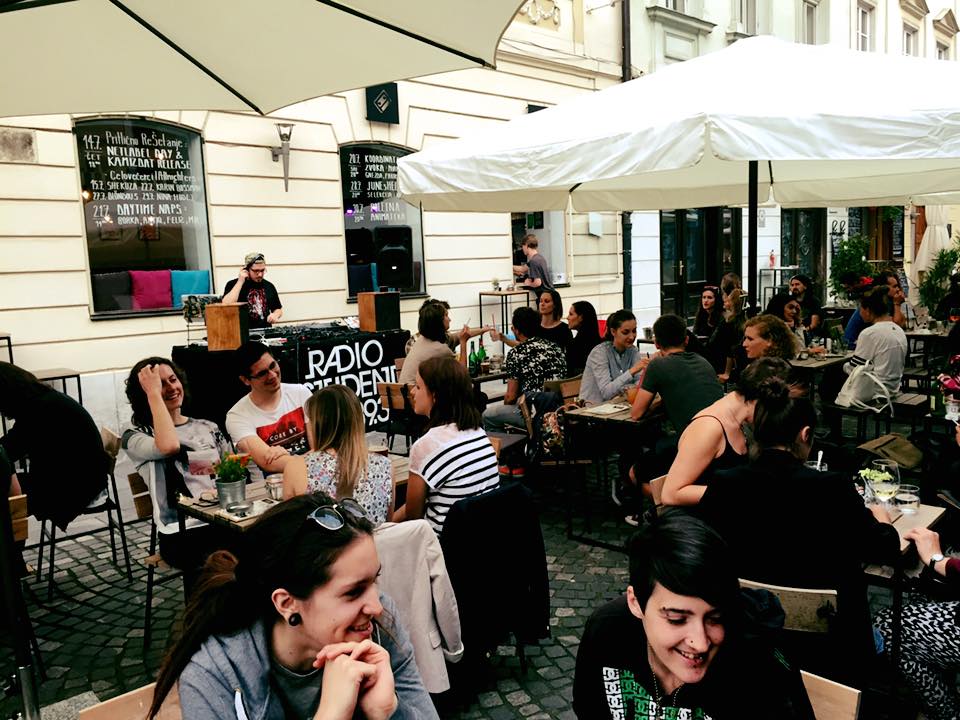 Pritličje (which means "ground floor") opened in 2014. As noted above, it's got a great location, not by the river, but beside the Town Hall, just near the Robba Fountain, and not far from the Triple Bridge. It's a pretty big space, with seating inside and out and various set-ups for different sized groups. However, it can get busy, putting pressure on the space and servers, and although it's not been open long clearly has a dedicated clientele and much return custom. You may have to go to the bar to place an order.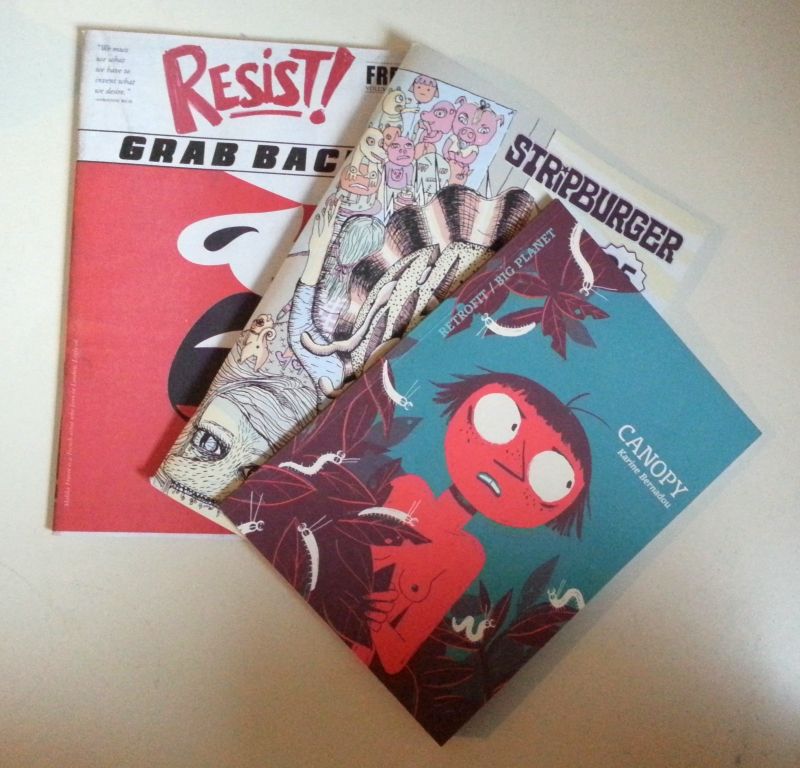 My haul on a recent visit. Photo: JL Flanner
In addition to the café-bar side of the business, of which more below, the space also hosts what's likely the best comic book store downtown, Striparna Pritličje, which has both knowledgeable staff and a well-curated selection of local and international work, with a shout out here to Stripburger, a fantastic local review that's just 3.50 EUR and is mostly in English. Some comic books and graphic novels are also available to read in the café, although not all of them suitable for children.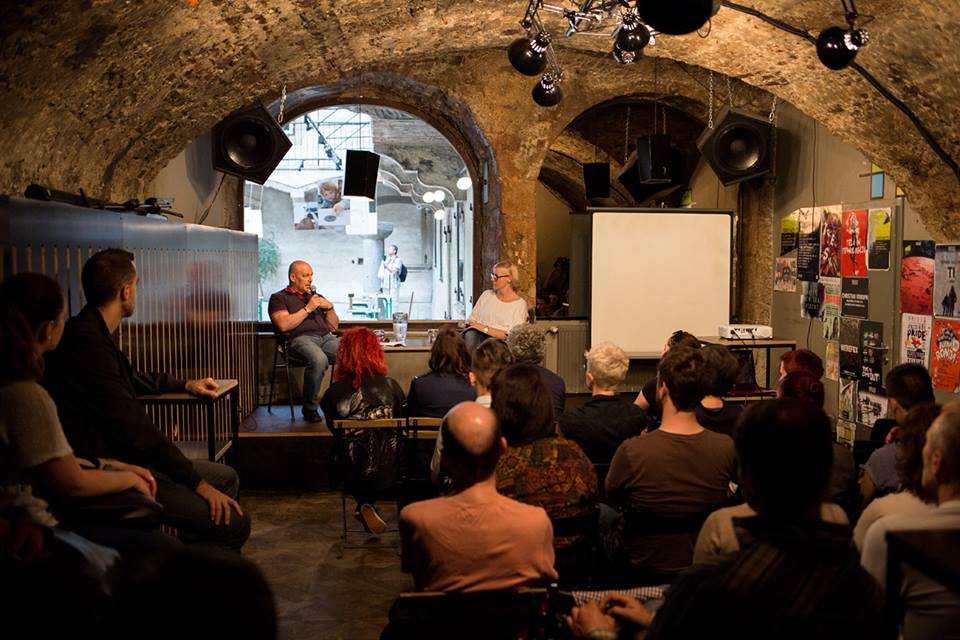 In the daytime the place is more of a café, while when the sun goes down–and Pritličje closes after midnight each day–it becomes more like a bar, although that's still selling the place short. One of the reasons why Pritličje has so quickly become an institution is the communities it helps build and support with the many events it hosts. These range from talks and performances, to exhibitions and DJ sets, with space on the floor for dancing, and details of these are available on the events part of the Facebook page, or written up in the Striparna part of the space.
Now that's out of the way we'll turn to Pritličje qua café, at which it excels.
The menu has all the usual teas, coffees and other hot drinks, competently made, along with juices, craft beers, spirits, cocktails and wine. For food there are sandwiches and cakes, plus a changing menu of soups and some other snacks, all with vegetarian and vegan offerings. Just check the glass box by the bar to see what's still available.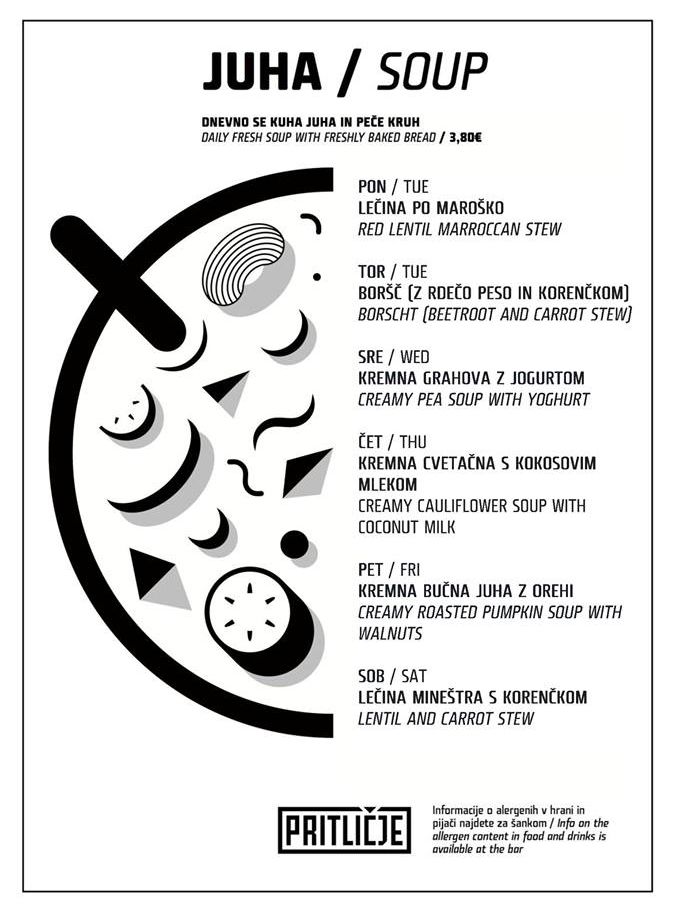 While all these items are good, and very reasonably priced, the real draw is the location, mood, people and events, and if any of these take your fancy then it'll soon become one of your favourite places in town, a base to meet friends old and new, and get involved in various communities of interest. It's also kid- and dog-friendly, so do bring the family for coffee and cake, and maybe next time the 'yes' vote will win.
Pritličje is located at Mestni trg 2, Ljubljana 1000, and is open 09:00–01:00 Mon, Tue, Wed and Sun, and until 03:00 Thu-Sat. The Striparna comic book store is open on weekdays 13.00–16.00, and weekends 10.00–16.00. The Facebook site is here.