STA, 17 January 2019 - An exhibition on Soviet World War II officer Alexander Pechersky, who led the uprising at the Sobibor extermination camp, will go on display at the Maribor Synagogue tonight, accompanied by the screening of the Russian film Sobibor, as an overture to the observation of International Holocaust Remembrance Day.
The exhibition and the film by Konstantin Khabenskiy, Russia's candidate for the 2018 foreign language Oscar, cover the mass escape of Jews from the Sobibor extermination camp in Poland in 1943, organised and led by Pechersky.
Although only 53 of those who escaped survived, it was the most successful break from a World War death camp. The camp itself was ordered by the SS chief Heinrich Himmler to be closed, dismantled and planted with trees within days after the uprising.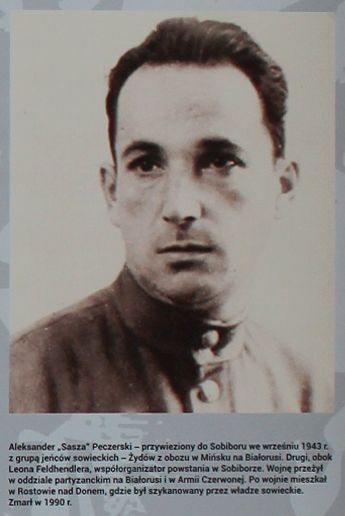 Alexander Pechersky – Wikipedia
The event is being organised by the Maribor Library and Centre of Jewish Cultural Heritage Synagogue Maribor in association with the Ljubljana-based Russian Centre of Science and Culture, the Russian Centre in Maribor, International WWII Research Centre in Maribor and the Association of History Students ISHA Maribor.
The event will officially launch this year's observation of International Holocaust Remembrance Day as part of the project Shoah - Let Us Remember 2019 in Slovenia with Culture Minister Dejan Prešiček as honorary sponsor.
The project involves a number of cultural, research and education institutions. Every year they hold exhibitions, scientific conferences and various cultural events to keep alive the memory of the victims of the Holocaust, Porajmos, Nazi persecution and genocide in general and to warn of instances of hatred and intolerance that could lead to crimes against humanity.
International Holocaust Remembrance Day, observed on 27 January, will also be observed by an event hosted by the ZZB NOB association of WWII veterans this Sunday at the Kino Šiška urban culture centre in Ljubljana. It will be addressed by Maca Jogan, a University of Ljubljana professor emeritus, who was born in the Lössnitz labour camp.
All our posts on Jewish Slovenia can be found here