*Of the CBD variety.
Strains of marijuana that are high in THC (tetrahydrocannabinol) remain illegal in Slovenia, if widely tolerated, and although medical marijuana is allowed it remains highly regulated. One part of the marijuana market does seem to be growing in the open here is that for low THC high CBD (cannabidiol) strains, which can be found in a growing number of products and outlets. Still, if you're looking for some natural calm in downtown Ljubljana then things are not so easy. A few health food stores and pharmacies stock CBD products, but specialists are hard to find.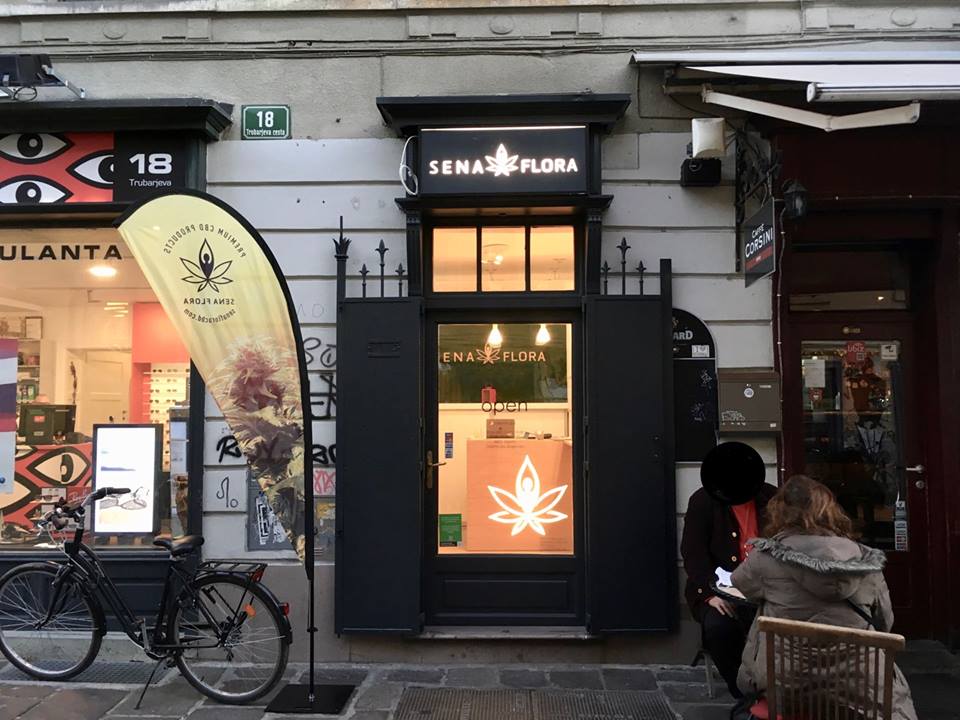 Blink, and you'll miss it. Between Reformator and Optika, opposite the umbrella store
It was thus with great interest that I came across a small store almost hidden on Trubarjeva cesta, a hole in the wall place that from the outside gave no clear indication of what it was selling. This is Sena Flora, a venture that was started late last year by two brothers with the aim of selling top quality CBD products online and in person. Always on the lookout for a story, I came away with the following…
What products do you sell, what are the ranges of CBD content, and how are each aimed at different users?
Currently we are selling CBD flowers (CBD <10%), CBD hash (CBD <20%), CBD crème, CBD chocolate, CBD oil 3% / 5% / 10%, CBD oil for pets, CBD paste 20% / 30%, and CBD crystals.
Our flowers and hash are aroma products. Their concentration of CBD is much higher than in regular strains, while the content of THC is in line with the legally allowed limit. People who buy it are amazed by the incredible smell. These products are all grown absolutely organic and without the use of pesticides.
CBD oil and paste is usually bought by people who are looking for a very effective supplement that supports the balance of their inner body. CBD has a multitude of positive effects according to a great number of medical studies.
Among customers who complain about skin related issues our CBD crème is definitely the top seller.
We also have a specific line of CBD oil for pets that ensures our doggies feel happy and peaceful.
Some of the products from the online store
Overall, what are the main benefits of CBD?
During research into the cannabinoids found in plants scientists discovered the human endocannabinoid system. This system is broadly spread throughout the human body and works in cooperation with a multitude of organs. So when cannabinoids are consumed they unfold effects in all those areas of the body. According to studies, this is also the reason why so many different health-related issues could be treated with CBD. Studies published in The British Journal of Clinical Pharmacology noted CBD's capability of relieving pain and reducing symptoms of anxiety and depression. The authors also point out a number of other highly interesting effects: alleviation of cancer-related symptoms, reduction of acne, neuroprotection and benefits for heart health.
It is important to know, though, that CBD is still seen as a supplementary product in the EU. Therefore, CBD is not a substitute for the medical treatment of health related issues.
Are there any articles or books you'd recommend if people want to learn more about CBD?
A book we recommend is CBD - A Patient's Guide to Medicinal Cannabis. Healing without the High by Leonard Leinow et al. It is the most comprehensive publication on the science and therapeutic use of cannabinoids yet produced. It extensively covers the science of cannabinoid chemistry and the endocannabinoid system, and is supported by more than four hundred peer-reviewed research articles.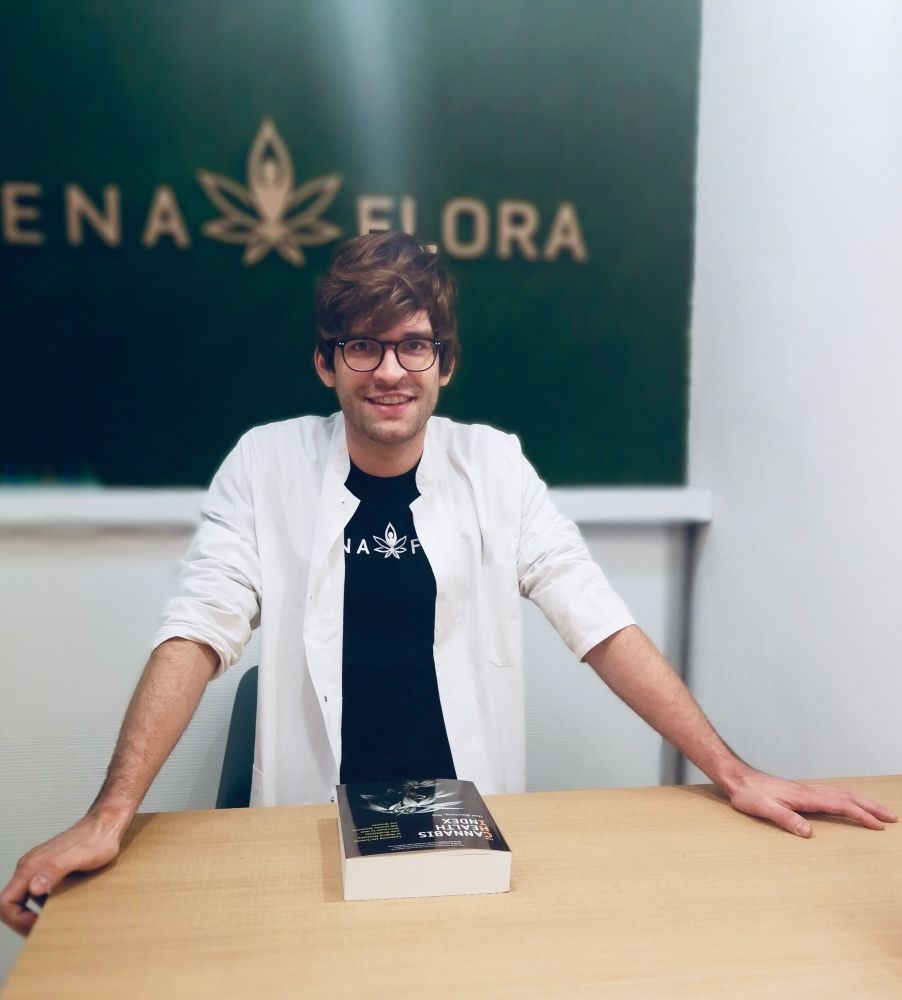 He really is a doctor
Related: Herbal medicine in Slovenia - a flower for every disease
Are you the first store like this in Ljubljana?
We opened in November 2018 and are the first store of this kind in the city. What makes us unique is that we have a doctor inside our store – myself – who has spent a huge amount of time on the study of CBD and cannabinoids in general. I haven't heard of any other cannabis store where that's the case. People love that they can get professional advice related to CBD and do not have to rely on untrustworthy brochures or promotional material. The depth of his knowledge leaves a strong impression.
You're a doctor and your brother is an economist and jurist, this seems like the ideal combination for such a store. How have your backgrounds informed your work here, and what new skills have you had to learn?
We certainly have to learn new skills every day. Every customer is different and has specific needs that we try to meet. Therefore, our priority is that each customer gets the most professional advice and, in the end, knows what product suits him or her best.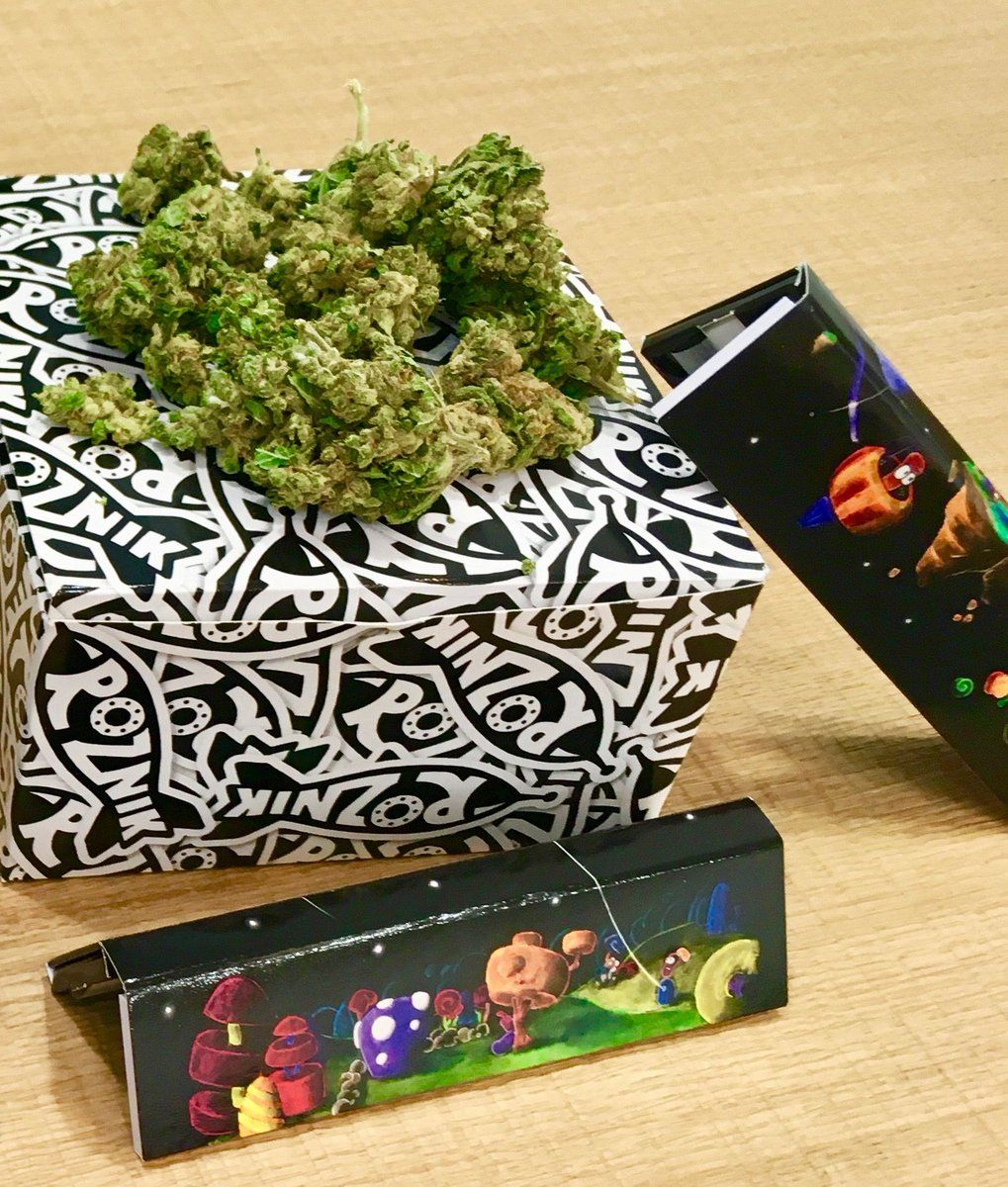 The way the store with looks, with the buds and hash on display, do you get any trouble from the police? Or confused shoppers?
There are many shoppers who cannot believe what we are selling and are completely surprised. Funnily enough, those usually become the most content customers. We haven't had any trouble regarding the police, since our products fulfill all the legal requirements. The customers range from students to doctors, and is completely mixed. One day a policeman even came into our store to buy something, telling us that his mother is a complete fan of our CBD drops and crème.
Do you use any of the products?
Yes, I am using CBD drops once in the morning and once in the evening. It has a positive effect on my metabolism and they let me get a perfect sleep.
If someone is new to the world of CBD, which item do you recommend?
CBD oil is certainly the most universal product, since it can be used by everyone. Besides I must recommend our CBD crème, too. Since it is completely organic you can be sure that the skin absorbs only natural substances, all coming from the fruitful earth in Slovenia.
You also have an online store – do you ship all over Slovenia?
Yes, our online store ships all over Slovenia, Croatia and Austria.
Anything else you'd like to add?
Our mission is to provide people with high-quality CBD Flowers and a wide variety of other products, all derived from Cannabis. Come visit us at Trubarjeva cesta 18, Ljubljana! We are looking forward to seeing you!