January 29, 2018
Last week we looked at a picture dictionary you can get from Felix (and other retailers), and I mentioned looking in the children's books section for relatively easy reading material. It's perhaps here I should confess that I certainly can't understand Delo yet, and struggle to read much for pleasure beyond the simplest texts. Still, I can enjoy Calvin & Hobbes, which means a lot.
Bill Watterson
If you're not familiar with this comic strip, it's about a young boy, Calvin, and his toy tiger, Hobbes, who comes to life in the child's imagination as the two go off on adventures and get into trouble.
Bill Watterson
It's a modern classic of the form, not least because the author, Bill Watterson, decided to stop before running out of ideas, and also chose not to exploit his creations with licensing deals, and thus no soft toy version of Hobbes or posable figures of Calvin.
Bill Watterson
Instead, all that remains is the work itself, a collection of innocence, charm and hilarity, and – best of all for our purposes – a lot of simple narratives told in four panels, with a pay-off if you get the joke.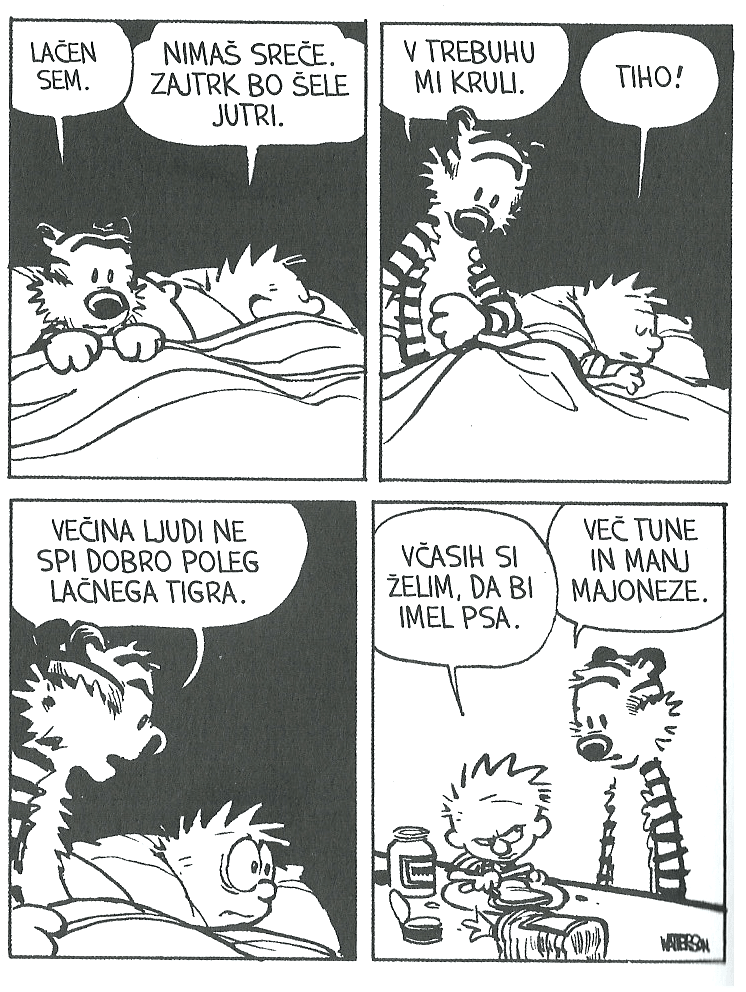 Bill Watterson
You can get the individual books for around 9.99 EUR, each of which has more than 120 pages of fun. If you live abroad then, at the time of writing, you can get the books shipped from here, with the deliveries page saying: Purchased goods are delivered to any address in Slovenia. For the possibility of delivering goods abroad, please call us on telephone number (04) 53 20 200 or write to This email address is being protected from spambots. You need JavaScript enabled to view it.