I lived on Ljubljana's Trubarjeva cesta for my first few years in Slovenia. I left because the rent was too high and the space too small, moving 30 minutes out of the city to a large place I've hardly left except for supplies since moving last December. It's a nice place, a lot better than my apartment on Turbarjeva, but no one will ever write a book about the street it's on.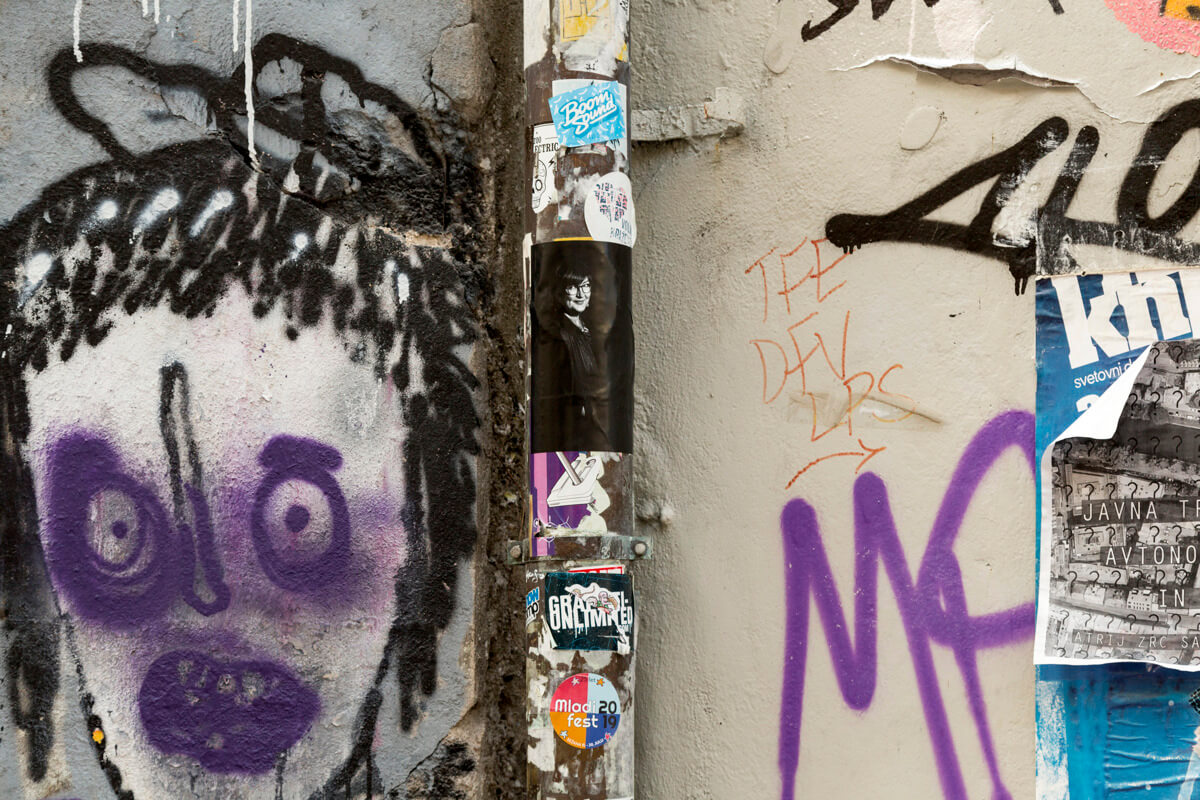 Graffiti is a big part of the street, especially in the second half. Photo: Manca Juvan (and if you're on the street around now you'll see some of her photos from the book on the walls)
Trubarjeva is perhaps the most diverse place in Slovenia. Split between the fancier end that runs from Prešeren to Resljeva cesta, the road with Dragon Bridge, and the more graffiti-covered, falling down and rapidly gentrifying dirty end. The former starts with the Emporium top brand store, while the latter ends with the Rog squat, a what now seems to have been a failed attempt to establish an autonomous zone in a former bicycle factory, a space that's set for glossy redevelopment.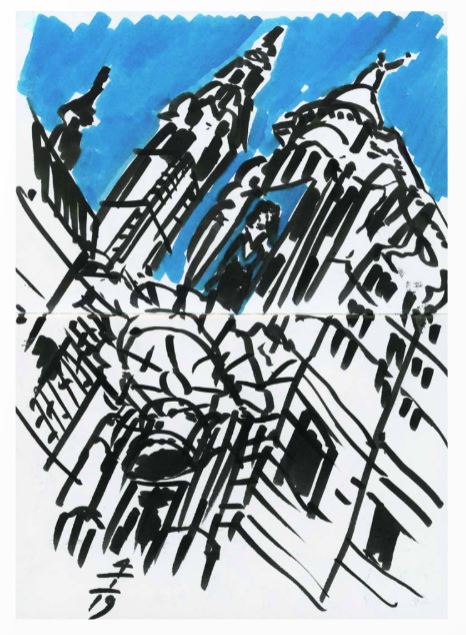 With sketches by Blaž Budja, this one showing Emporium
And it's not just Rog. Starting last year the street has been undergoing extensive renovation work, as befits its status as one of the more trafficked parts of downtown, by tourists and residents who want something different, and it's rising profile in the city (the book this article will eventually get to was supported in part by the City of Ljubljana).
The book features interviews with local residents and business owners - in Slovene and English for maximum educational potential. if you need a photo, go to Foto Pauli and see Gordana. I trusted her with my passport photo / author picture / Facebook profile.
Tourism and Airbnb, among other reasons, are why property prices are rising fast in Ljubljana, and with them the rents. This is changing the character of the people who can afford to live there, and the businesses that can afford to operate. But Trubarjeva is still not the Old Town, and there are many businesses used by locals for necessities and minor indulgences.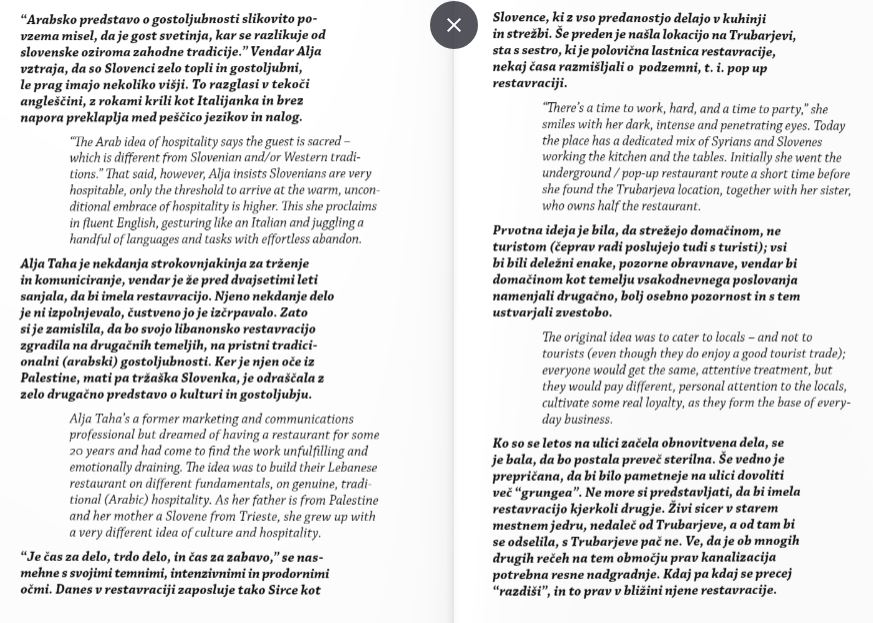 What draws most is the variety of restaurants, from cheap to more expensive, with the mix at the time of writing including Chinese, Vietnamese, Indian, Bangladeshi, Thai, Italian, Lebanese, Turkish, Vegan and Slovenian, without even going into Skuhna and its rotating menu of dishes from Africa, South America and beyond, along with a great spice shop and Asian store.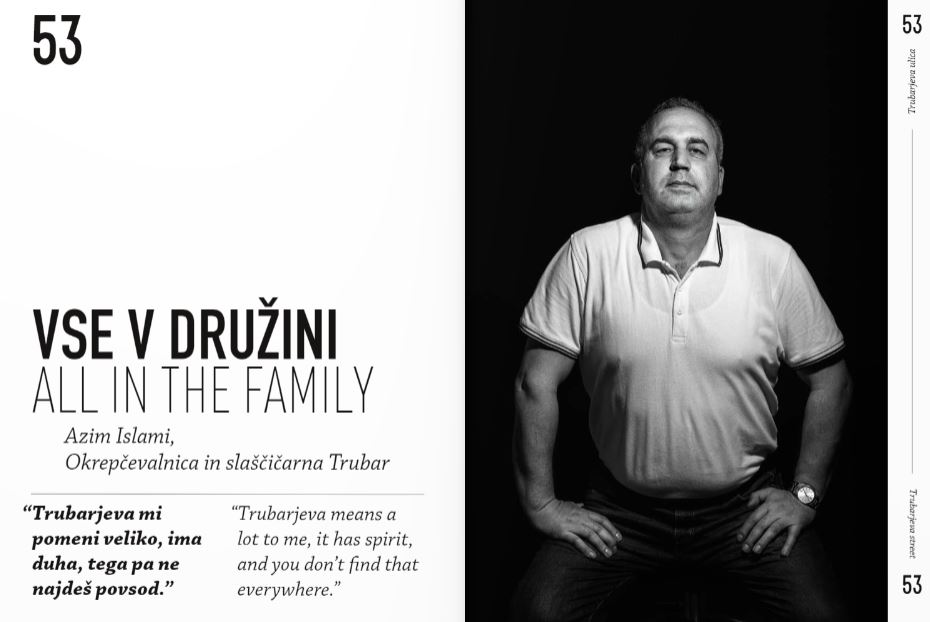 There are also some good cafés and bars, with Trubar alone seeing more of my income than anyone other than my landlady in my time on the street, although in some months it was close.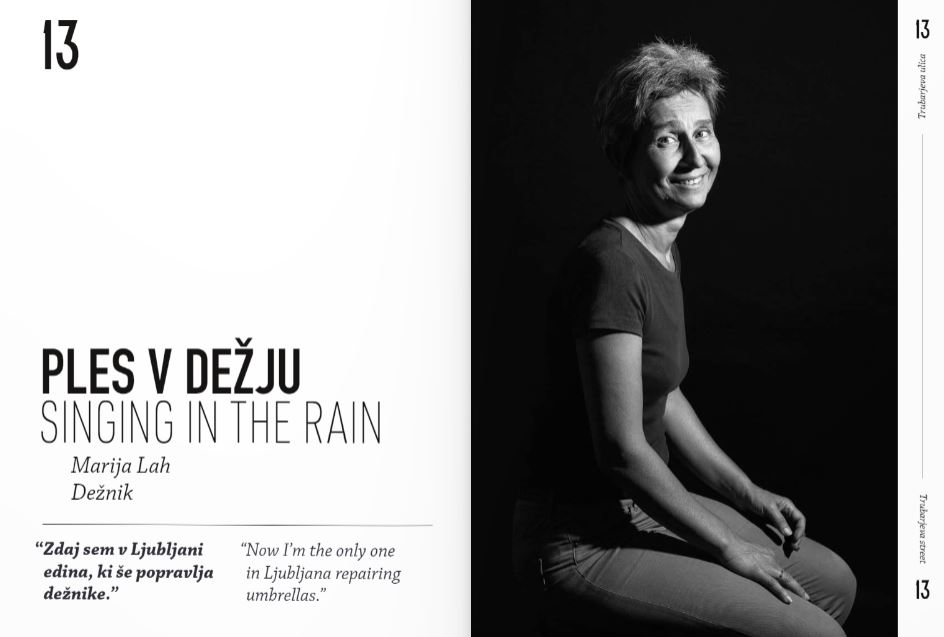 That umbrella repair store? You can see a documentary on it here
Beyond restaurants and bars, on Trubarjeva you can buy buttons and beads, get your watch or shoe repaired, try a fur coat and second-hand clothes, antiques and art, bread and burek, sex toys and vaporisers. Have your photograph taken or get your hair cut, choose a skateboard or new pair of glasses, a book or umbrella, ride off with a bicycle, equip your home for growing marijuana or stock your fridge with craft beer, purchase health food or handmade chocolates, go to a rave, work with some refugees, attend the "Sigmud Freud University" or watch some graffiti get made. Something for almost everyone.
You can read our story on Antika Carniola here
Which is to say I'm the ideal reader for a new book, Trubarjeva, Expressions of A Street in Transition, which is being launched next week but can currently be viewed entire online and a paper copy ordered here.
With texts by Jeff Bickert, in Slovene and English - so great for learning the language, sketches of the street by Blaž Budja, photographs by Manca Juvan and design by Sava Kosmač, it's a 144-page look Trubarjeva with a variety, colour and cool that are worthy of the street itself. Structured around interviews with people who live and work on Trubarjeva, with faces familiar to anyone who hangs out there a lot, you'll learn how the street was, how it is, and some of the hopes and fears for the future. Trubarjeva is a unique part of Slovenia that's changing fast, one that may not survive in its current form for many more years, so it's good this book is here to document a time of transition.
All our stories on Trubarjeva can be found here