January 11, 2018
One of the many joys of Slovenia is the great variety and high quality of local wines, which tend to be very reasonably priced due their long-standing 'hidden gem' status, although this is now under threat due increases in global wine consumption and the need for suppliers to explore new markets and promote new brands. While an increase in demand for Slovenian wines would push up prices for consumers, there's no doubt that the industry deserves more attention and respect, especially outside of the region, and one small firm that's bringing the products of local viticulture to a wider market is Slovenian Wines Wisconsin. The team were kind of enough to answer some questions about their business, as well as share their favourite bottles.
How did you start selling Slovenian wines?
We are a three-person team based in Milwaukee, Wisconsin comprised of one first generation Slovenian-American (Mark Škof) and a married couple of "Fauxvenes" (Jessica Gibson and Neil Simpson). The idea for the business came to Mark years ago when he was working in sales for a Slovenian motor company. Part of Mark's job was to wine and dine American customers in the Primorska region of Slovenia, which caused him to fall in love with the fabulous wines of Brda and Vipava Valley.
Back home in Milwaukee, Mark started researching how he could bring Slovenian wines to the Milwaukee / Wisconsin market. It turns out, you can't just import Slovenian wines yourself and there are a lot of logistical and legal hoops you have to jump through to bring wines into the US. Fortunately, Mark was able to partner with Emil Gaspari of Slovenian Premium Wines in New York, who would act as a broker for the importers, and then later with Ratas Wholesale Liquor in West Allis, Wisconsin, which would act as the distributor in Wisconsin.
Even though Milwaukee has a sizeable Slovenian community, Mark was not sure how well Slovenian wines would sell in the area, but he took the risk anyway. And the risk has paid off, because the business has done very well considering its size in the last two years.
The wines really took off in the Milwaukee market much greater and faster than anyone really thought possible. Jessica and Neil, who were friends of Mark and lovers of all things related to Slovenia, joined the team in 2017, and have helped bring Slovenian wines to some of the trendiest restaurants in Milwaukee.
We all continue to have other "day jobs" and sell Slovenian wines on the side as a hobby, because we are so passionate about the products. That's what part of what makes our project so much fun, we're not doing this for our livelihood or to get rich, it's purely because we absolutely believe the wines we sell are among the world's best.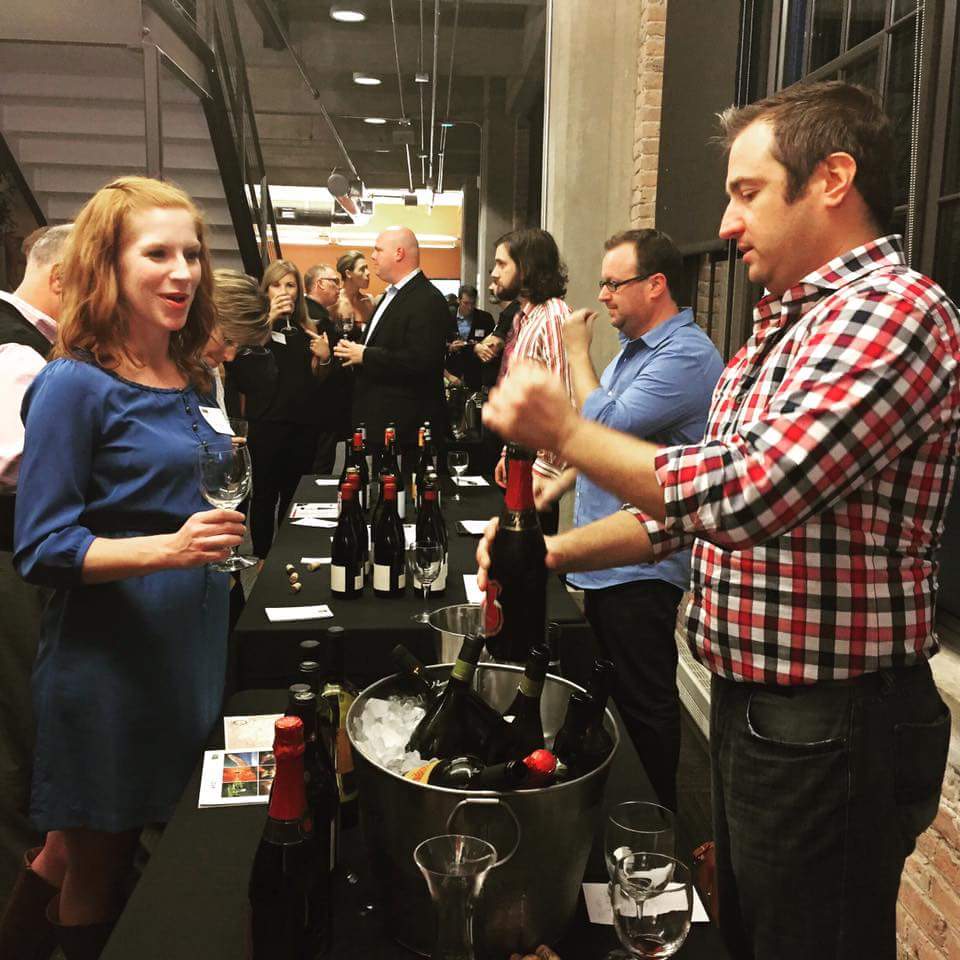 Who are your customers?
Our customer base is actually quite varied. Some are some Slovenian-Americans, others are from the former Yugoslavia, some have vacationed in Slovenia and loved it, some have never even heard of Slovenia. But I think the majority of our customers are people who are just curious about wine. They're searching for something new and different than what they've tried before.\Our biggest struggle is to get customers to try the wines. Once they do, they always enjoy them and its fun for us to see them get excited and fall in love with the wines just like we did when we first tried them.
How easy is it to import wine from Slovenia?
That's a funny question, we thought it would be quite easy at first. You get a case of wine and go sell it right? Well it proved to be more difficult than that. In fact, it's not an easy process at all, as the sale of alcohol is highly regulated by each state in the US, and importing wines is even more regulated at the federal level. Everything from the contents of the wine to the wine labels has to be inspected and approved by the government before it can ever be imported.
We were lucky that Emil Gaspari already had a business of bringing Slovenian wines into the United States, New York in particular, and that he would send wine for us to sell in Milwaukee. Ratas Wholesale Liquor has also been a great partner and proponent of this passion project! Honestly, without those two we wouldn't have had nearly the success we have.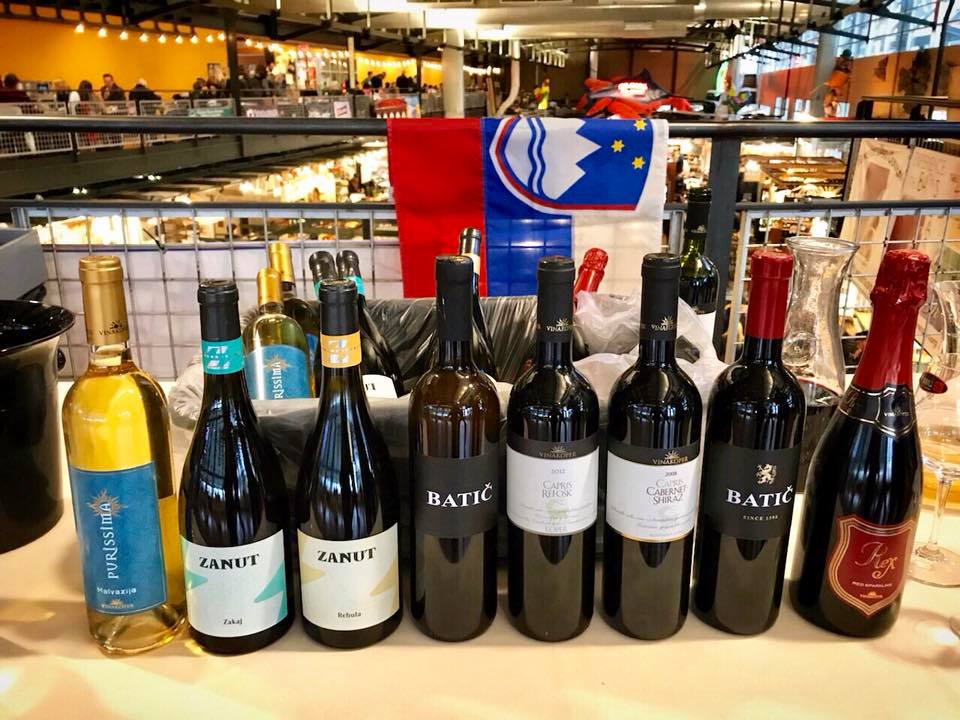 What are some of your most popular wines?
By far, Tilia's Pinot Gris is our best seller. It's one of the best pinot gris wines we have ever tasted and its price point (about 15 dollars / 12 euros) makes it an easy sell.
We also sell a lot of Vinakoper's Capri Refošk. People love it because it's a grape they're not familiar with, it's something different and unique to the wine market in Milwaukee. I think it pairs quite well with a lot of the foods which are pretty common to us, like steaks and roasts when it's cold out, and especially barbeque in the summer.
When we've done larger wine tasting events and feature Batič wines, those are almost always the best sellers, especially the rosé and the cab franc. We've had sommeliers in the area comment that Batič wines are some of the best they've tasted. We also sell Slovenian Vodka to a many restaurants and customers. The vodka is backed by Chef Peter Kelly and Bill Murray (among others) so it's really great to have such luminaries in their respective fields helping promote what we're selling.
What Slovenian wines do you enjoy?
Our favourite three wines are:
Mark: Batič Cabernet Franc, Zanut Rebula, Vinakoper Capris Refošk, Tilia Pinot Gris (I can't pick just three)
Jessica: Batič Rose, Tilia Pinot Gris, Zanut Rebula
Neil: Batič Pinela, Vinakoper Capris Refošk, Tilia Pinot Gris
Have you ever visited Slovenia?
Growing up with two Slovenian parents, Mark had the ability to visit Slovenia more times than he can count and even studied in Ljubljana for a while. He tries to make it back to Slovenia to visit his countless cousins and family members in Polhov Gradec as often as he can.
Jessica and Neil first visited Slovenia in 2011 for vacation and fell in love the country so much they have gone back every year. When we do larger tasting we always ask our customers if they've ever been to Slovenia. Our next question is how many times? No one ever goes just once, they always make return trips because they love it so much.
Are there any other Slovenian foods or drinks that impressed you?
We're all very excited to see the rise of the craft beer scene in Slovenia, and especially in Ljubljana! It's really taken off in the past few years. We were even fortunate enough to be visiting Ljubljana during a Pivo & Whisky Fest, which was a lot of fun to attend. We were able to taste craft beer from all over Slovenia. I would say Human Fish, Pelicon, and Loo-blah-nah were easily some of our favourite beers we've had in Slovenia.
We also try to make it to Odprta Kuhinja when visiting Ljubljana. All the local restaurants set up in the market can't be beat! There's so many different foods to try, it's truly a great event. But one of our favourite foods is obviously potica. We ate a few too many over the holiday season and our waistlines are getting a bit larger!
If you're interested in learning more about Slovenian Wines Wisconsin, then check out their website or Facebook page