The Slovenian gin scene is booming, helped along by the country's long history of distillation and production of juniper-based schnapps (brinjevec or brinavec), as well as it's growing reputation as a culinary destination.
One of the dozen or so gin producers that started business in recent years is Broken Bones, with a name that comes from when the owners, Borut and Boštjan, both had accidents when working with their first whisky barrels, resulting in a broken leg and broken nose.
I'd briefly met Boštjan at various gin-related events around town, but curious to know more about the first gin maker in Ljubljana, and the first new distillery in the capital in some 50 years, I decided to visit the place myself, an experience that's now open to all.
It's a short drive or cycle from the centre of town, at 132 Tršaska cesta, just between a Toyota showroom and a Petrol station. Since there are samples on offer you might prefer to get a bus, with both 6 and 6b taking you there from Slovenska cesta.
From the outside it's easy to miss. Photo: JL Flanner
It's a small place, divided into a clean, white tiled distillery and a wood and leather showroom / store / bar. Playing the background is a sound collage of distillery sounds, put together by a DJ Boštjan knows from his time when he and the legendary Umek helped kickstart the techno scene in Slovenia, releasing records putting on club nights at Nexus and K4, two or three lifetimes ago.
Photo: JL Flanner
What's your background?
Computer programming, a very different business. I worked in that for years on various projects. For example, I started the bolha.com, the online market, before eventually selling that, and then there was Napovednik. I was still working on that until recently, in fact, but Broken Bones (BB) was taking up more of my time, so now this is it.
How did you and Borut get into distilling?
It was a long process. I'm a technical guy, and my wife's family has a vineyard, so I've been working with wine, thinking about wine for over 20 years. I also got into making beer, and was interested in whisky, starting from about eight years ago. But these were hobbies, not businesses.
At the same time my partner in Broken Bones, Borut, had been importing whisky in Slovenia since 1991, when the country became independent and that kind of business was possible. He also has a family history of distilling, so that was a hobby of his. He was making schnapps, and then he started making absinthe, one of the first producers in Slovenia.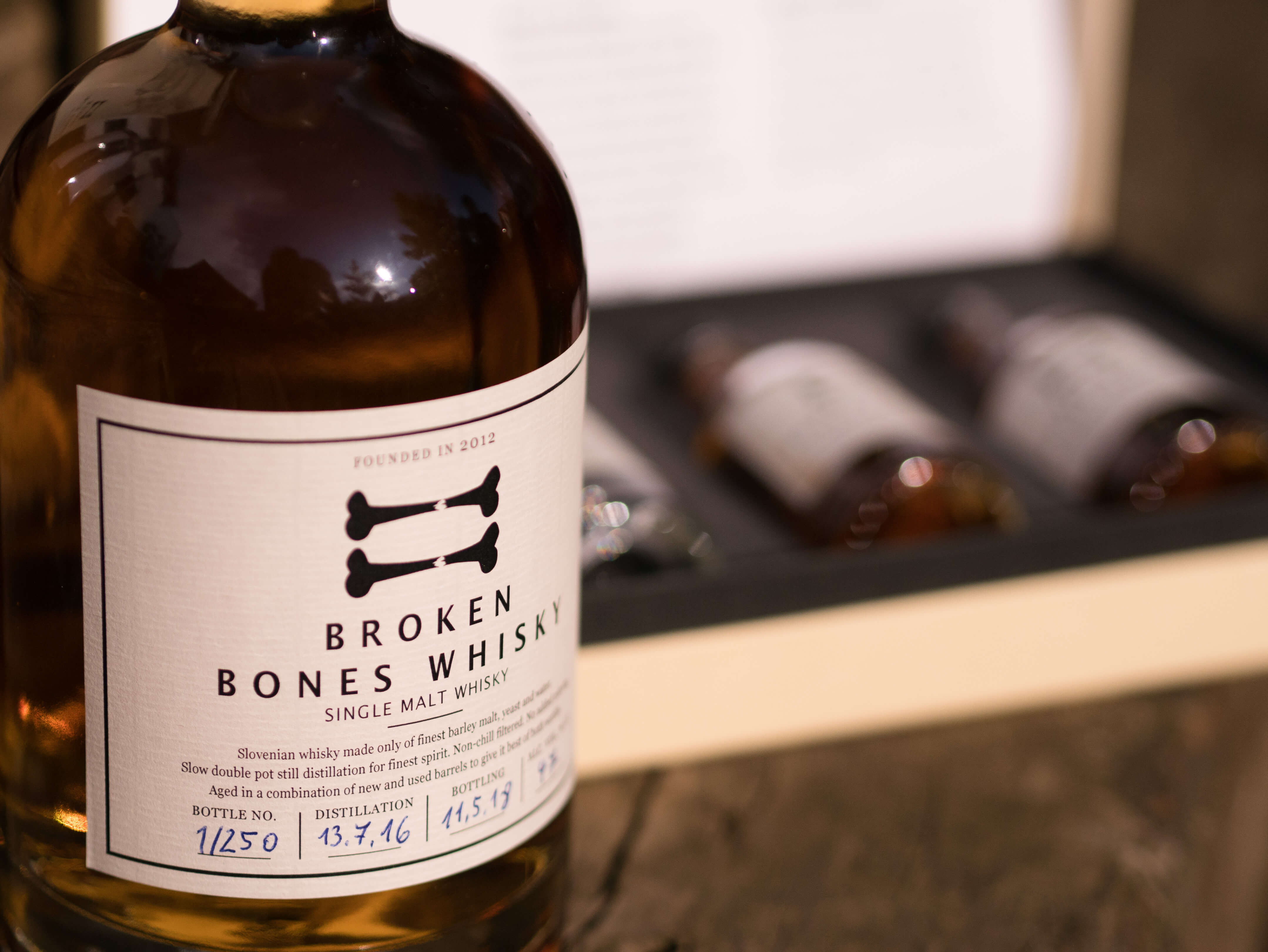 Broken Bones still makes small batches of whisky
So when we started working together it was in my basement in Kodeljevo, and we made our own still, for whisky, soldering the parts together ourselves, one that we still use here.
But whisky takes a long time, and it can be a very long time aging in barrels before you get a good whisky, because the raw whisky – the new make, the colourless liquid that comes out of the still, is really not something anybody would like to drink. Gin, on the other hand, is a lot faster to produce, with no real aging. It just needs to rest for a month or so and it's ready to drink, so from a production point of view it's a lot more appealing. We knew that many small whisky distillers were making gin precisely because of that, but not really liking classical gins we were not interested in making them. This changed a couple of years ago when we discovered the modern styles of gin by going to whisky events in London, where we learned about modern, much more interesting and aromatic gin, the kind from, say, Bombay Sapphire onwards, and that really started us thinking, especially because Slovenia is well known for its juniper berries.
We started experimenting with gin. Did about a hundred distillations on a small scale, studying a lot of the literature and using the knowledge we already gained through working with whisky. We experimented with botanicals, their ratios and different still designs. It took us about a year to get to the recipe we really liked.
The distillery is open for small groups, where you can sample the drinks along with some appropriate snacks
How long has Broken Bones been open?
Since May 2018, and we were very lucky when we launched. It was just when the gin craze was getting started here, with more producers, more bars and events.
I have to say that the craft beer scene really helped in this, too. Before then people were just drinking local lager, not thinking much about anything else but price. Then with craft beer things became more like wine. People were interested in what's new, what's next, and they also understood that you have to pay more for quality. So when people started making craft gin in Slovenia there was an understanding that this could be an interesting product, that it was worth exploring, and when you found something you really liked also that it was something worth paying for.
What's the response been like?
Very good, both here and abroad. I've been going to London quite a lot, showing our gins to various bars, and we have a distributor in the UK now, as well as several awards. We currently have a 600 litre still, more than we need, but the way the business is growing it may be too small soon.
What ingredients do you use, and how are the London and Navy gins different?
We start off with a neutral alcohol, made of molasses, although grain is more common in the industry. For the botanicals we use the same in both our London Dry and Navy gins. Of course there's juniper berries, but also lemon and cardamom, among other things, and then, as a Slovenian element, rosehip and linden. The Navy gin is stronger, with more alcohol, and that is why it can also carry more flavour it also has more botanicals.
We're very busy at the moment, we only moved into this site at the start of May, but as things are settling down we should be able to launch something new soon, Old Tom Gin, with added linden tree flower honey and matured in Slovenian oak casks. Then we have a few more things we're planning, including one that's a more distinctive, Ljubljana gin, but that's for another day.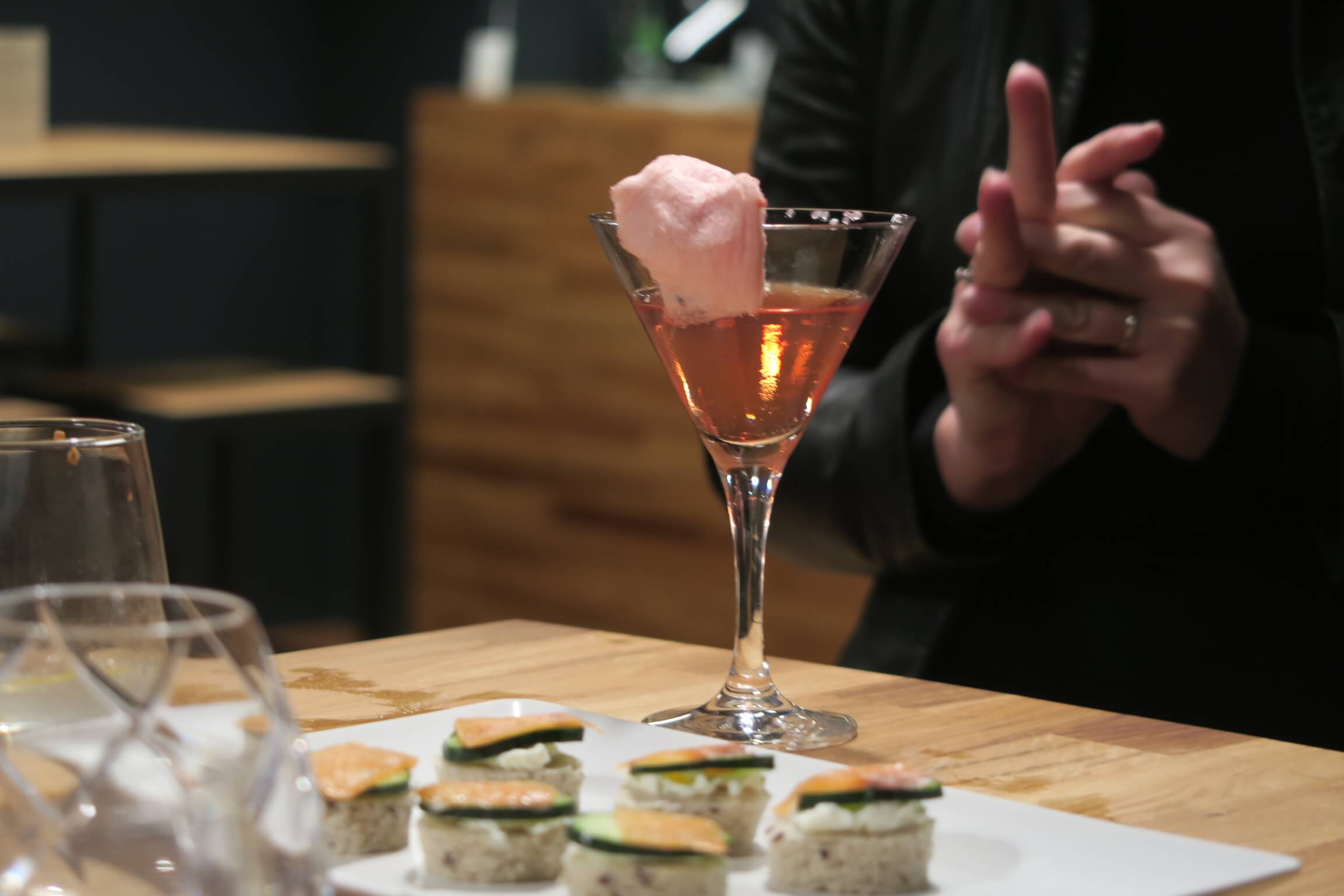 And where can people find you?
You can find our gin at various bars and stores in Slovenia and the UK, but if you're in Ljubljana then perhaps the best place is our distillery shop or the Central Market. Monday to Saturday, the part by the arcades that connects the two squares. Here you'll find a stall where you can sample the gin. If you'd like a fuller measure, perhaps with a mixer, then the nearby Magda bar will do you. Elsewhere in town we've been working closely with Pritljičje and Kolribi, and if you're looking for something a little different then Sveti Florijan, in the Old Town, makes a gin dessert.
People can also come here, for the Broken Bones Experience. We didn't just want to do a classical tour of the distillery as such, although you obviously see it as well. But if you make a visit then you'll learn about the history of gin, the process of distillation, the different kinds of gin, and, of most importantly, you'll get to sample some, including in several cocktails from the selection of recipes created by Tina Pirnat especially for our gin accompanied with snacks, and try our gin pralines.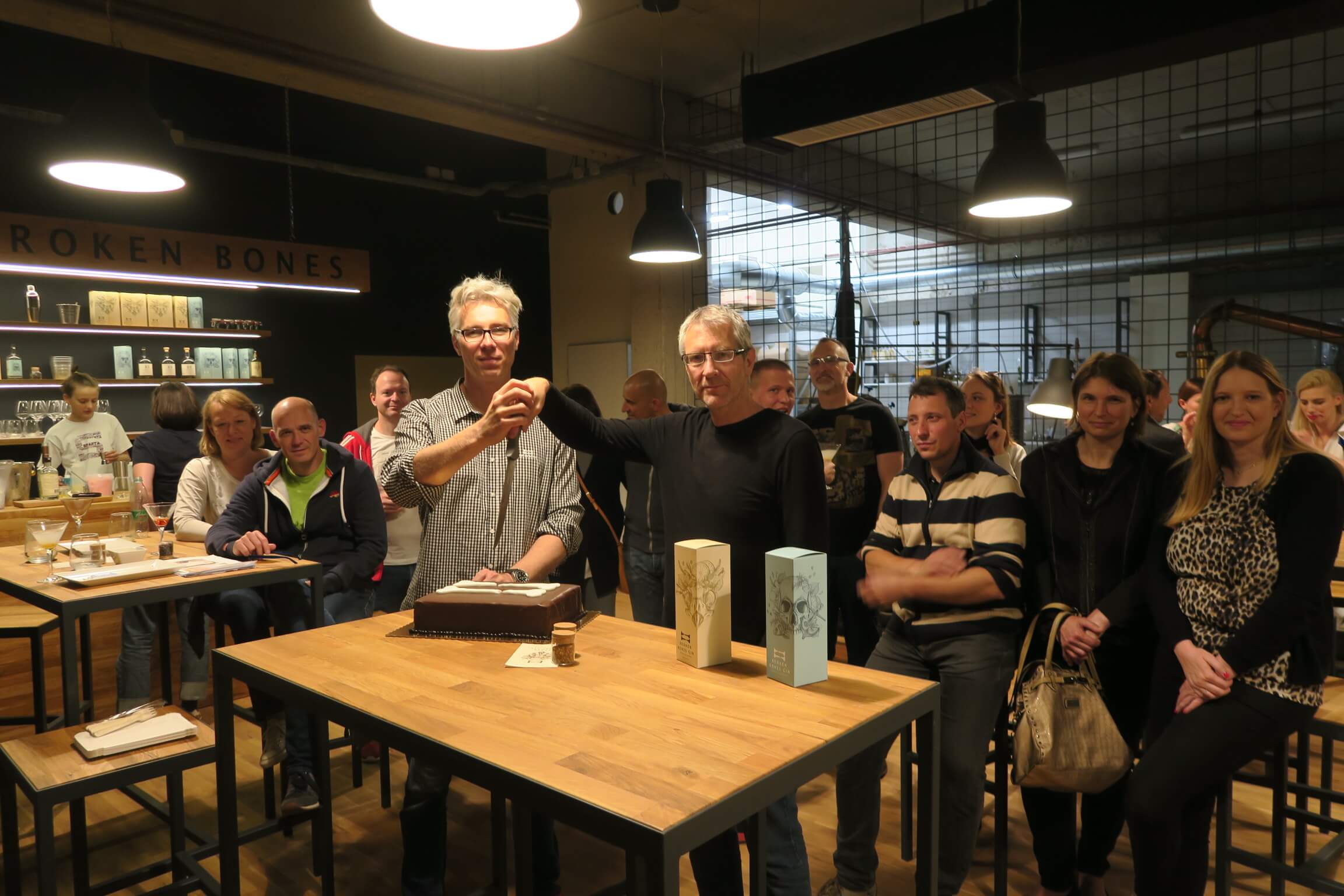 You can see the cocktail recipes here, with the one I tried below, while you can learn more about the Broken Bones Experience here.
The Martini Espresso with a Gin Twist
Ingredients:
Broken Bones Gin - 30 ml
Kahlua - 30 ml
Espresso coffee - 30 ml
Simple syrup - half a teaspoon
Preparation