STA, 14 September 2021 - A joint session of two parliamentary working bodies, called by the centre-left opposition to discuss the status of an association that has been linked to the Identitarian movement, was broken off yesterday after one of the ministers invited walked out, while another excused himself from attending the meeting.
The joint session by the Commission for Petitions, Human Rights and Equal Opportunities and the Culture Committee was to discuss the status of the Association for the Promotion of Traditional Values, whose erstwhile leader Urban Purgar recently resigned in the wake of controversy after he posted a "Hitler is #hero" tweet on 1 August.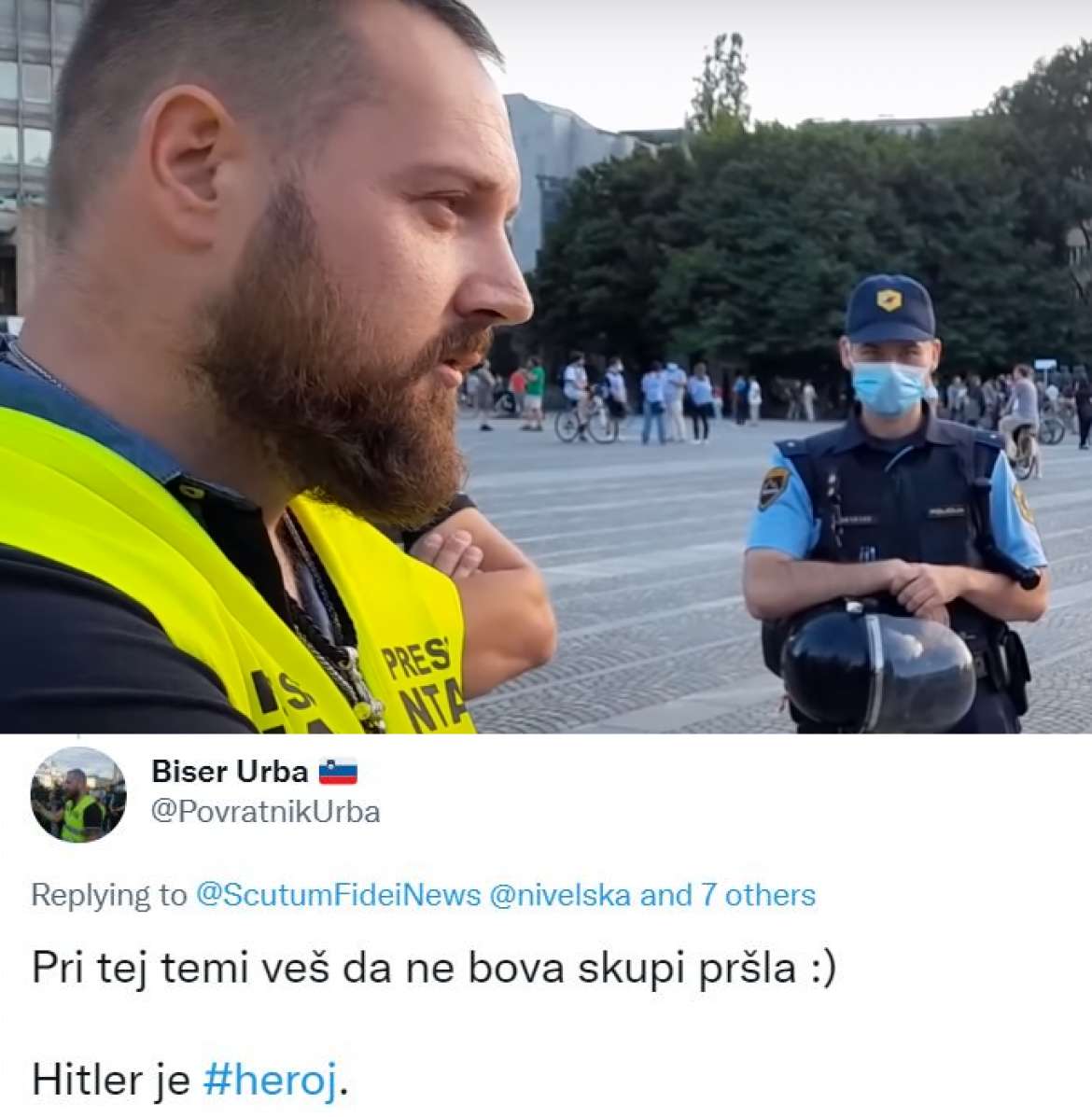 Urban Purgar and his tweet. Photos: YouTube, Twitter
The opposition Social Democrats (SD), Marjan Šarec List (LMŠ), Left, Alenka Bratušek Party (SAB) and the non-affiliated MPs (NeP) wanted for the Culture Ministry to annul the decision whereby it awarded the association the status of an association in the public interest, which was one of the conclusions proposed for the session to adopt.
SD MP Meira Hot said it was "completely unacceptable" for the association to enjoy such a status considering that it "incites hatred, offends people and even threatens liquidations".
"How can glorifying one of the biggest Nazi leaders be for the general benefit of our society and public interest," the MP wondered, adding that such actions ran in contravention of the Slovenian law.
Culture Minister Vasko Simoniti said a session on neo-Nazism was welcome, and it would be good for discussion to be held in parliament once about "hate speech and totalitarian criminal systems such as Communism, Fascism and Nazism".
He said it was up to the authorities in charge to detect if neo-Nazism was present in Slovenia, while "it is required to approach in equal measure and vigilantly to detecting other totalitarian systems".
The minister soon left the session without stating his position on the proposed conclusions. Since Justice Minister Marjan Dikaučič had already excused himself from attendance beforehand, the session was broken off after about an hour.
The centre-left opposition said they would keep resuming and interrupting the session until they have been given answers to their concrete questions.
The parties had told reporters ahead of the session they would insist on the Association for the Promotion of Traditional Values being stripped of the status of an association in the public interest.
"Ideas of Nazism and Fascism are being stringently prosecuted throughout Europe, while the Janez Janša government encourages such ideas and gives them value," said Violeta Tomić, the head of the Culture Committee and MP for the Left.