April 25, 2018
The travails of history have left Slovenia with a short coastline, especially when compared to Croatia, where many residents decamp for their summer vacations. But while the country lacks length, variety and islands in this regard, the small size of the Slovenian Riviera – just over 40 km long – does allow you to master it all in a few trips, or at least gain the impression you have.
And just as Ljubljana has its own character and charms, despite being "less so" on almost all metrics compared to Paris, Barcelona or Rome, so that short stretch of the Adriatic coast where Slovene is spoken at home has much to offer, whether on your first trip or as part of a regular respite from the rigors of the continental climate.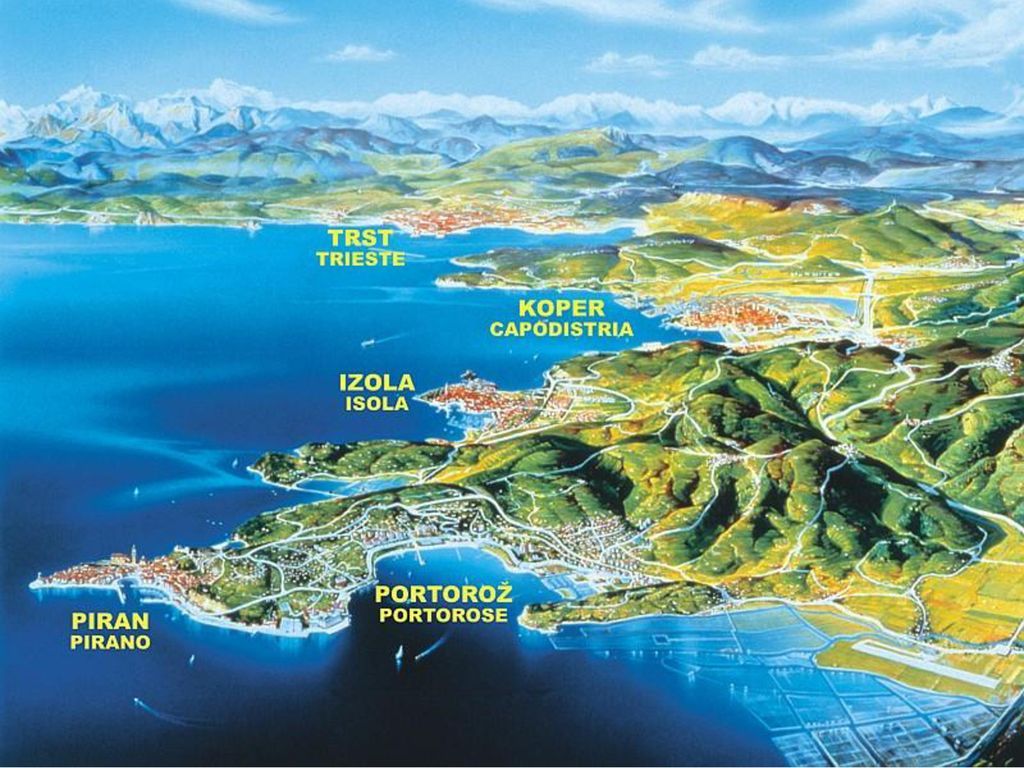 Wikimedia: The Slovenian names, followed by the Italian
To that end, we present a short guide to what's on the coast and how to get there, with more details to be added in longer texts as the season progresses and we work on our tan, within sight and sound of those enchanting waters. (And one thing to note, if you've never been there before and have certain image in your head, is that the beaches have more rocks than sand, other than at Portorož, and the waves could never be surfed.)
Koper is the main town on the coast, with a large port and, for our purposes, the main transport links with Ljubljana. You can get to and from here by bus or train, and then head to by bus or taxi to any of the other locations along the coast. While there is a beach at Koper, it's relatively small and crowded, and thus most visitors will head to one of the other towns along the Adriatic.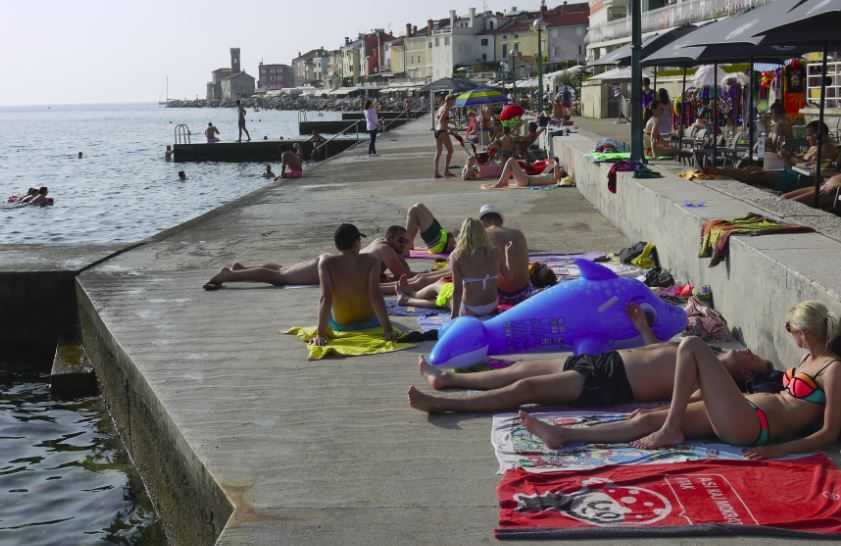 Sunbathers in Piran. Note the lack of a conventional beach. Wikimedia: Tobin - CC by 2.0
If you don't live Slovenia and won't be coming back then it's probably best to head to Piran first, as it's the main picture postcard attraction. It has a beautiful Venetian old town to explore on a peninsula that, as all peninsulas do, juts out into the sea, with focal points being Tartini Square and the Parish Church of St. George, and plenty of places to eat, drink, sunbathe and swim.
Piran is not far from the other main attraction, Portorož, and with some time and moderate fitness you can walk between the two, or simply get a bus or a taxi. This is a classic resort town that still has some of the grand architecture of the late 19th and early 20th centuries, along with top hotels, casinos and restaurants, and thus plenty of glamour to go with the slightly more downmarket attractions of stores selling flip-flops, inflatable objects, sundresses, sunhats and sunglasses.
In essence, and like most of the coast, in Portorož you get what you see, and if you like loud, gaudy places then it's got something for you, while if you prefer more quiet and seclusion, then you should head on to izola or Strunjan.
Like Piran, Izola is another old Venetian town with some nice architecture and a stony beach, with concrete to put your towel on and fry. There are also many seafood restaurants, and you can see some of the attractions in the following promotional video.
While most of the other places on this list are towns, Strunjan is a nature reserve, with trails for hiking or biking, and if you're want to get some relative peace then this is the place to head to, as shown in this video of some Italians enjoying what they know as Strugnano (with our more detailed look at this lovely getaway here).
One focus of the park is Mesečev zaliv (Moon bay), shown in the image below, and a good base for exploring rock pools or leaving your things on the shore and taking a dip. The striking appearance of this bay is due to the flysch it's made of, a sedimentary rock that dates back to the Eocene, some 56 to 33.9 million years ago.
parkstrunjan.si
Getting there and away
There are buses and trains to and from Koper and Ljubljana, but bear in mind that there are considerable variations in the schedules depending on the time of year and day of week, which is why we're directing you to the related sites rather than writing something here which then turns out to be incorrect. Trains take between two and three hours, and the relatde website is here, whiloe buses take just over two hours, and the timetable can be searched here. Finally, if you're driving, then the A1 highway runs from Ljubljana to the coast, and the journey takes about 90 minutes.
Other articles in this series can be found here.