While Ljubljana Old Town is charming, as each tourist season goes by there are fewer stores that sell things a resident might actually need, with more practical shops getting replaced by those selling souvenirs, ice creams, high fashion items and so on. Nice to look at, but not much use when you need a pair of jeans, camera, USB cable, screwdriver, baking tray, bicycle or bookshelves.
So where does Ljubljana really shop, work and play? For many folk just a short drive or bus ride (#27) away from the Old Town at BTC City, a vast complex of shopping malls, business centres and entertainment facilities. It's a place that now sees over 21 million visitors a year, from all over Slovenia and even neighbouring countries (with Croatians in particular coming for brands that are hard to find at home).
In the future I'll be taking a deeper look at the various things on offer at BTC City, for both residents and tourists, but in this story I'm going to focus on one element that surprised me on a recent visit: the food you can get there. If you haven't been for a while, or if your trips tend to be punctuated by quick cups of coffee or (in my case) a visit to what I believe is the only Burger King in the country, then you might be surprised at the depth and range of BTC's current food offering, and how it's making a serious claim as a food destination in its own right.
A home for ethnic food in Ljubljana
There are now more than 70 food vendors at BTC City, and since 2017 they've been marketed together under the label Food Bluz. The venture, which also includes a book produced in collaboration with Dr. Janez Bogataj (free PDF here in Slovene and English), was the first project presented as part of Slovenia's role as European Region of Gastronomy 2021. However, while a broad range of Slovenian food is available at many of the restaurants, one of the great draws of the BTC's current food offer is the varied menus from further afield, with Thai, Indian, Chinese, Mexican and more to tempt hungry visitors.
Thus in addition to being a well-established hub for business, commerce and innovation - bitcoins are accepted, and the place is a test ground for electric and autonomous vehicles - BTC City is now a nexus of culinary exploration. On my visit, undertaken with a writer from Croatia and with the excuse of research, I managed to cram in four meals and more drinks in one long day, while gazing longingly at many others.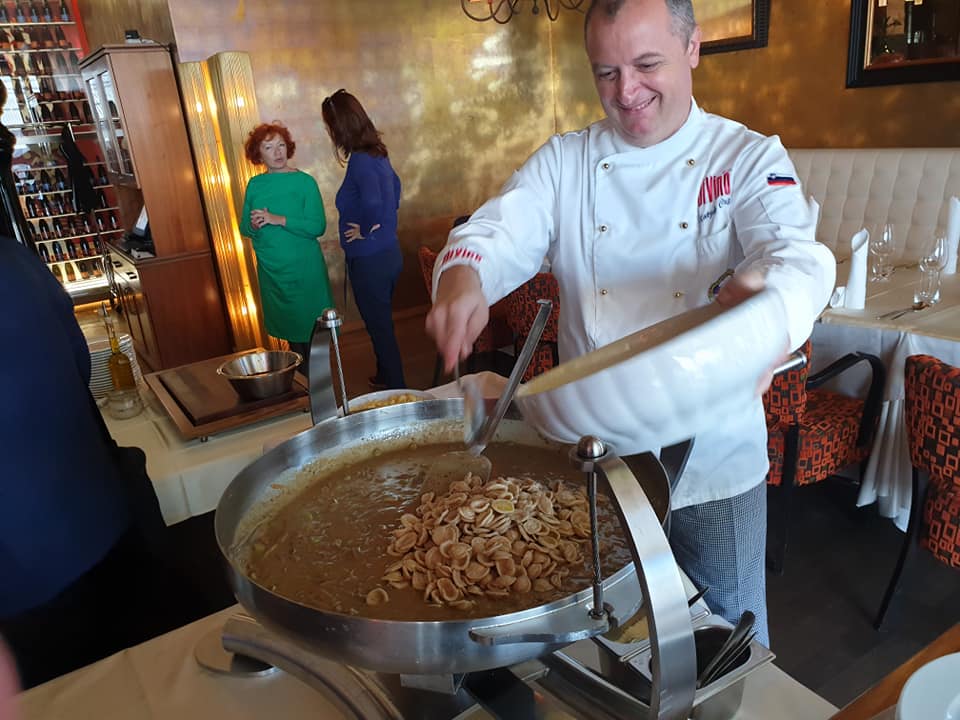 Pasta from a master. Photo: Paul Bradbury
What's bigger than a Rubirosa? Photo: Paul Bradbury
First up was a trip to diVino, a three-floor place next to Kritalna palača (Crystal Palace), with a mix of customers from the local offices and businesses – which include BMW and Microsoft – as well shoppers and those who, like myself on this particular day, are just out to see what's newest BTC City. DiVino aims to marry the traditions of Goriška brda with those of the Mediterranean, while keeping up on culinary trends. The man at the centre of it all is Chef Matjaž Cotič. He's worked in Milan, Nice, Paris, Chicago and Basel and picked up many awards and titles along the way, with the two most appropriate for his current position being Italian Culinary Masterchef and the World Vice-Champion in Preparing Pasta (awarded by Barilla). Guests are thus assured of top quality ingredients, handled with care, and on my visit I enjoyed some fantastic Istrian-style pasta with asparagus, along with some aged beef, cooked rare and seasoned only with salt, pepper and olive oil. This was accompanied by a few glasses of Mare Santo penina, each bottle of which spends some time 20-30m under the sea. The temperature at this depth, along with the actions of the currents, are said to be especially good for the wine, as is the infusion of minerals through the cork. All I can say, since I'm no sommelier, is that it tasted great, and no, it wasn't salty.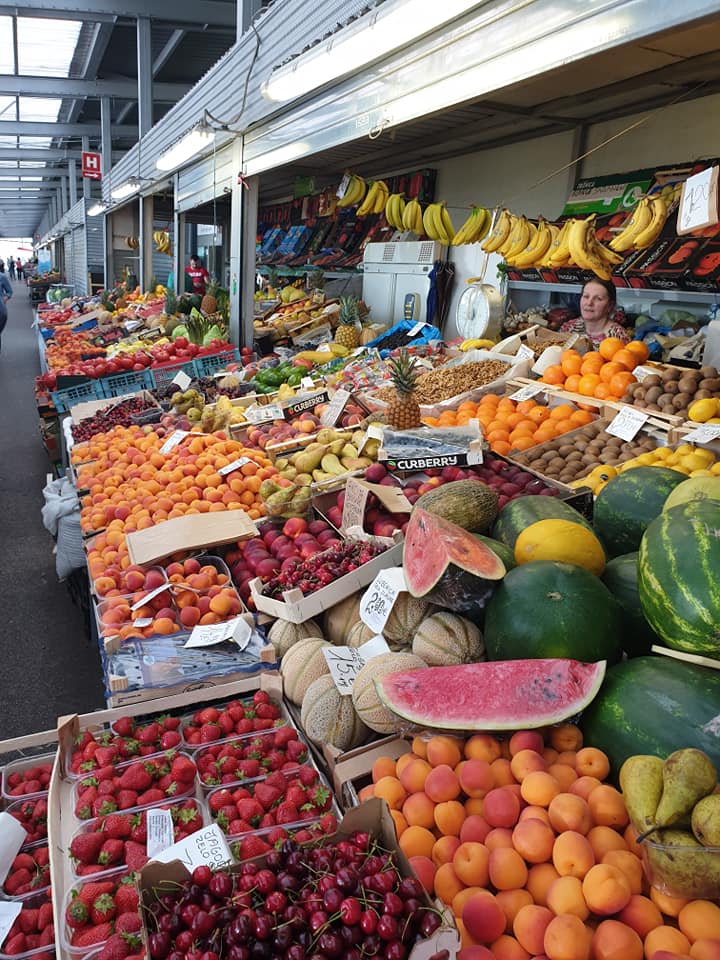 There's an extensive fresh food market at BTC City. Photo: Paul Bradbury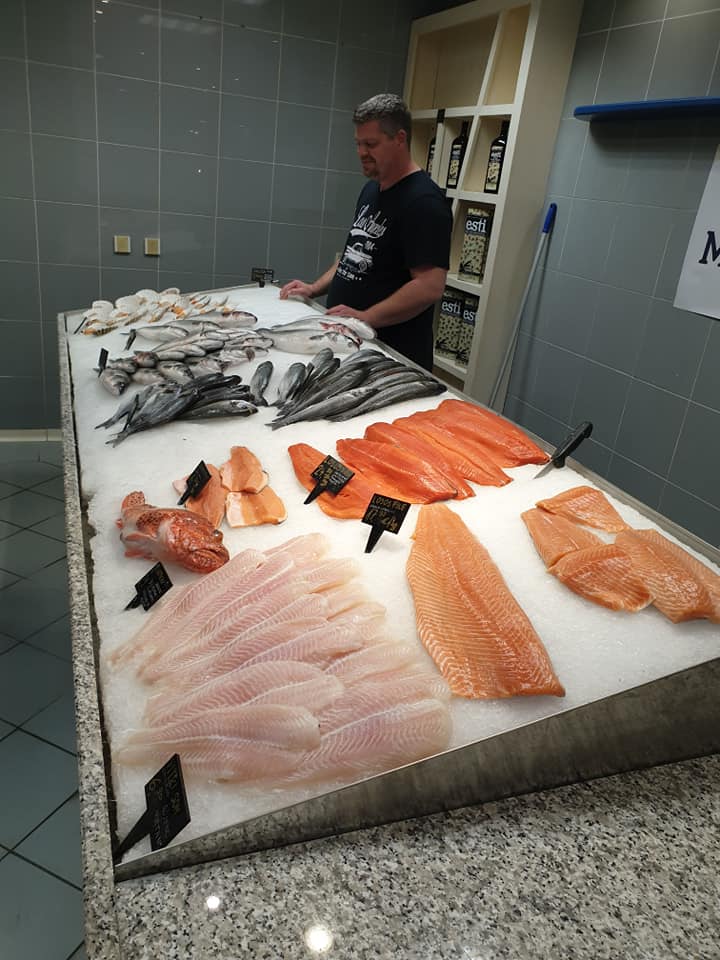 Photo: Paul Bradbury
We then visited the impressive street food market. This is a permanent, open-air affair, a little like Ljubljana's summertime Open Kitchen, with local and regional delights, as well as Thai and Indian food, and it's worth browsing first to both see what's on offer and work up an appetite. Sadly mine was still satisfied from diVino and I had to forgo a curry, but still got a bottle of Singha beer to enjoy the feeling of being somewhere else.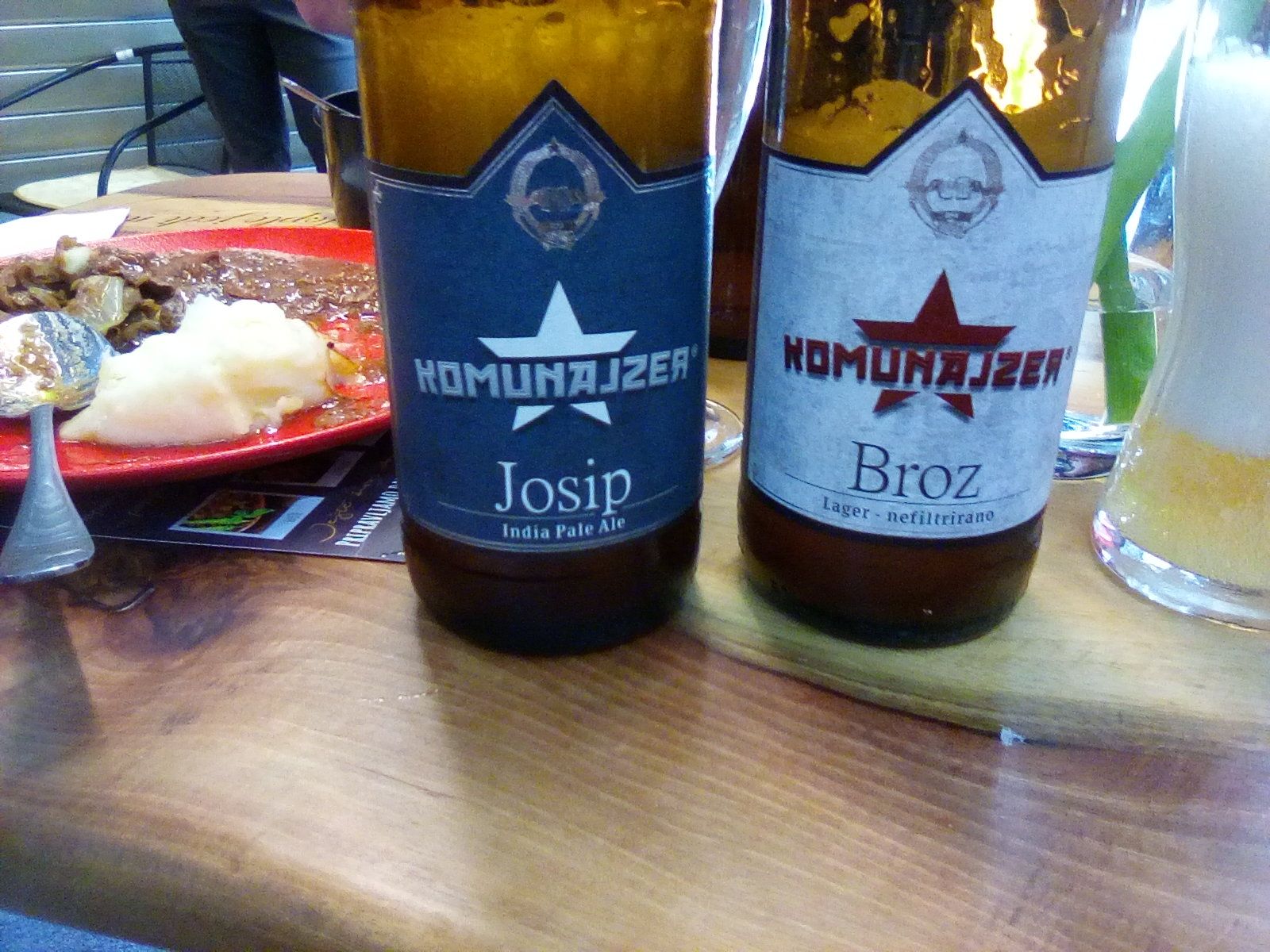 What happens after Tito's gone? Photo: JL Flanner
It was hot day, though, and after a further walk around BTC City, including a visit to (look at) the Adrenaline Park and meet an urban beekeeper whose hives are just behind the bushes, my companion and I were again feeling thirsty and in need of shade, and so ventured to Škrnić LJ (in Tržnica jug). This is a Slovenian restaurant that specialises in in one-pot dishes that can be eaten with a spoon, essentially stews and soups. We originally planned to share just one bottle of beer, but when we saw the names of some of the craft brews on offer – Josip, Broz and Tito – we had to sample all three. The alcohol awoke my appetite, and I ordered a plate of fried liver, gravy with mashed potato that was simple and fantastic.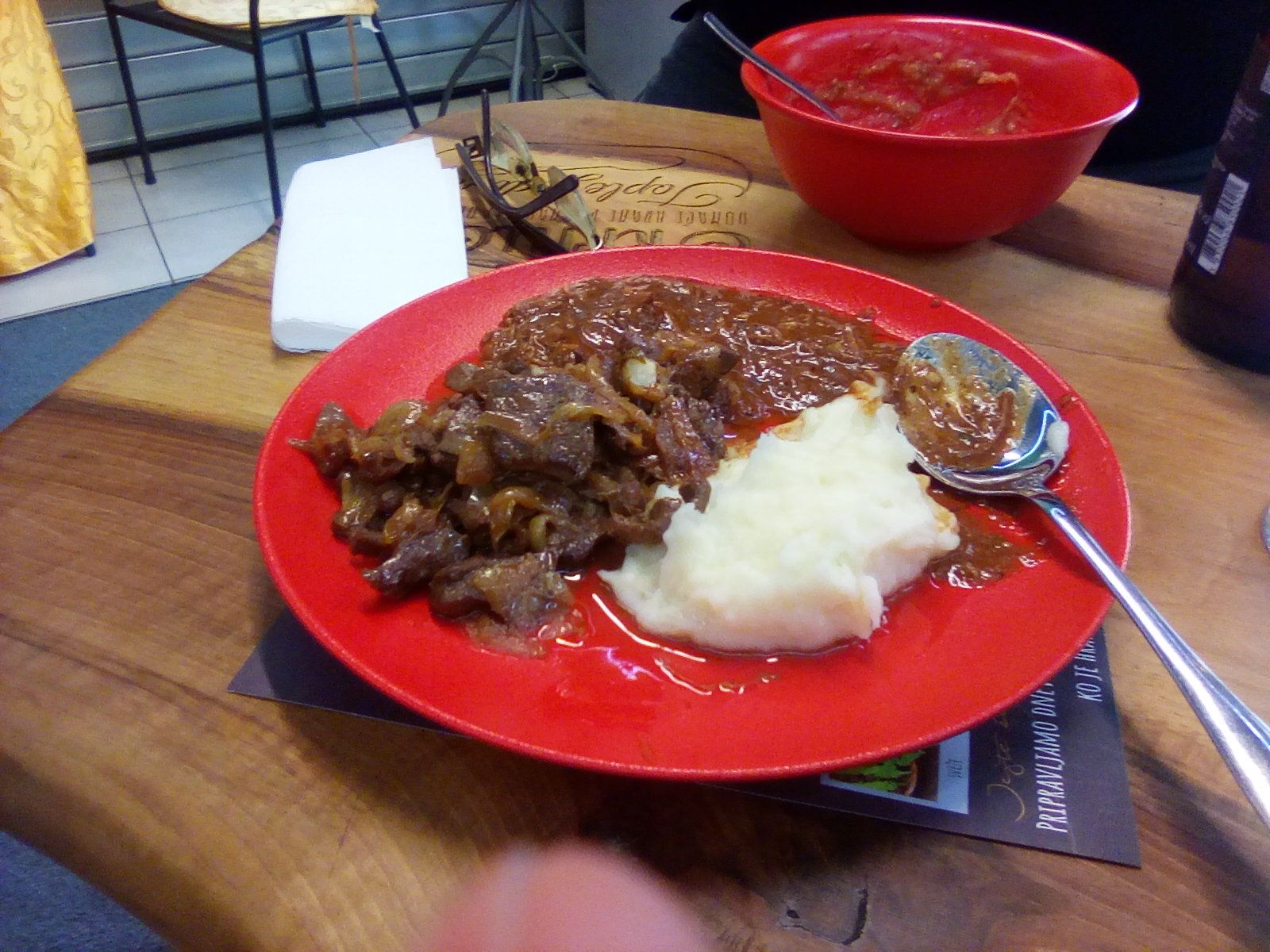 Liver, onion, mashed potato. Photo: JL Flanner
Food for all tastes at BTC City
Next door to Škrnić LJ is the Hiša Refoška, or House of Refošk, with Refošk being a red wine well-suited to hearty meat dishes. True, I'd finished the liver, but with the beer to encourage me I sampled a glass or two of wine here, made some notes, then moved on, determined not to be distracted by any more food and drink until I'll I'd at least made an effort to see some of the 100s of stores that BTC City has.
Luckily, just a few steps further into the Tržnica jug I found an unexpected branch of Svilna Pot ("Silk Road"). This is an Asian food store that also operates on Trubarjeva cesta, and is run by the people behind the same street's Osho (selling Thai and Vietnamese food), as well as Bistro SUWON, one of the few, if not only, Korean restaurants in the capital. I stocked up on black label Shin Ramyun spicy ramen, Thai red curry mix, bags of sushi ginger, and some Indian powders and pastes.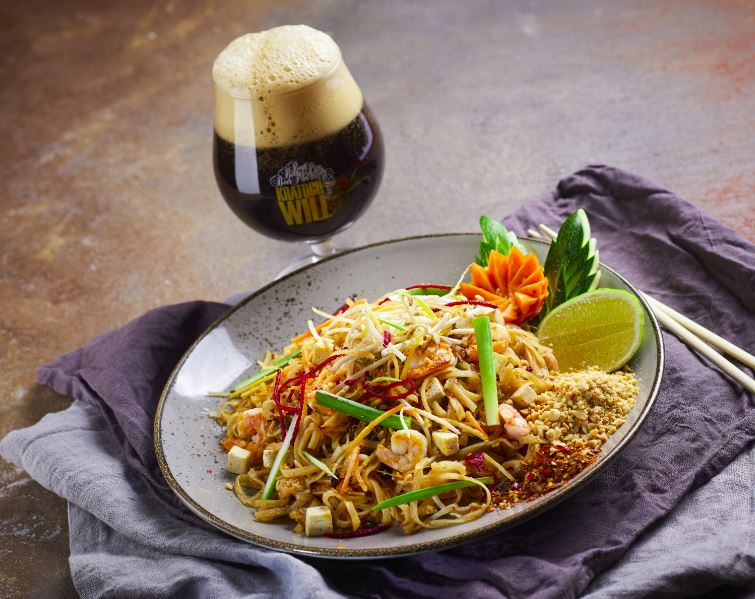 Pad Thai and porter. Photo: Kratochwill
The two of us then wandered around in a daze, overwhelmed by the choice of shopping on offer, with my companion curious about my Asian purchases. By chance we came across Kratochwill in exactly the right frame of mind – a little drunk, a little curious, and wanting to sit down. This is perhaps the largest restaurant in Ljubljana, and has the feel of a beer hall, although that could have been due to the beer and wine inside me.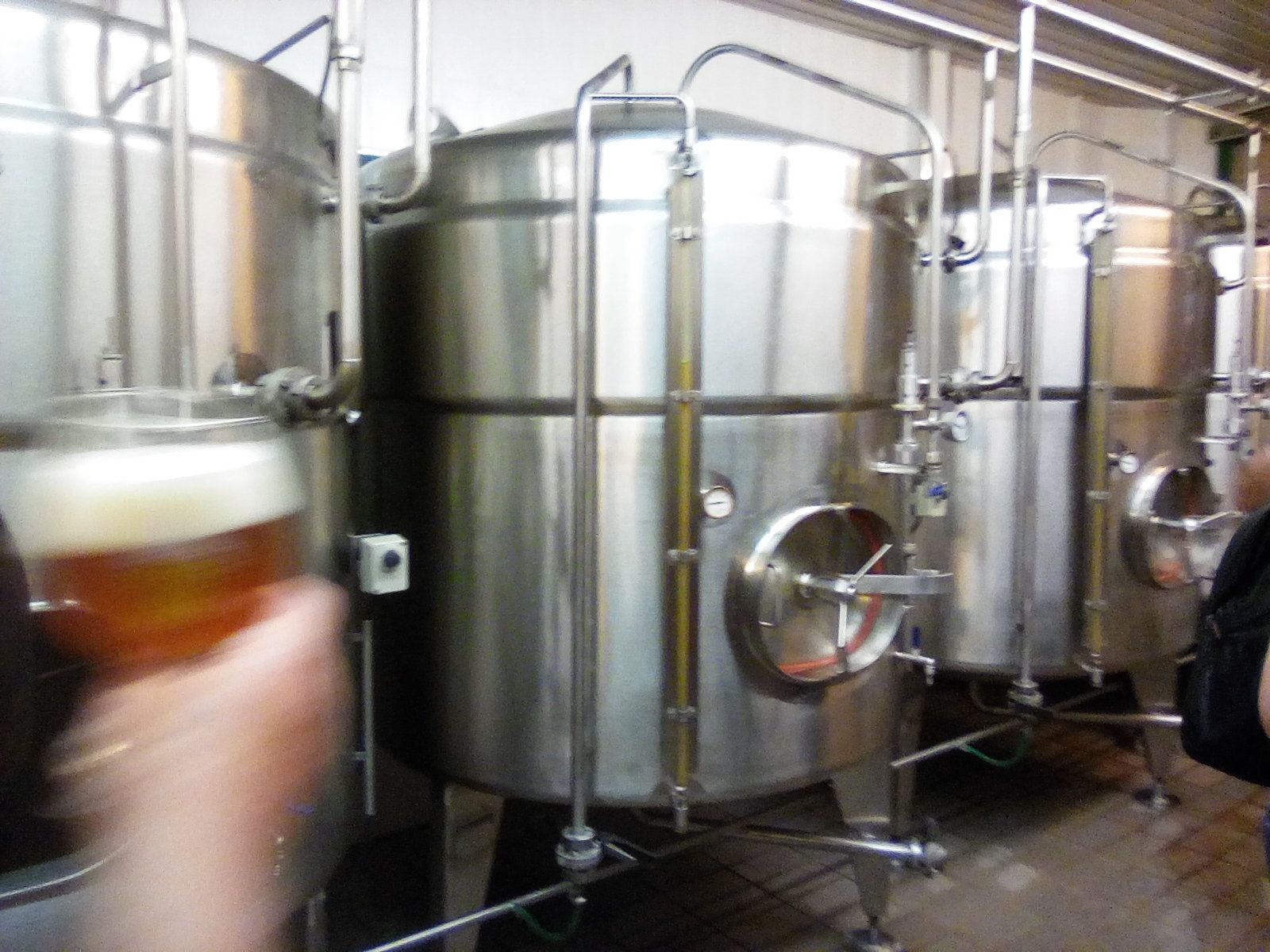 Buy enough beer and they'll show you the brewery. I assume that's what happened. Photo: JL Flanner
It's promoted as "a brewery, pub, inn and (con)fusion restaurant", and meets all the related criteria. The place, owned by the brothers Marko and Mile Kratochwill, has its own onsite brewery and very extensive and varied menu. We're talking Slovenian classics alongside burgers, steaks, pastas, salads, seafood and pizzas, with the (con)fusion part of the billing being met by a list of Asian dishes that leans to Thai and Indian. A place with a seat and something for everyone, we enjoyed bottles of pilsner and porter to go with a plate of pad thai, plus – the photos prove, but I can't remember – a number of other items.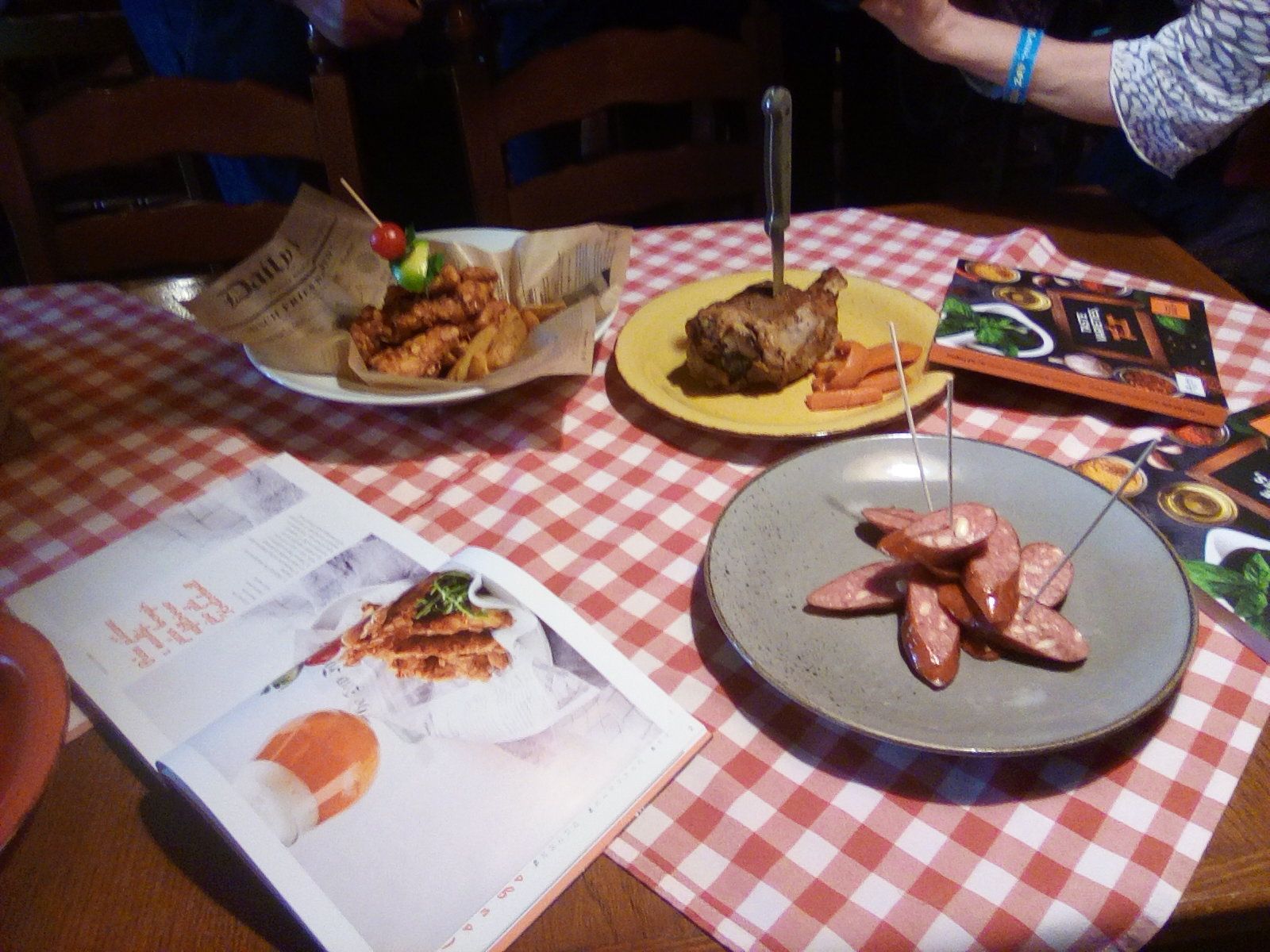 I have no memory of taking this picture. Photo: JL Flanner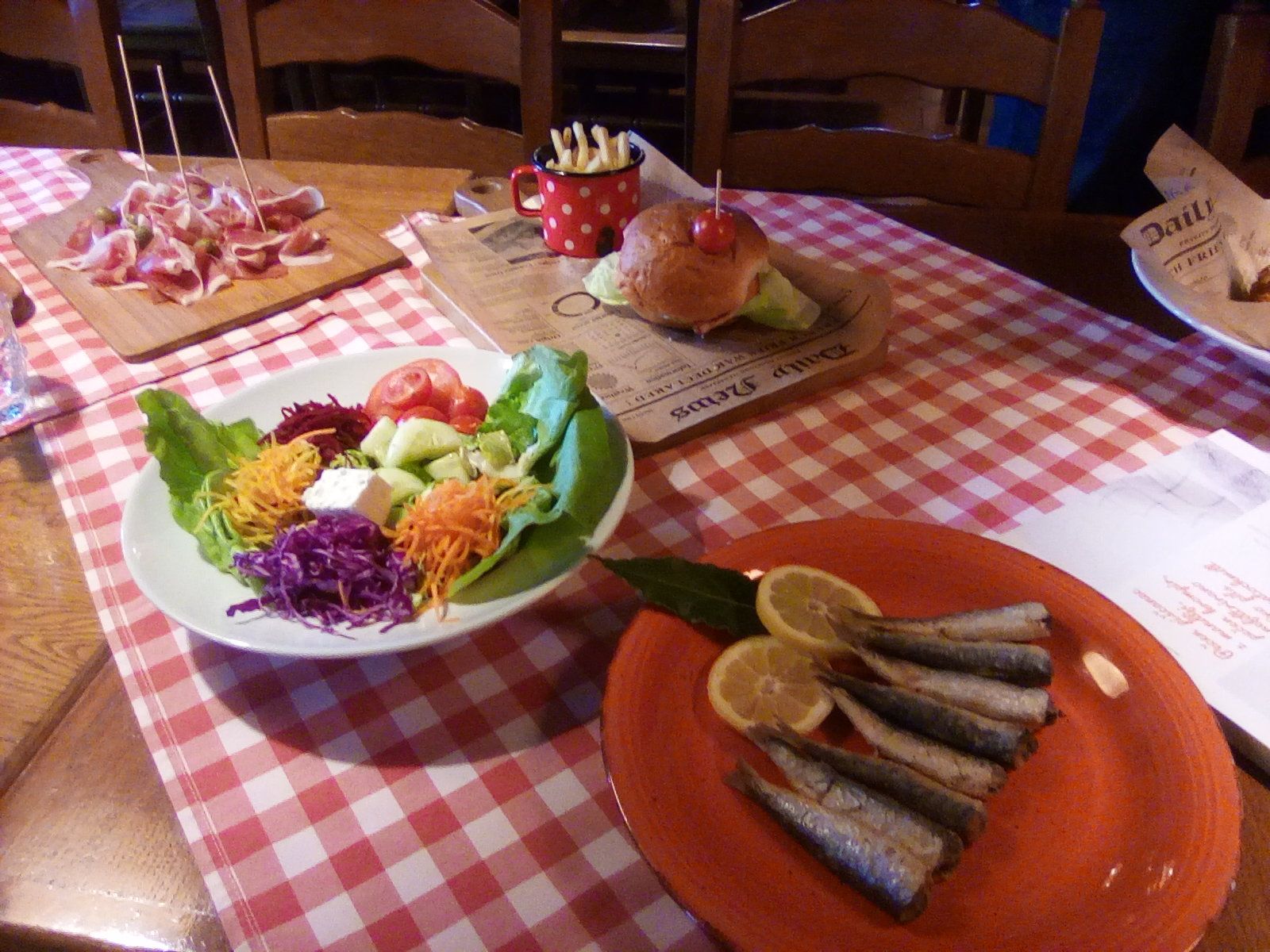 Or this one: Photo: JL Flanner
At around this point we decided we needed to avoid anywhere else that had its own brewery, or presented the opportunity for many more hours of research, and so headed back to where we started, Kristalna palača. While we began our culinary adventures in diVino, at the base of the tower, it was now time to head to the top of the tallest building in the country, although with just 20 floors and 89 metres you could be forgiven for thinking otherwise.
The tallest building in Slovenia. Photo: JL Flanner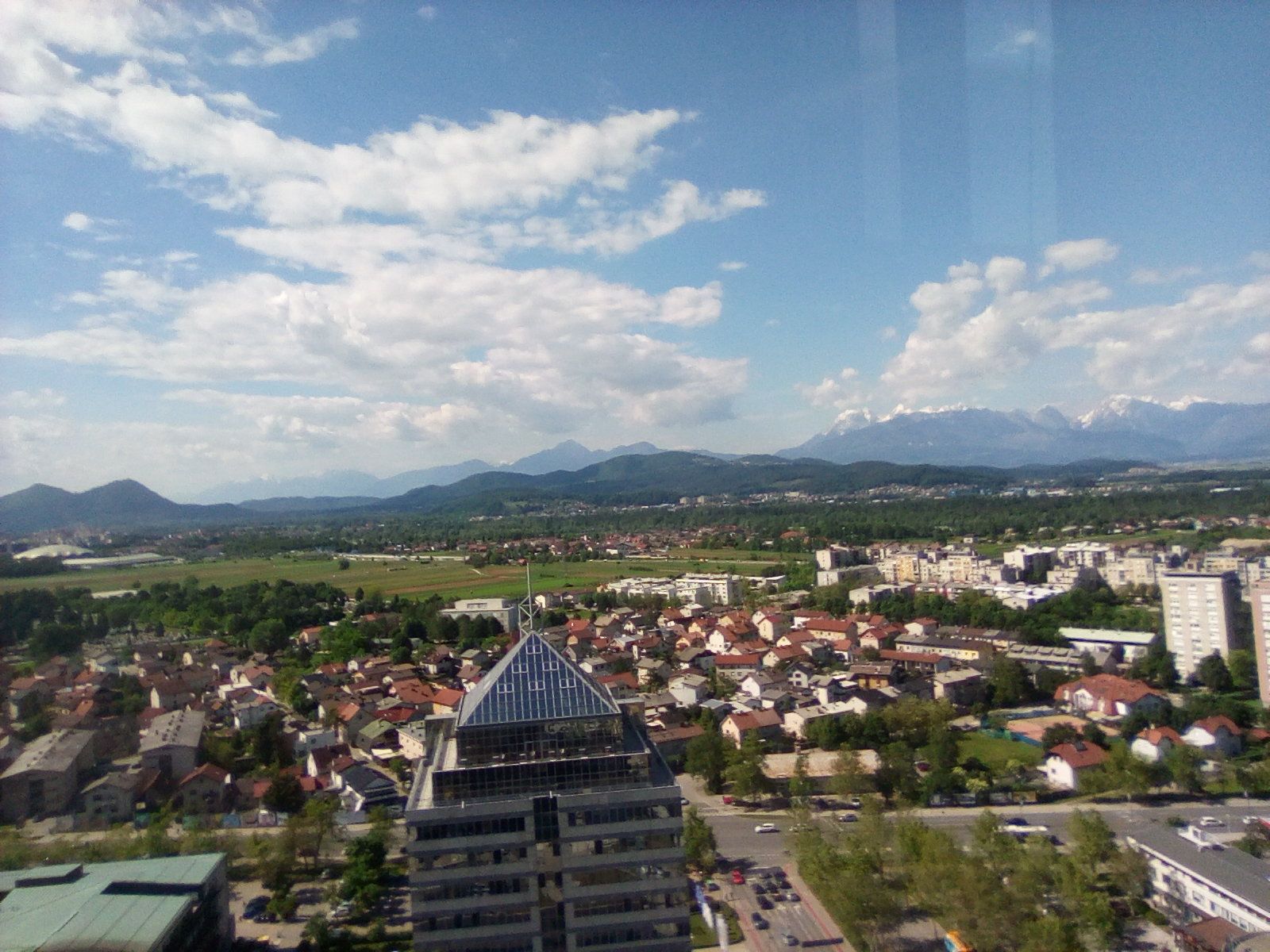 On a clear day you can see forever. Photo: JL Flanner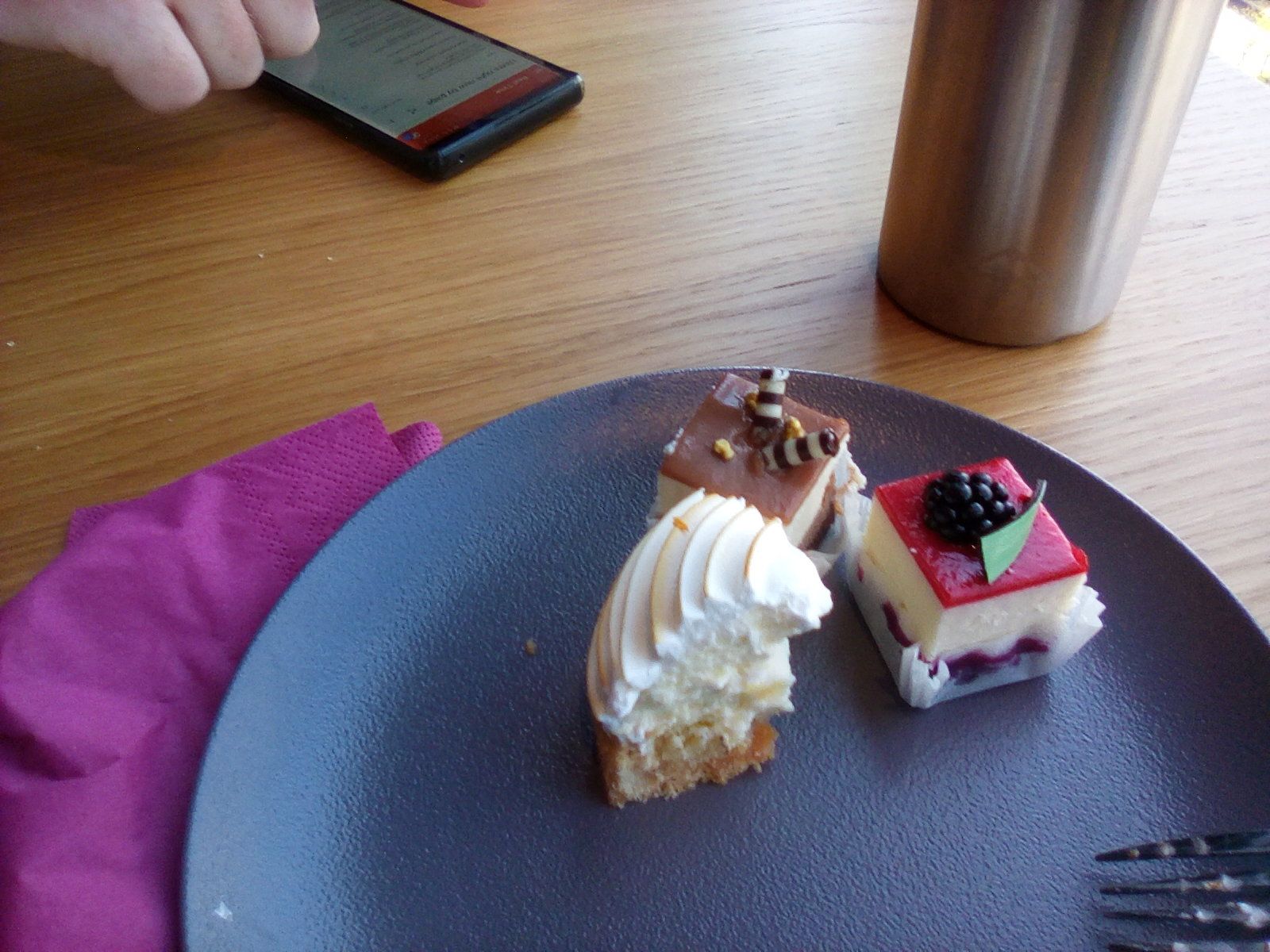 Small cakes to end a day of culinary adventure at BTC City. Photo: JL Flanner
While there are stairs, and an annual race up them (Tek a Kristalno palačo), we decided to take the elevator to Crystal Café and enjoy the view with a steady heartbeat. We were lucky with the weather, as it was clear and we could see the Castle and other city landmarks, as well as the mountains and just everything all around into the distance. We got coffee, shared a plate of small cakes and went over our notes for the day.
In short, even though we only managed to eat at four different places we got a good feel for the quality and variety, in terms of cuisine, price and dining style, currently available at BTC City, and with at least 70 other places to try on return visits, along with all the practical shopping and entertainment options on offer (a waterpark, cinemas, theatre and more), I'll be going there whenever I have an excuse and an appetite.