January 19, 2018
As news filtered out that Bohinj was among the candidates for Best European Destination 2018 there was some disbelief across the Internet as this small locale found itself up against such famed cities as London, Barcelona, Paris, Vienna and Milan, as well the more pocket-sized Kotor in Montenegro and the island of Hvar in Croatia.
It thus seems a long shot that Bohinj could win, but take a second look, or a third, and think about what you really want from a vacation. True, Bohinj may not have a white sand beach and warm, crystal waters, nor a thriving museum or banging club scene. There are no theme parks, jungle retreats or poor folk in colourful outfits, and the nearby casinos are very different from those in Las Vegas or Monaco.
But what Bohinj offers is the inner calm and peace of mind when gets when exposed to Big Nature, and all in a package that leaves you just a short trip from everything else.
So while others may dream of spending their vacation in Paris, paying over the odds for coffee and standing in line with hundreds of other tourists, let's consider what there is to see and do in Bohinj.
The central attraction in the lake, the biggest natural one in the country and perhaps rivalled only by Bled for its beauty, although there's little quibble about when both are Perfect 10s. The waters here provide a great backdrop or focus for many outdoor activities, and in the right weather you can enjoy hiking (see these trails), kayaking, cycling, swimming, or climbing nearby. If you prefer to let something else do the moving there's also horseback riding, and if you like to play with your food you can fish.
In addition to the lake, another water-based attraction at Bohinj is Savica Waterfall (Slap Savica), which falls almost 80 m into a gorge. There's a fee for admission to the area (see here for prices and opening times), and it can be reached by a path that takes around 1.5 hours to walk, or there's the much more time-efficient option of simply driving to the Savica restaurant and then taking 20-minute walk up over 500 steps, passing over and by various rapids and streams before reaching the falls, where you'll be rewarded with this sight.
In addition to the stunning natural scenery there's also a number of small villages and hamlets to explore. Picturesque and thoroughly rural, many of the locals still work in traditional farming occupations, with dairies being especially active in this area, as marked by the presence of the Alpine Dairy Farming Museum, just behind Gostilna Mihovc, with its collection of objects and images from the history of this practice (details).
If that interests you, then you might also want to take a look at Oplen House, a typical longhouse that has been restored and furnished to look as it would have done in the early 20th century. Particularly notable is the "black kitchen", so named because cooking fires would be lit inside without the aid of a chimney (details). This is found in the settlement of Studor, which is also known for it 18th and 19th century toplarji, or toplar hayracks with barns or storage areas at the top (details).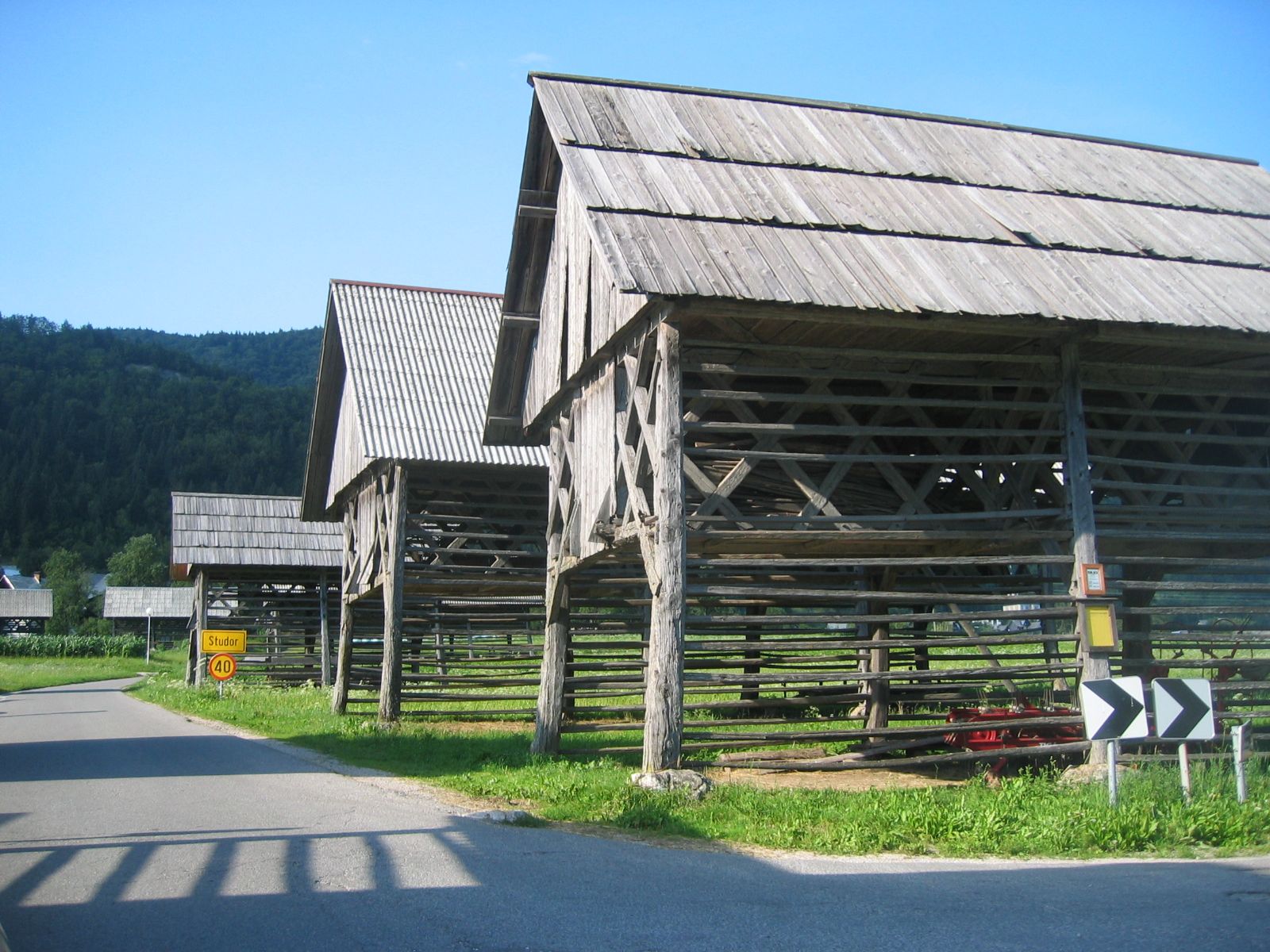 Wikimedia
While it's true that Bohinj lacks Barcelona's Sagrada Família, it does have the Church of St John the Baptist, which is not only fully built, with the presbytery completed around 1440, but also has walls and ceilings decorated with 15th- and 16th-century frescoes, as well as a wooden head of St. John the Baptist, made in the late 14th century (details).
Another thing that the other contenders for the title of Best European Destination all seem to lack is a ski resort, so here Bohinj really tops the list, as it's not far from Vogel Ski Centre. The cable car to the centre runs from Ukanc, with the base station is at 569m and the top station at 1535m, so be sure to dress appropriately. In the winter the centre offers all the usual snow-related fun (details here), while at all times of year there's a bike park for those who like to roll. This has the added advantage of being able to take the cable car up to the top with your cycle, so it's downhill all the way. Better still, at present it's only 22 EUR for unlimited use of the ski lift, so you can hurtle down the 1.4 km trail all day, and bikes can also be rented, along with safety gear. Summer activities at Vogel are detail here.
The area has a range of accommodation suitable for almost all budgets and tastes, from campsite and hostels to mountain huts and tourists farms, apartments, hotels and boarding houses (details). There's also plenty of events, with regular markets, winter sports competitions, star-gazing, the festivals devoted to heavy metal, folk music, flowers, cheese & wine, fly fishing and more, with the updated calendar to be found here.
In short, although Bohinj lacks much of what places like London, Paris and Milan have to offer, that shouldn't obscure the fact that it has everything you need to have a very memorable vacation or short stay, provided you like fresh air, physical activity and one of the greatest natural playgrounds in Europe. What's more, if you're visiting Ljubljana then you can easily get to Bohinj by bus (AP Ljubljana or Alpetour), train (timetable) or car, as it's only about 80 km away.