January 28, 2018
TOZD, pronounced "toast" (a name that derives from the socialist-era Temeljna Organizacija Združenega Dela [Basic Organization of Associated Labour], and thus should be capitalised), is a café bar that's clean, colourful and cool, well-sited by the river and near the music school, which seems to provide many of its customers.
As such I'm reliably the worst dressed and least hip person inside the small space or on the tables and chairs that spill out and up to the walls of the embankment, with no doubt the worst singing voice, too. That said, there's no reason to feel out of place or predatory if a certain age or style here, (unlike, say, at Centralna Postaja), as it's a welcoming place that doesn't impose or intimidate, just provides quality food and drink in a very pleasant environment.
To that end, it's a positive, acid jazz kind of place, with a fixie bike hanging from the ceiling and a kettlebell on the floor, one where the customers know they'll get older, we all do, but they'll stay young at heart and handsome, with a favourite coffee cup and the right kind of notebook. It's a comforting thought, and one I often have here.
The magazine rack has Vogue, Elle, Hiše and Cereal, along with what seems like a complete run of Monocle, well-bookmarked and on shelves by an old manual typewriter, and to keep the décor fresh the walls feature exhibitions of work by local artists and photographers.
While this may sound too cool for school, nothing here feels aggressive, cynical or forced, but instead a natural consequence of the owner's own high standards for the place and the high regard it's held in by the regulars, who play a big role in the lived ambiance (although it's a delight when quiet, too).
Screenshot from the website
Most importantly, the care and attention to detail doesn't stop in the design of the place or the typography of its website, as the menu of coffees (hot and cold brewed), teas, craft beers, wines, and so on, along with sandwiches, soups, charcuterie and other tapas plates, aims high and achieves things. The prices are also reasonable for this part of town, as seen in the fact that students can afford to hang out here, although lingering rather than slamming back shots and cheap beers.
Anchoring one end of the pedestrianised zone, just a short walk from Gornji trg and a nice walk to the Castle, it's a good part of town to pause and plan your next move, even if it's just another drink while watching the world go by or going through the rack of flyers for upcoming events, trying to get deeper into the life of this small, vibrant and fascinating city.
Take a look inside TOZD next time you're passing by, and you'll find a nice, young crowd, ceramic not plastic, in a much beloved lokal that's envied by tourists who can only make a few trips before leaving the city. (Why doesn't my town have a café like this, and could I wear a scarf like that, too?)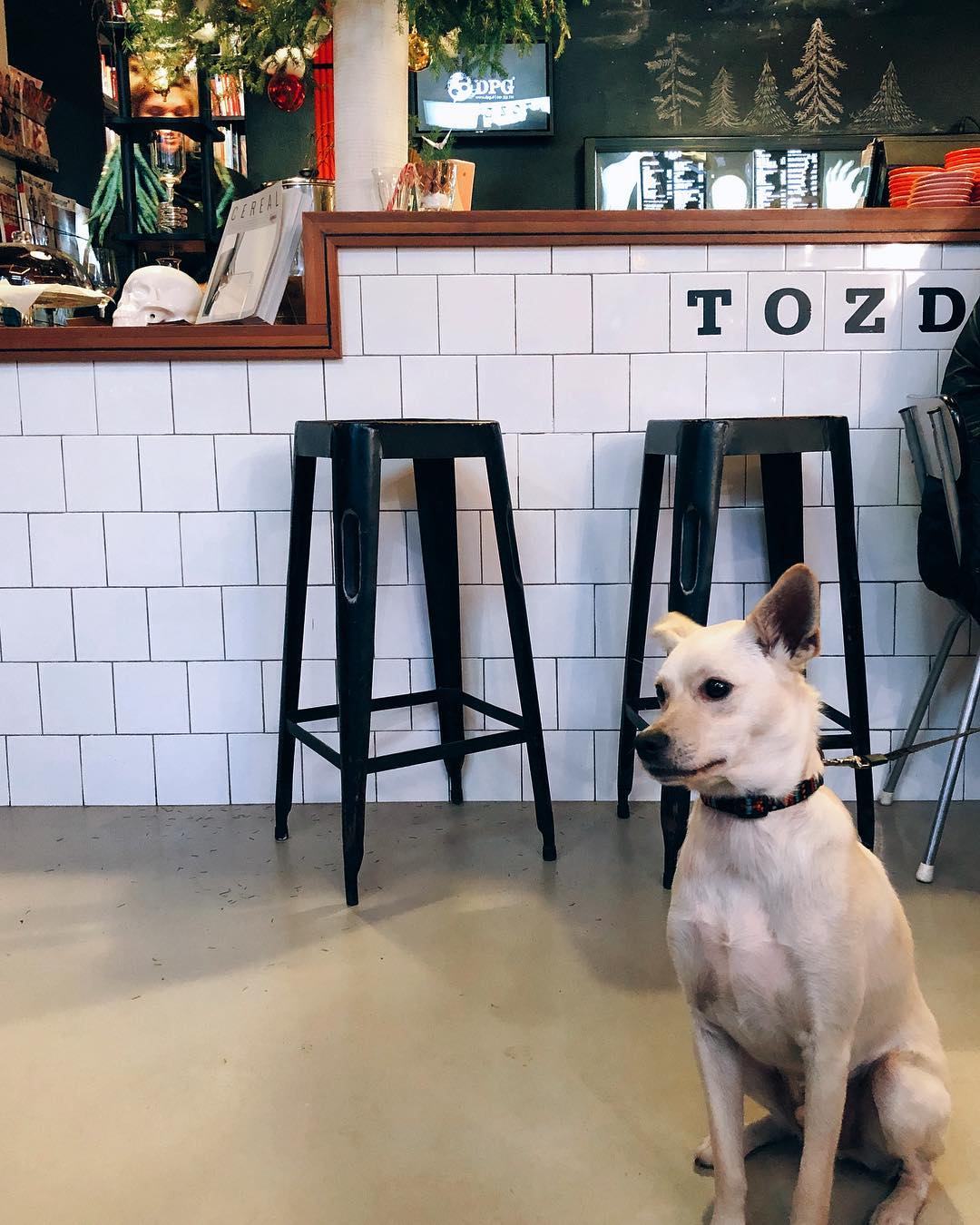 TOZD is open every day from 08:30 to 01:00, and can be found at 27 Gallusovo nabrežje 27, 1000 Ljubljana, on the same side of the river as the Old Town, and facing Breg embankment.
If there's a place anywhere in Slovenia you'd like to share with our readers, please contact us at This email address is being protected from spambots. You need JavaScript enabled to view it.