Within Slovenia's vastly forested landscape roams a sizeable population of European brown bear. There once was a time many years ago when trying to spot one, let alone photograph one, was all but impossible. Despite its might and fearsome reputation, the brown bear is in actual fact a shy and elusive creature. Spotting one in the wild was the realm of local people and hunters. However, all that has now changed. Many little bear tour companies have popped up over the years. Although, when it comes to bear photography, all roads lead back to one place and one person, Miha Mlakar of slovenianbears.com. This is the best way to photograph bears in Slovenia.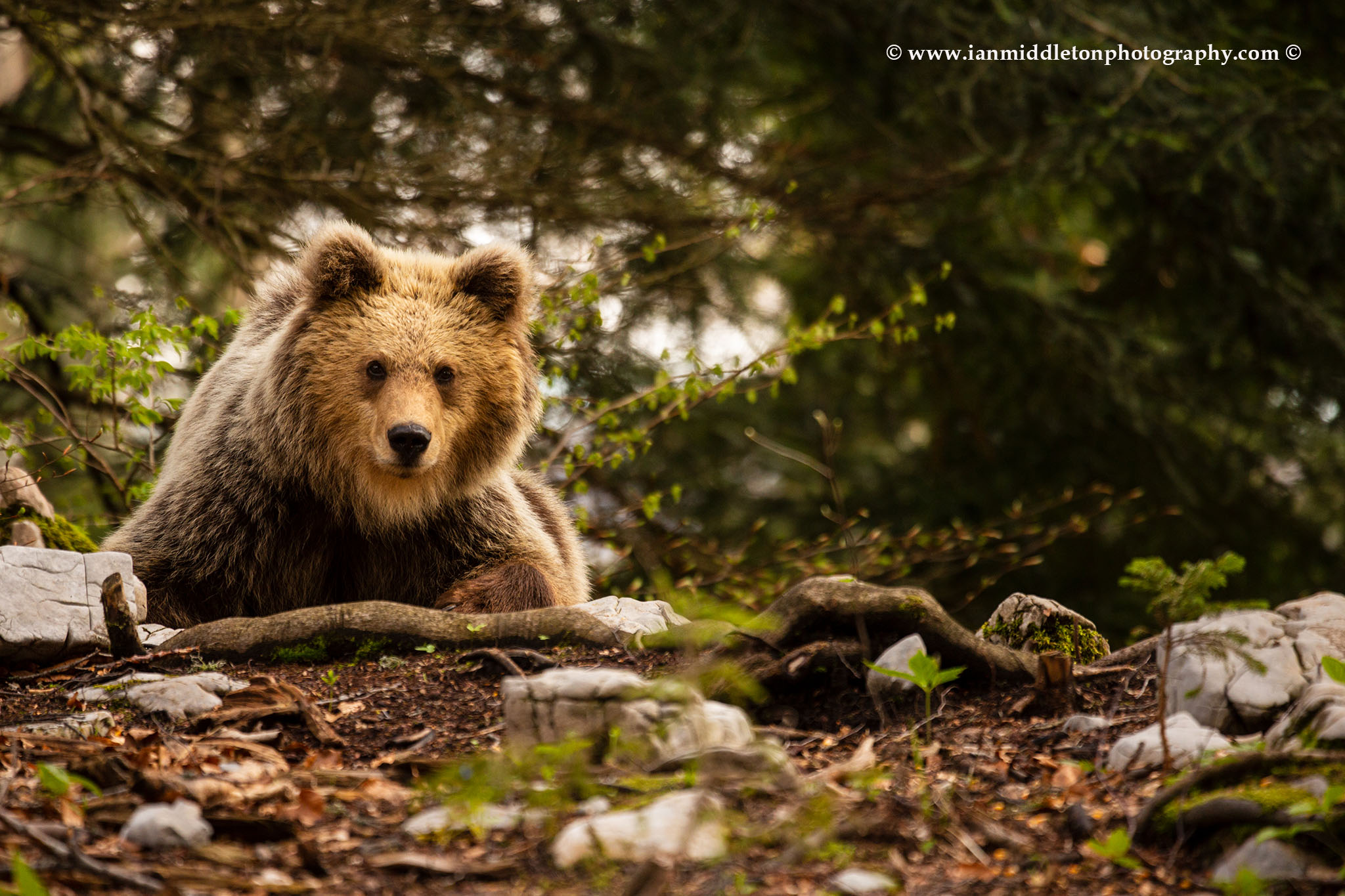 Combining his passion for bears and photography
Having spent his childhood roaming the forests of Snežnik, Miha secretly watched all the wild animals as they went about their daily lives, including brown bears. He got to know their patterns, habits and more importantly learned to read their traces. Brown bears are most common in this part of Slovenia, and encounters with the king of the Slovenian forest have left an indelible mark upon him.
A fortuitous meeting with two renowned Italian photographers sent Miha on his path to photographing bears and other wildlife himself. This subsequently led him to his idea for building special photographic hides in order to ensure a safe environment for both the bear and the photographer.
The best combination of knowledge
By combining his years of knowledge and experience watching and tracking the bear's habits with his newfound knowledge and skills as a photographer, Miha has pioneered the way for nature and wildlife photographers to visit Slovenia and capture these elusive creatures in all their wonder and glory. Not only does he know how to build a hide that would be safe for both the occupant and the bear, but he also knows exactly what photographers need inside to maximise their chances of capturing great bear photos.
Miha's intimate knowledge of the bears, their movements, habits and habitat means he knows in which locations you are most likely to have a sighting. His knowledge of photography has helped him decide where to place the hides in order to make use of the best afternoon and morning light. A limited amount of food, corn, is placed in specially selected areas. These areas, along with the hide placements, have also been chosen for optimum light and with the photo angle in mind. The viewing windows are aligned as much as possible for a straight on view rather than looking down. When photographing wildlife, you need to get down to the animal's level.
The locations of these hides and feeding areas have also been selected in cooperation with the hunting organisation. This ensures the same locations are used throughout. The amount of feeding areas and food is strictly regulated by the Slovene authorities. While it may seem controversial, feeding of the bears and other wildlife has long been a tradition in Slovenia and other European countries. Feeding helps keep track of numbers and control the population, but more importantly reduces the chances of human contact by helping to ensure hungry bears do not stray into inhabited areas. Additionally, this feeding cycle increases the chance of sighting and photographing bears from Miha's hides. Therefore, as you can see, everything is done in perfect harmony.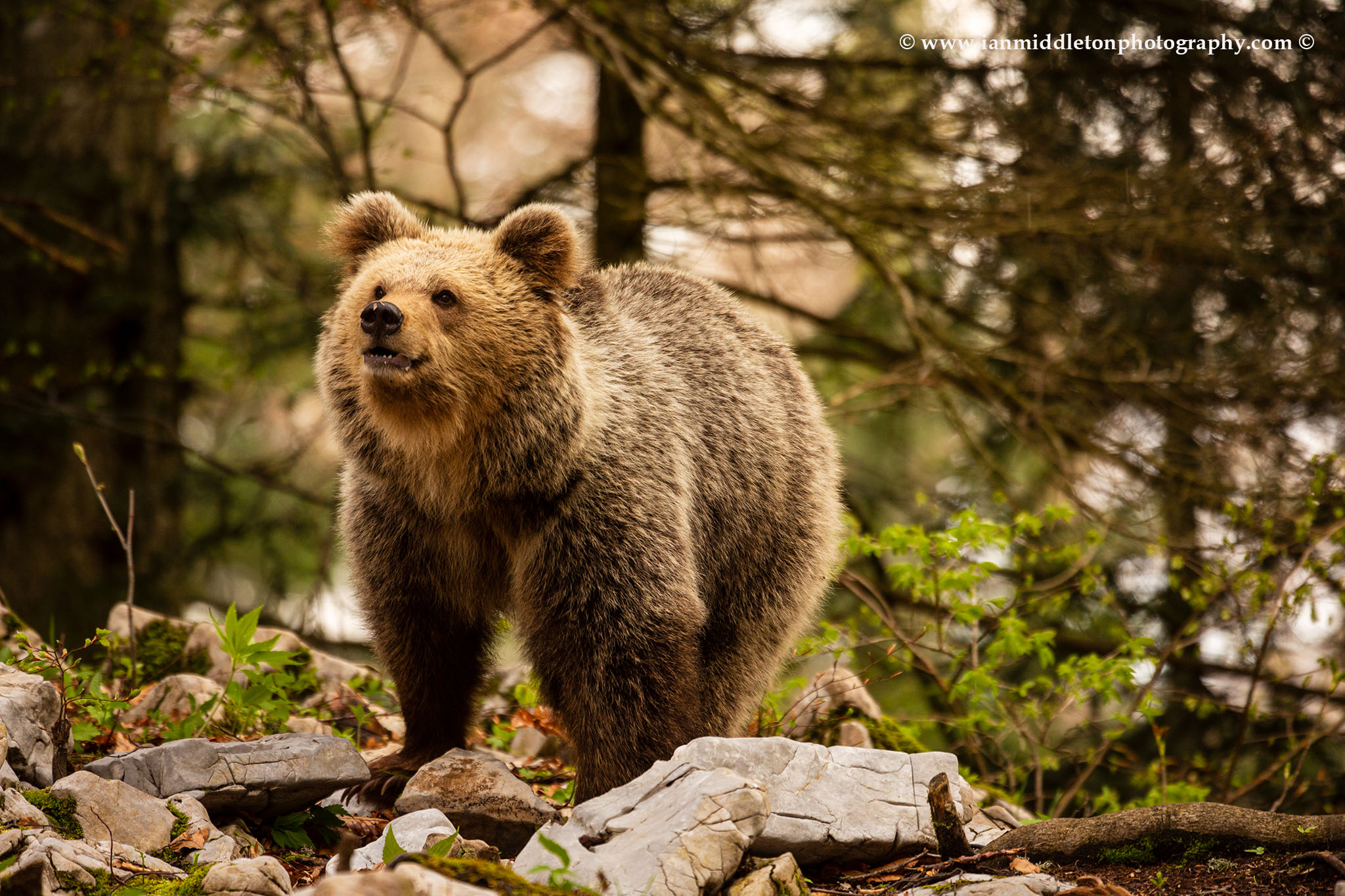 Return to the forest
Back in May 2015, when I ventured down to his base in Markovec to embark upon my first long-awaited experience photographing bears in Slovenia, Miha had only recently begun building his special photographic hides and thus his Slovenian Bears business. He started in 2014 and based it, quite naturally, at the family guesthouse, Mlakar Inn. Accommodation is also offered in conjunction with your bear experience, along with home-cooked food before and after. You can choose to book a photo hide for one day, or several days. Or you can go on one of the many multi-day trips he offers for the chance to capture mothers and their newborns.
On my first visit, I was able to photograph two young brothers, and two big bears. Within an hour of entering the hide, the brothers came and spent at least two hours frolicking in woodland before us. I came away with some great shots.
Upon my return this year, 7 years later, Miha now has a grand total of 36 hides placed in strategic locations within the densely forested regions of Notranjska and Kočevje. The hides are scattered throughout an area covering 30 x 20kms. Obviously as demand has grown, Miha has also collaborated with other guesthouses around the region to offer food and accommodation for the trips. I was invited to join Miha and two Italian photographers at the lovely Gostišče Ana in Retje, Loški Potok, where lunch was waiting.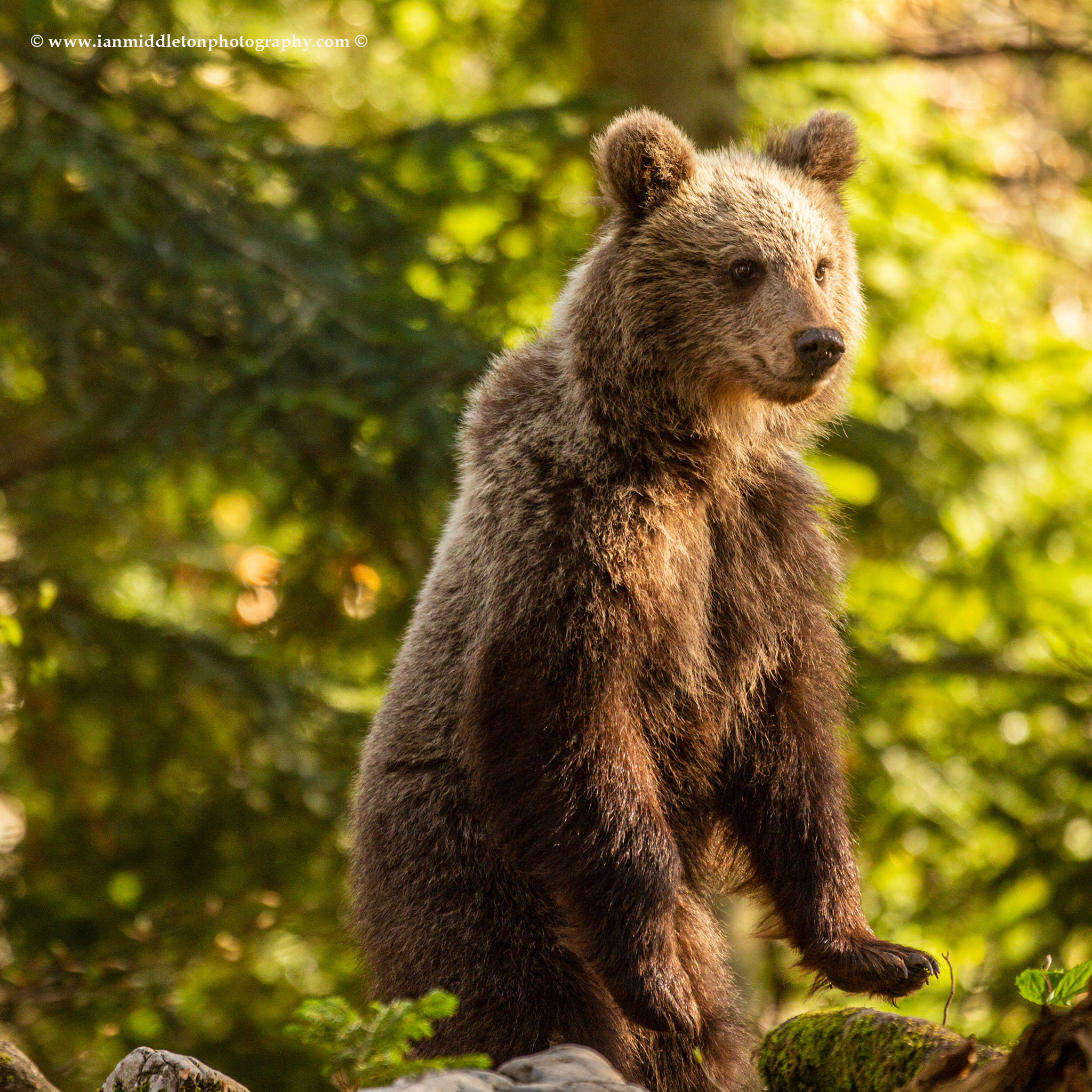 Being well prepared
"Do you have a tripod with you?" asked Miha.
"Yes, I do." I replied. Thankfully I always take it with me, even if I think I won't need it.
"Bring the head," he told me. "I have made special wooden blocks you can attach it to.
This was, as it turned out, an ingenious idea.
As we drove off in the car to where we would start our short walk to the hide, Miha gave everyone a rundown of the rules and etiquette, which are not only designed to protect the photographer but also the bears. Once in the hide, no one must leave until Miha comes back. Absolute silence must be maintained at all times. This also means considering the use of controls on our camera.
"Turn off the focus beep, and the focus light," said Miha. "Strictly no flash photography. And also turn off continuous shoot. Just one shot at a time, otherwise the noise will scare off the bear."
Miha went on to explain how to behave when a bear comes. "Don't start photographing right away. The bear will approach cautiously, and first will be very alert to any possible danger. It will scout the area and only start to eat when it feels safe. Wait for the bear to settle and start eating before taking any photos. Also, don't photograph birds or any other animals while waiting for the bears, as they may be nearby and be scared off before they arrive."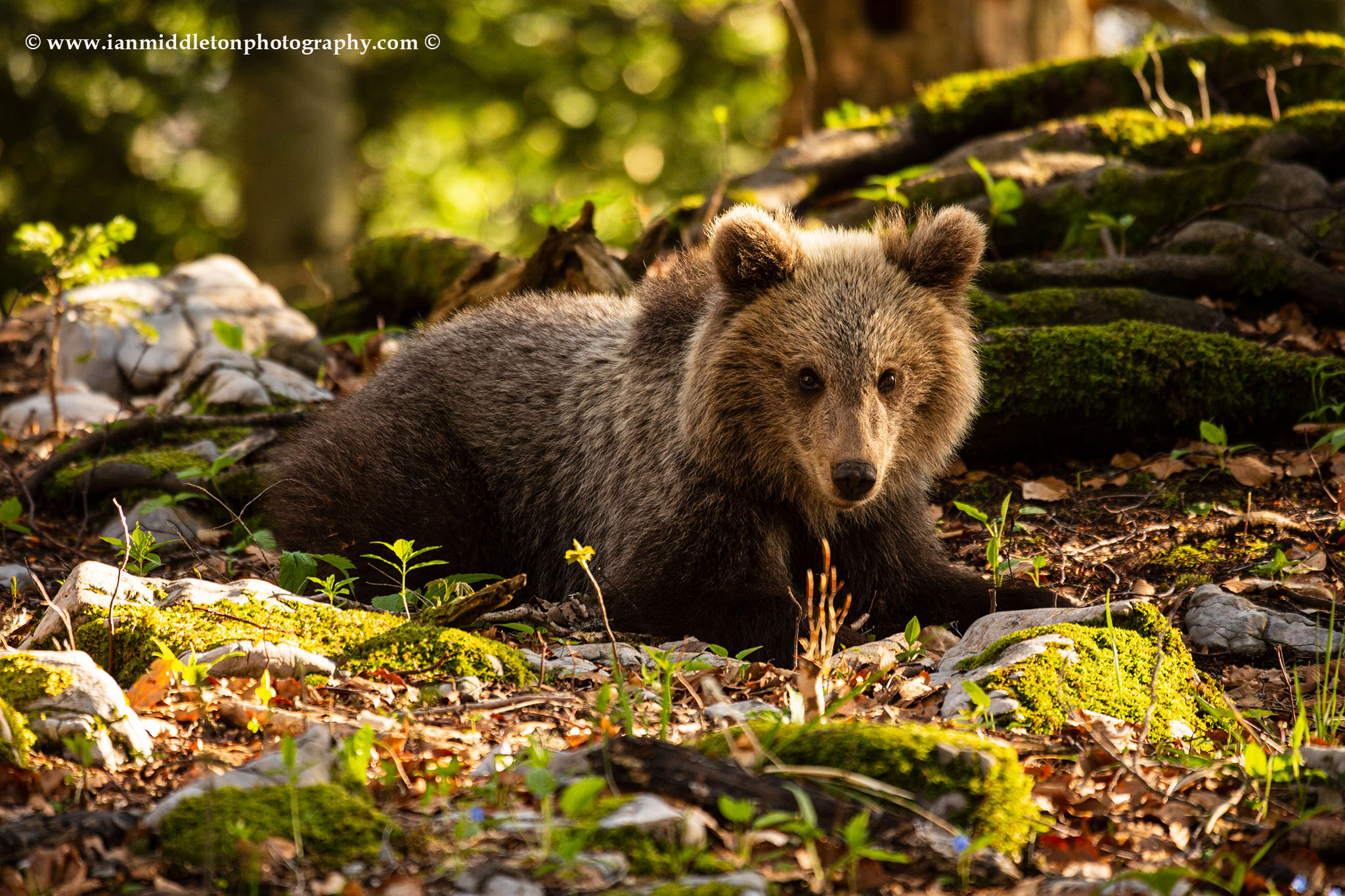 Tracking the bears
Miha drove us deep into the forest along a dirt road before stopping at a small lay-by. From here it was a relatively short walk to the hides. Along the way, he stopped to look at one of the many cameras he has strapped to a tree. While he is an expert tracker, he also now makes use of modern technology.
These cameras are strategically placed around his hides. Any movement triggers a sensor and the camera starts taking photos, some of which are sent to Miha's phone. The cameras also have infra red (IR) capability for night shots. This is a very effective way of monitoring activity around his hides, which of course allows him to choose the best hides for the photographers. Naturally, this increases the chances of a sighting on the day. The camera showed a lot of activity that very morning, so the chances were good.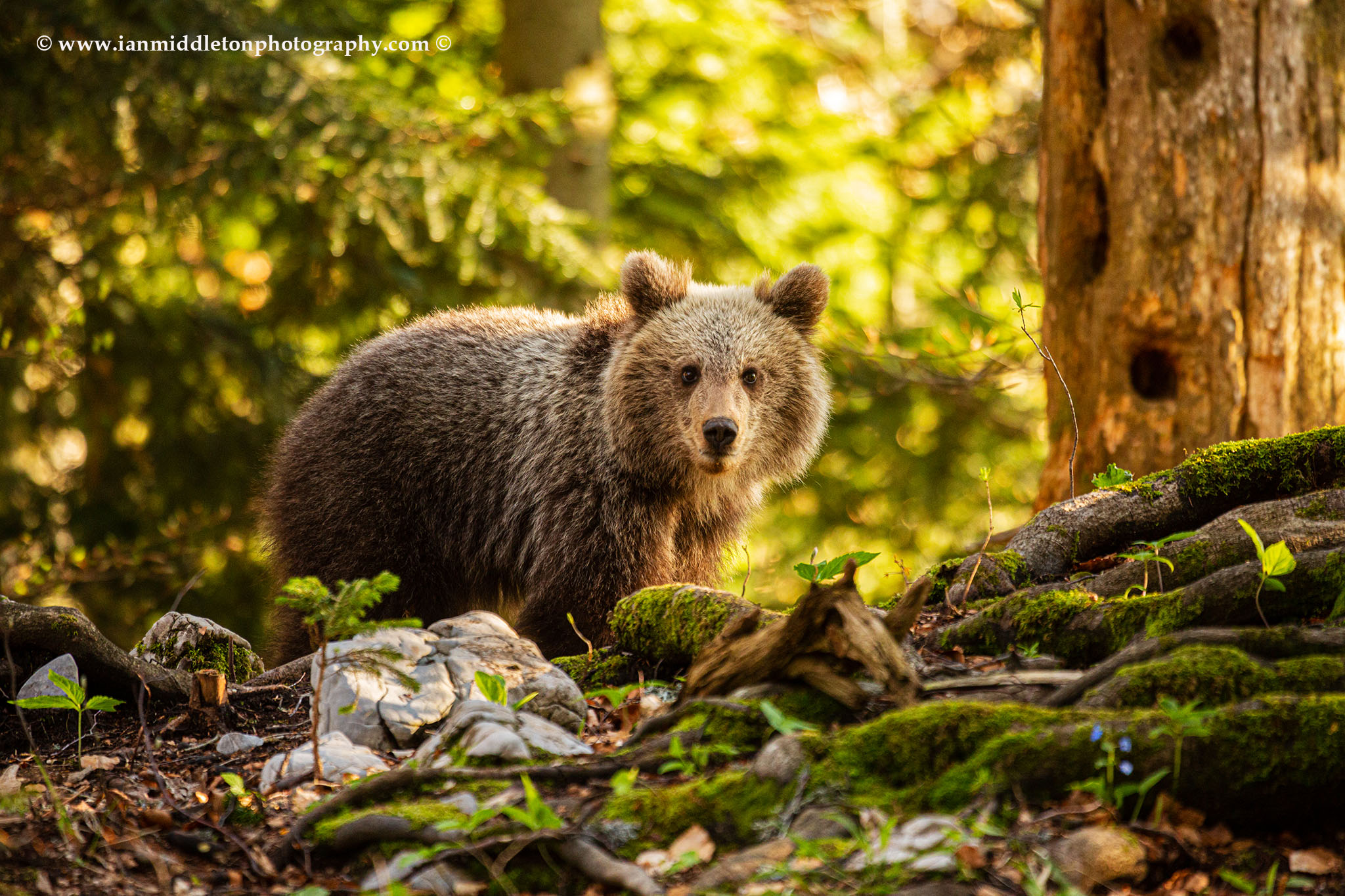 Into the hide we go
There were three of us, and we were given a hide each. We checked our mobile signals to ensure we could contact Miha in case of an emergency, and he also gently reminded us to put our phones on silent. Once inside, I screwed my tripod head to the wooden block and setup my camera. The hides are designed for photographers. Along with the windows there are special camera holes with a cover you place over your camera. Then you put the lens through the cover hole so only the lens is poking out. The rest of you and your camera are camouflaged.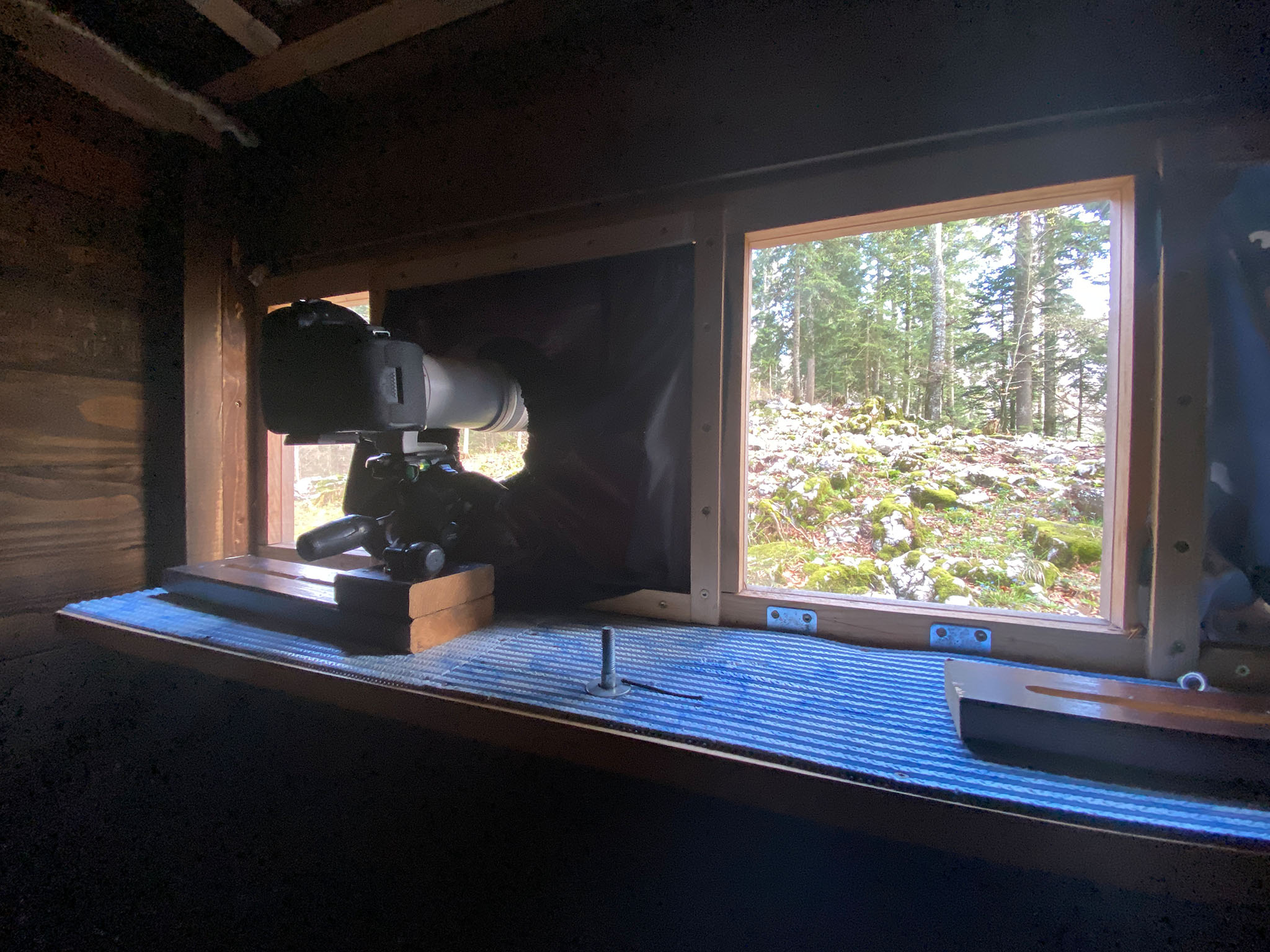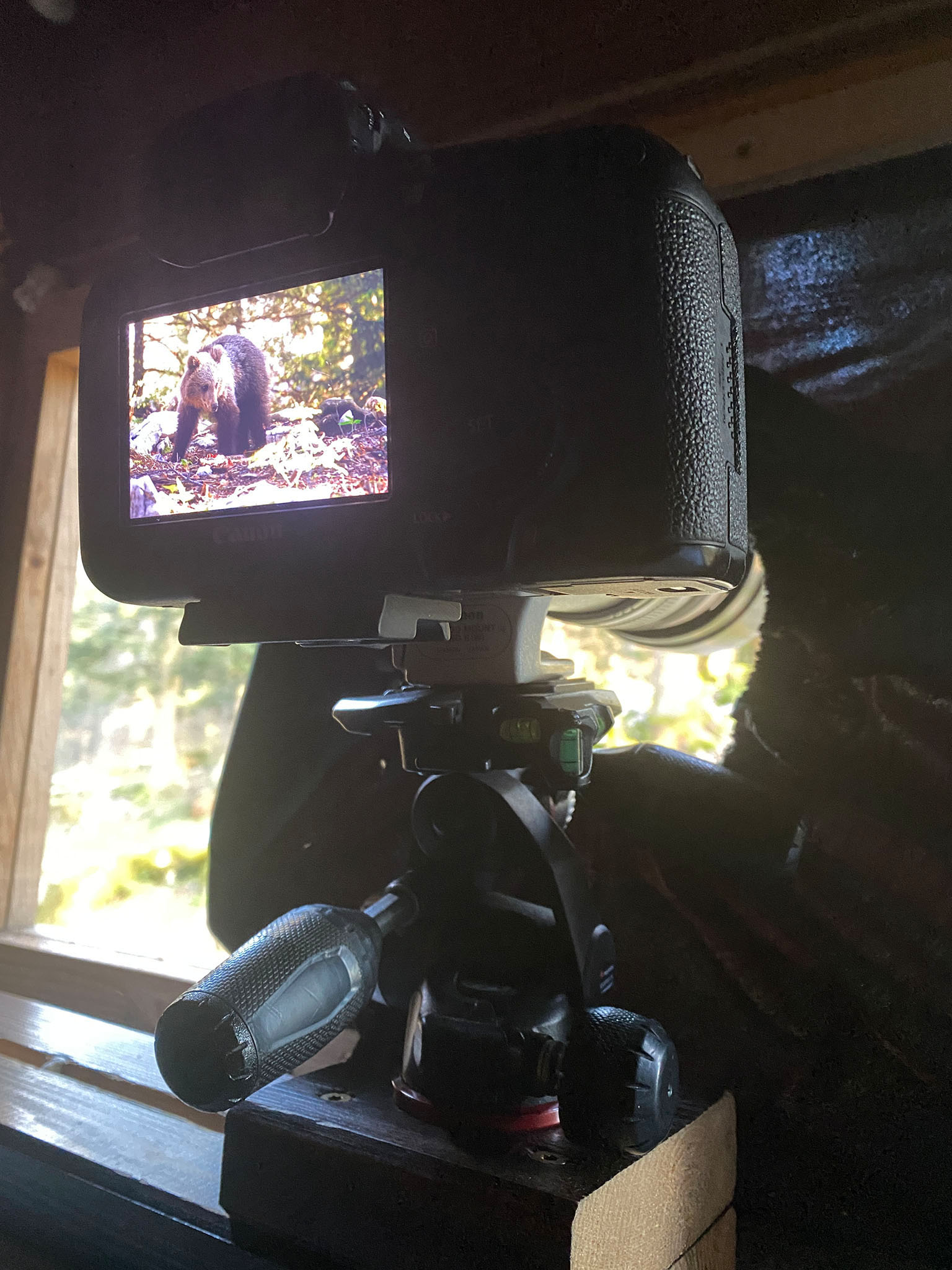 Equipment
The feeding area here is around 10-20 metres away. Photography distances vary from hide to hide, but they are around 10-50m. On my shoot back in 2015 we were also about 10-20 metres away.
Now I'm not normally one to talk about people needing great equipment for taking photographs, but there are times when a certain type of camera and lens are necessary. Given the distance, and the varying distance, a good zoom lens is essential; ideally a 100-400mm or anything up to 500mm or more.
I used the Canon EF 100-400mm f/4.5-5.6L IS USM. At 400mm, this lens allowed me to get close to the bears, while also being able to pull back and show the bear in its surroundings. A good quality lens is important too, although you can make do with a lower end one if that is all you have. But given this unique opportunity, my advice is to either borrow a higher quality lens from a friend, or rent one.
A good camera body is essential too. I was using the Canon EOS 5Dm3. Photographing wildlife in the forest can often mean low light levels, so in many cases you will need to increase the ISO to get a fast enough shutter speed. Therefore, a camera that can perform well in low light and offer low noise at high ISOs is essential. The stability provided by the tripod head attachment meant that the risk of camera shake was significantly reduced. An alternative here is to use a beanbag.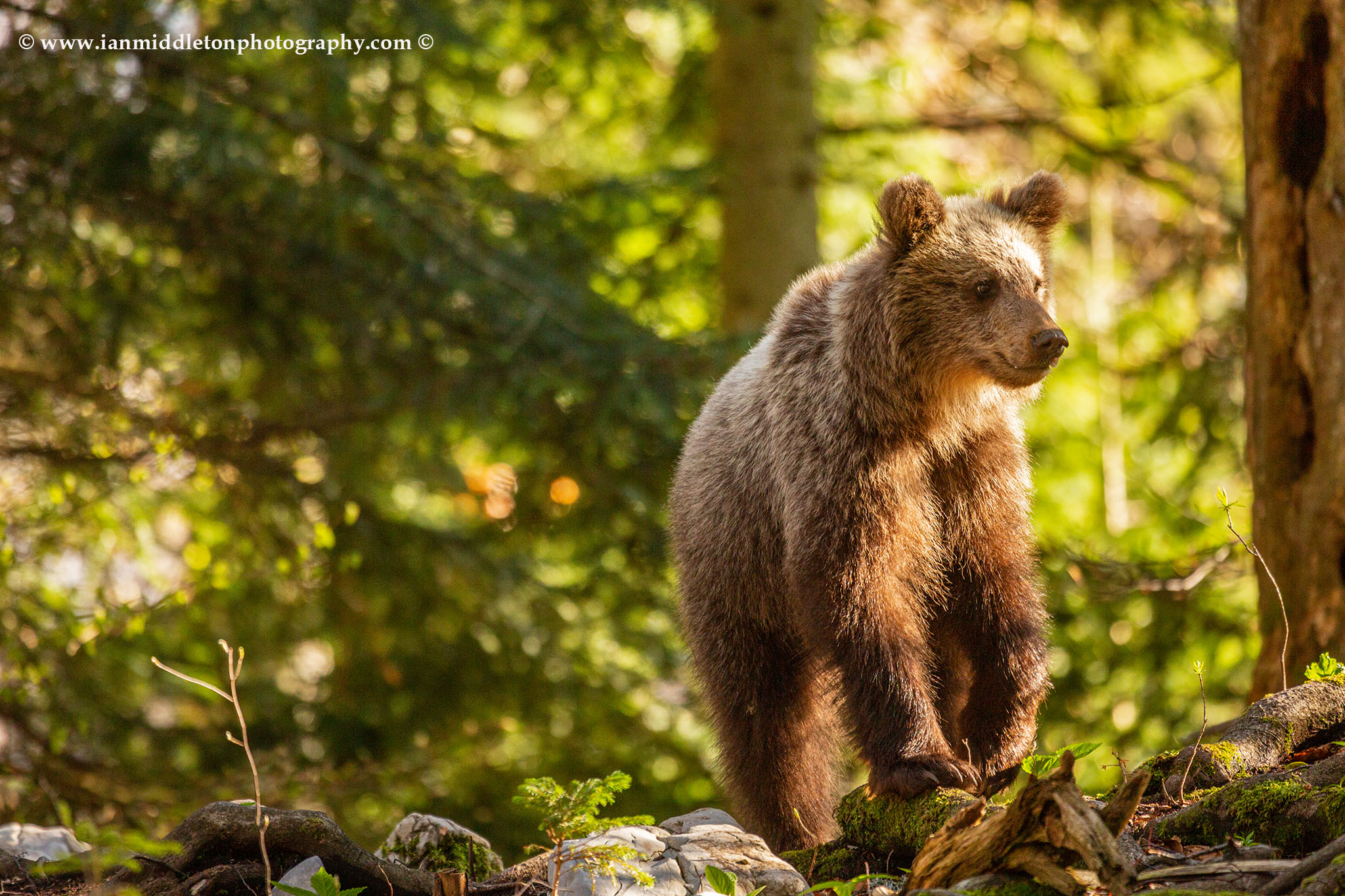 How to get the best photos
We entered the hides around 2pm, and at 4pm we got our first visitor, an adult bear. The morning rain had cleared away and now we had a lovely afternoon of patchy sunlight. The urge to start shooting was overwhelming. However, I heeded Miha's instructions and waited patiently for the bear to feel safe. It was clear that the bear was on edge, and you could see how it was alert and scouting the area to ensure it was safe. When it started eating, I started photographing.
This is where Miha's knowledge of photography pays dividends. The light was breaking through the trees and spotlighting the exact areas where the food had been laid out. The bear lifted his head high to smell the area, and beautiful soft light illuminated his face. My first shots were magical, and we had only just begun.
Shortly after though, something obviously spooked the bear and it ran off into the forest. Just goes to show how timid even the big ones are. However, this was just the beginning. A little while later, two bears came together and after settling down were obviously more at ease because they stayed for quite a while, offering numerous photo opportunities.
When they left, a short wait later our smallest visitor yet came by. Hard to say how old, but it was alone so maybe 2-3 years old. This cute little fella seemed to enjoy having the place to himself and also remained for quite a while.
Miha returned for us around 7.30. I had seen four bears that day. Apparently, unbeknown to me at the time, there were two more down to the left just before he came. I hadn't been able to see them from my hide, but the two Italians had. When Miha came he whistled and called out. Partly to tell us it was him coming, and also to warn any bears of his approach I assume. These two bears ran off when they heard him.
Bear safety
Bear attacks are rare, and in most cases usually the result of a bear being startled or someone getting between a mother and her cubs. This usually happens when people are not making any noise. Bird watchers are especially at risk because they are creeping around the forest trying not to disturb the birds. The general rule of safety when out walking in the forest is to be mindful of this and conscious of making your presence known. If you are with others, then talk. Walk with a heavy footfall. If you are alone, take a stick and bang occasionally on trees or branches or hang a small bell on your backpack.
Bears have an acute sense of smell and hearing, so it's highly likely they will smell or hear you before you see them; in which case they will move away. Going out alone to take photos is dangerous, and you risk startling a bear. Therefore, going with a specialised organisation like Slovenian Bears is the best and safest way.
As you have also seen here, you will be far more successful and able to photograph more bears than you would if you try it alone. Plus, you won't hurt yourself or any bears. It's important to remember that if a bear does attack a human, it's not only the person who gets hurt or killed, but the bear is then scheduled for termination and the hunters must track down and shoot it.
Do you really want to give yourself and a bear a death sentence?
Responsible tourism
Although Miha has 36 hides, they are not all in constant use. The Slovenian Bears ethos is to minimise the impact on the bears and their habitat. Therefore use of hides is rotated to ensure the bears have peace and quiet as much as possible. This also helps to ensure the bears get to know this location as a safe and reliable source of food, thus maximising the chance of their return and your chance of spotting them.
The best way to photograph bears
So as you can see, without doubt the best way to photograph bears in Slovenia is with Slovenian Bears for both safety and reliability. When it comes to viewing wildlife there is never a 100% guarantee, but Miha's superb setup ensures the highest rate of success.
For more information contact Miha Mlakar: Website: slovenianbears.com / Email: This email address is being protected from spambots. You need JavaScript enabled to view it. / Tel: 041 582081