A lot of journalists, bloggers and "influencers" are helicoptered into Slovenia for a short trip and then go home and to spread the good news about their travels, with liberal use of the terms charming, green, hidden gem, best kept secret and so on. But not all of them, you may be surprised to hear, appear to be any great match for the trip they're sent on, but that's not the case with Owen Clarke, a writer for Outside Magazine.
This is a title that, as the name indicates, focuses on the great outdoors and the activities it affords, and is the publication that helped the launch the careers of, among others, Jon Krakauer and Sebastian Junger. So its writers, editors and readers know what's what when it comes to hiking, biking, kayaking, climbing and more – the kind of activities that the Slovenian landscape really is world class in with regard to the opportunities it presents to get outside and have a good time.
The focus of Owen Clarke's trip was the newly opened Juliana Trail, which is a 270-km long circular route in 16 stages, with the highlights including Triglav National Park, Bled and Bohinj Lakes, Soča River Valley, Radovljica, Kranjska Gora and Pokljuka Plateau.
Source: slovenia.info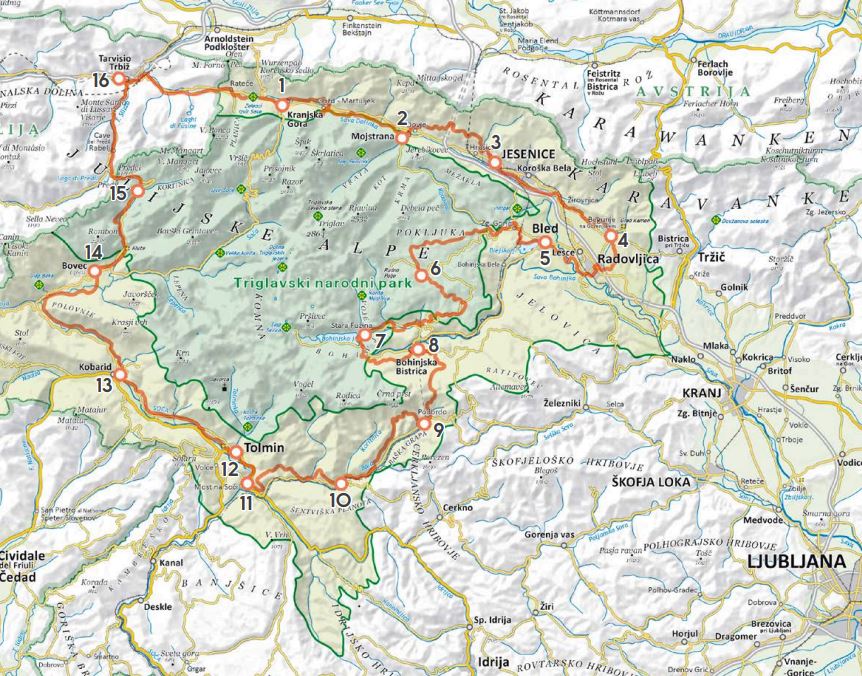 Source: slovenia.info
We wrote about this before, but from the comfort of an armchair, in a dressing gown, while Clarke takes the more traditional approach and gets fully dressed, leaves the building – in that order, like a pro – and actually walks the route, staying overnight in unfamiliar beds, his diet at the mercy of whatever he carries or finds on the way, be it stale bread, restaurant food or, as his story opens, what an old woman in Log pod Mangartom offered him: a meal of "meat, cheese, bread, and sweet wine until my stomach ached".
It's a story that's well worth reading to get a flavour of the trail, with lots of local colour and nice observations. For example, as Janko Humar, director of the Soča Valley Tourism Board and one the people who helped develop the route, tells Clarke: "The Julian Alps are an incredibly diverse region culturally. In the north, you will find communities which appear more Austrian, in the south, a style of life which is more Italian." But, as befits a writer for Outside, Clarke doesn't just talk to people and eat their cheese, but also notes the opportunities for climbing, canyoning and so on, and how the Juliana Trail can be used as stepping off point to other adventures – including historical as well sporting side trips.
It really is a great advertisement for Slovenia, and the Soča Valley area in particular, with Clarke concluding, in words to cheer the heart and encourage the more sedate armchair traveller; "The Juliana Trail won't be the most challenging hike you've ever done, but you won't find an experience quite like it anywhere else."
Finally, since the trail is best experienced in spring and autumn, now's the time to start planning a trip, if not to all 16 stages then at least to one or two. If you need more inspiration then you can read Owen Clarke's full story here and learn more about what you can see and do on the way, while the official trail website is here.