March 8, 2018
Damir Galijaš can still remember when his eyes opened to the world of craft beer after decades of drinking lager, a revelation from too few years ago that still makes his eyes light up and fills him with passion for his second career, after that of a translator and interpreter (working with Italian, Spanish, English and the ex-Yugoslavian languages) as a beer enthusiast and evangelist for the local scene.
He opened Že V Redu, Primož, a hole-in-the-wall place just off Trubarjeva cesta, Ljubljana, in 2016, moving last year to a larger store on the same street, and in early 2018 took the next step in bringing more interesting local brews to customers from near and far, opening the pub Pivnica Lajbah, as in Laibach, the old German name for Ljubljana, just a short walk from the Old Town.
Že V Redu, Primož Facebook page
I visited the store and asked a few questions about his business and the growing craft beer scene. At one point Marko, the famed owner of Sir William's Pub enters for a chat and a beer, to whom Damir defers as the pioneer of the scene, and it's clear there's a real affection and community here, less a rivalry than a friendly competition, with the players working together to build something they believe in and enjoy. Like the flourishing scene itself it's a beautiful thing, and something that's all the more delightful because it can be enjoyed in a bottle or glass, with friends who appreciate a good product, made and sold with genuine passion. My only regret is that I'm trying to drink less this year, and so can mostly participate as a spectator.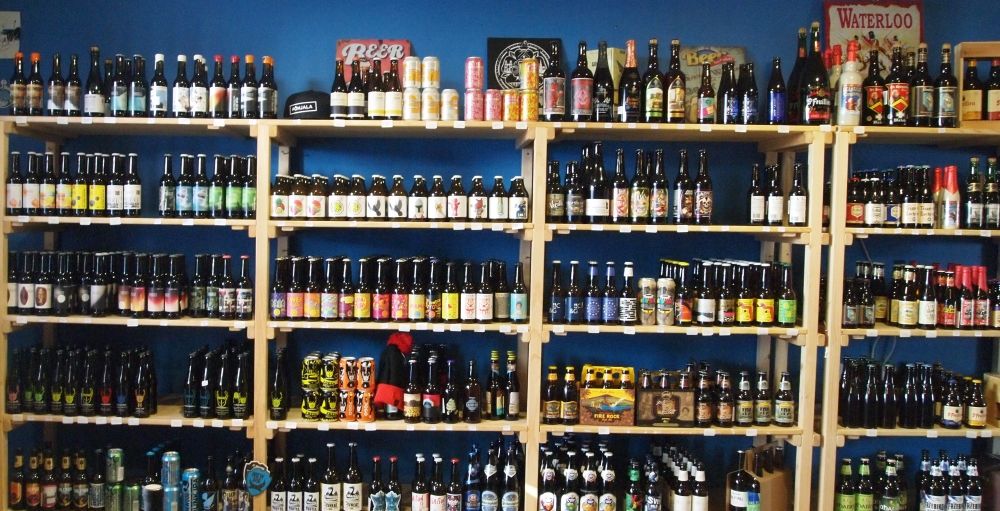 How did this all start?
The store will have been open two years in May. Like most of the people in the scene I tried a good IPA, and that was that, I was hooked.
Now my translation agency was good, but I wanted a new challenge and something more in my life. I wanted to go on the street, do something else. The first idea was bicycle tours, with craft beer at the end. But you need space for storing the bikes, and there were problems with that, so I thought maybe it was time for a beer store.
There was another craft beer store in town at the time, and a good one [Pivoteka Za Popen't], but they were focusing more on imported beer, maybe just stocking Bevog, Reservoir Dogs and a few local brews. And I also thought this is what Ljubljana needs, with the number of tourists growing every year. Because when I travel I always look for local beers, and visitors here are the same. So in the store we have one side all Slovenian beer, and the other side imported. Locals try 50/50, but tourists they want a Slovenian beer.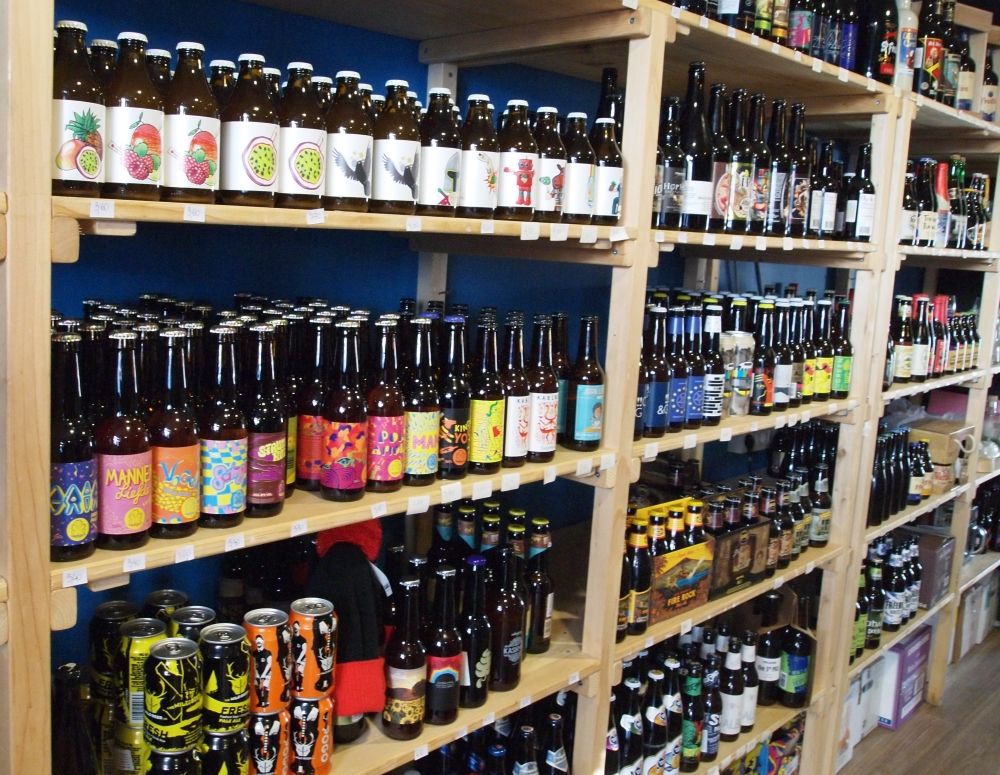 How have things changed?
In the last two years there's been an explosion in local micro-brewers. I remember when I opened, in 2016, the number was about 50, and now it's close to 100, officially, on the market. In the peak season I carry about 100 different local beers, and about 250 imported beers, from 15 different countries.
What's the response been like?
It's been great, to be honest, although it looks quiet today because it's the end of the low season, but in a couple of weeks, late March, start of April, that's when things begin. This year we'll have the Bevog tap takeover at Pivnica Lajbah for March 31. We have 16 taps there, and Bevog want 14.
In the store we carry a lot of bottles, so not everything can be the best, or rather, not everything is exactly to my taste, but in the pub things are on tap so it all needs to be outstanding, and luckily it's become easy to get 16 good beers on tap here. Today we have eight local, eight imported, plus bottles and cans. The imported beers are important for the local scene, too, as they show people, both brewers and drinkers, what's possible.
[Damir notes, as a side point, that there can be some resistance to cans by drinkers, even though they allow better storage than bottles.]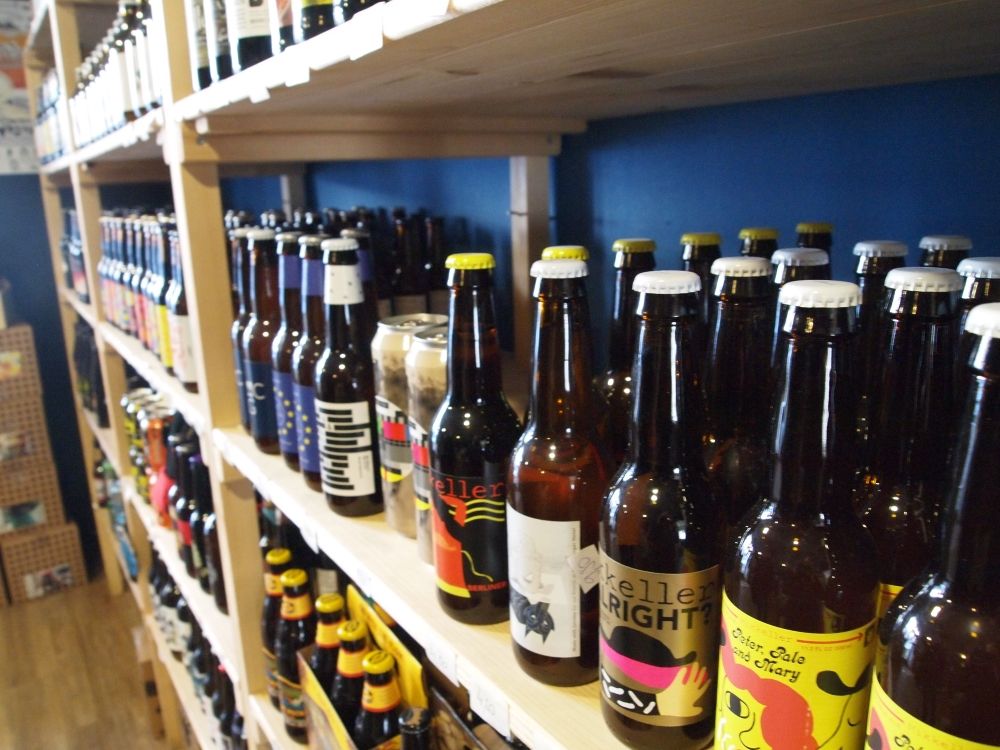 Do you get a lot of foreign customers?
Yes, and one thing that's very nice is how they're very interested in Slovenian beer, they want to try and buy local, and sometimes when they come by car they buy two cases, 50, 60 beers. And that's good, it's good for business, it's good for promotion, but for me too you have fantastic conversations. Especially with Americans, to be honest, because they have such a craft beer tradition. But all the customers, it's so cool, because nobody complicates things. With translation you work at a distance, but in the store, in the pub, people turn up, buy the product and enjoy it, and the immediacy, the simplicity of that, gives me a lot of pleasure.
Of course, with our selection and our pricing we attract a certain kind of customer, people who enjoy beer, who are interested in it, who don't just drink to get drunk. So that's how we planned Lajbah. But it's important to note that we have a real community and collaboration here, and Marko, for example, from Sir William's, he gave me a lot of advice, helped me choose the location, and we introduce beers to each other, send customers and so on. It's a beautiful thing, and actually quite rare in Slovenia, where people don't like competition. It's maybe just wine and craft beer that have this sense of community, although we'll see how that works as the market becomes bigger, and more crowded.
Pivnica Lajbah's Facebook page
The pub offers quite a lot of food, doesn't it?
Yes, it's important for that kind of place. One problem for me, because I don't eat meat, is that craft beers in Ljubljana have been so closely connected with burgers for the last few years, and that's OK, but I wanted to try something different with food, which is something we can do now at Lajbah. It's also based the feedback that I get from working in the store, meeting the customers, so I felt the time was right for something different.
My brother-in-law, he's Argentinian, and he manages the pub, also does some of the food. I mean we have snacks, like olives, pork crackling, and fried peanuts, but for food we have empanadas, some Argentinian sandwiches, not burgers, clams with chorizo and sauce, fish and chips, smoked ribs, chicken wings, and vegetable tempura. Oh, and three brilliant desserts. There's beeramisu, which is like tiramisu but the biscotti isn't soaked in coffee but a strong imperial stout, then there's crème brûlée with Belgian beer, and a cheesecake with some caramel from the beer as well.
So food is big part of the new place, but for me, personally, I spend a lot of my life, a lot of my time, and a lot of my money, on beer, and so I knew what I wanted for the pub. As a customer, I'd like a pub a little bit out of the tourist center, with a sunny terrace, a nice place inside, some music, good food, and the best beer. It's easy.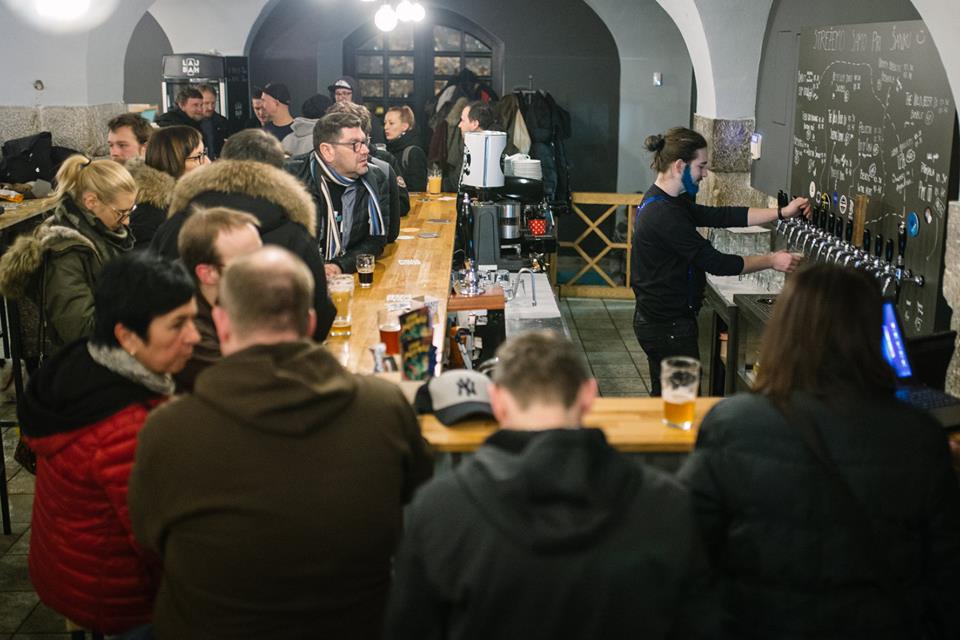 Pivnica Lajbah's Facebook page
What are some of the new beers here, and some of the favourites?
Well, now we are importing this Pohjala, Wild Beer, Oedipus, Brewski, next will be Beavertown which is one of the best European breweries, Stigbergets from Sweden, Nøgne Ø from Norway. The best-selling Slovenian beer here is Pelicon, then Reservoir Dogs.
For me, I drink everything. Really, there are so many good beers. IPA is still the most important style, and that's what everyone starts with, but the sour beers are coming up now, and those will be big in spring and summer, and go very well with food. But there are so many breweries now, doing so many different styles, I don't really have a favourite.
I mean, I had 25 years of travelling around the world, drinking crappy beers, and then I learned about craft beers, really just five years ago, so it's a still a fresh love. And the most important thing when you're starting something new is passion, and that's where places like mine come in.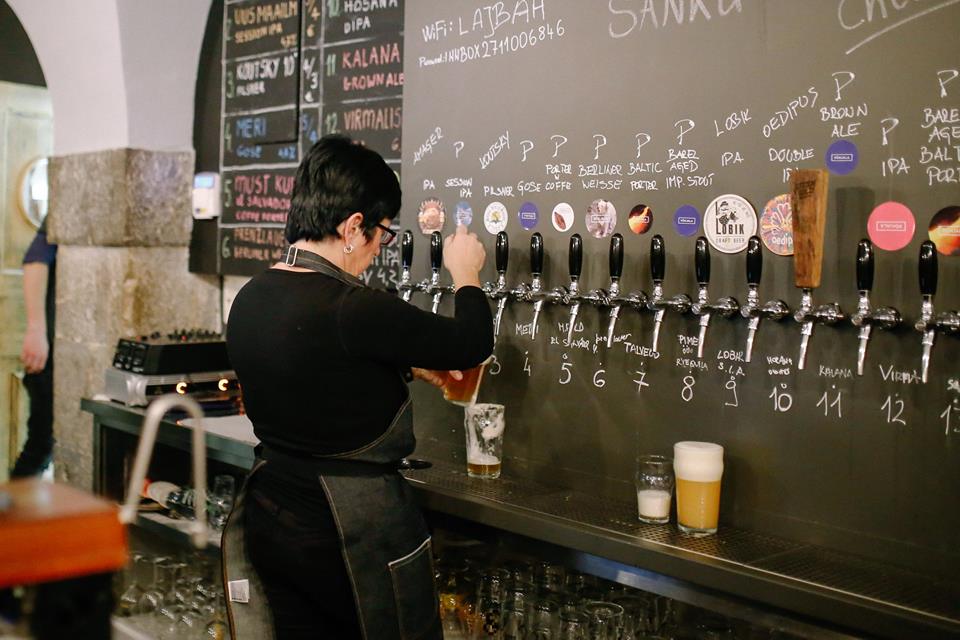 Pivnica Lajbah's Facebook page
What about the business side of the craft beer scene?
It's not easy being a brewer. It's not just making the beer, you need the containers, the labels, the promotion, distribution, website. And the authorities in Slovenia could make it easier. For example, the biggest Slovenian brewer, Bevog, where I think everyone who works there is Slovene, a totally Slovenian product, that's made just over the border in Austria, because the local government there understood what they were trying to do better than the people here. I think in 2016 they did 6 million in revenue, with just 1 million in Slovenia, so very successful, the main brand, but people who drink it in Sweden, say, for them it's an "Austrian" beer. But who cares? For us it's Slovenian, and that's why they'll do the tap takeover at the end of March.
That's another thing I like about this business – we need the brewers and they need us, so there's personal contact, and we are people who are dedicated, passionate. For example, we just opened the pub, so maybe we take a little longer to pay, but we have a relationship, they know what we're doing, so it works. And now it's spreading outside of Ljubljana, even small village pubs are starting to have some craft beers on tap, so it's an exciting time, and it's good to meet up at festivals and see what's new. And for me, personally, my girlfriend finally stopped breastfeeding a few weeks ago, so now she can finally enjoy all this beer I've been talking about.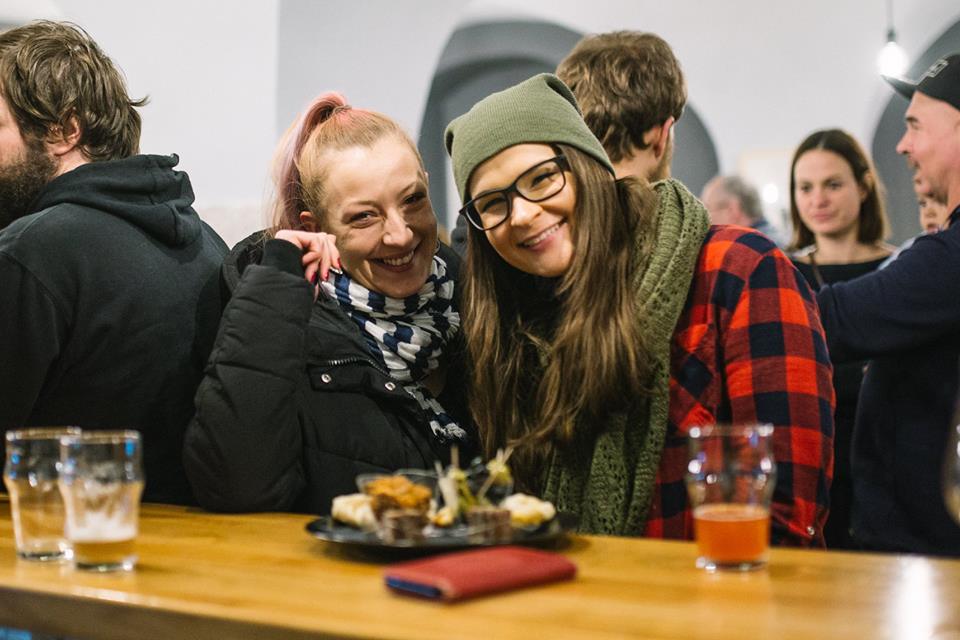 Pivnica Lajbah's Facebook page
You can learn more about Damir's work the next time you're in Ljubljana, visiting his store at 44 Trubarjeva cesta, or his pub at Grudnovo nabrežje 15.