Most visitors only spend a day or two in the capital, so what follows is a few suggestions on how to enjoy from four to 48 hours in Ljubljana, starting with the essential then going on to the more optional, and often more enjoyable, items. It's a personal list with an eye to pleasing a wide audience, so feel free to disagree and choose your own adventure - I've been living here five years, and am still not bored with the city.
Related: 25 things to know about Ljubljana
The locations named in the text – all except the Zoo are close to each other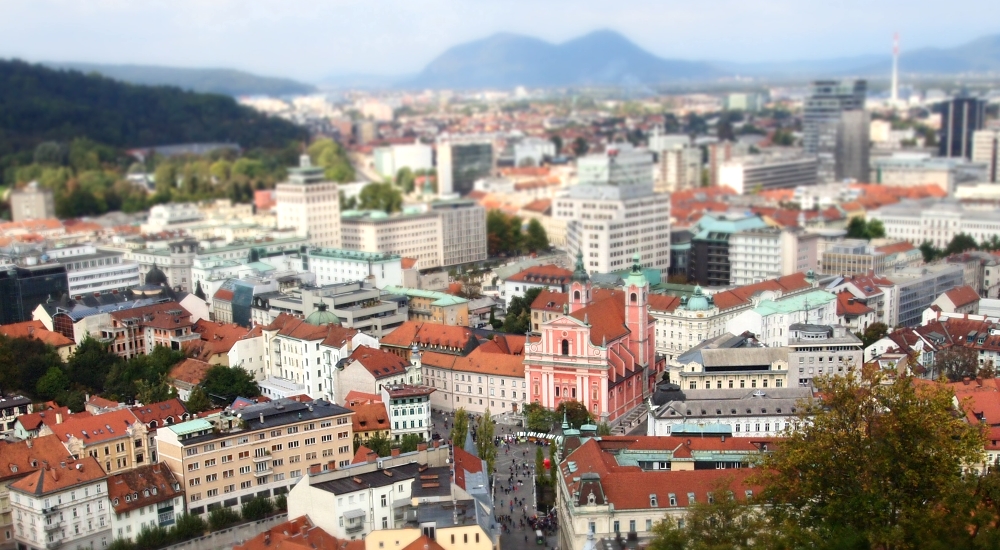 A view from the Castle: Photo JL Flanner
Essential Sightseeing in Ljubljana: The Castle and Old Town
If you only have a few hours in the city then there's really only two things you have to do, see the Castle (and Old Town. If you're able to walk then you can get to the Castle on foot in around 20 minutes and if not there's a funicular (3) that'll take you up and down a lot faster. But if you have the time and mobility then on foot is recommended, as you'll save some money and get some exercise, along with an idea of how well defended the place was when attackers would need to trudge up while being fired down upon.
Much of the Castle can be enjoyed without a ticket, but if you do buy one you'll get to go to the top of the tower for the best view in town, as well as entrance to various exhibitions. If you want to read up on the place beforehand, or while you're there, then check out our 25 things to know… or 10 ways to enjoy Ljubljana Castle.
The Old Town is basically a street that runs from the Central Market (4) to Gornji trg (5), with the whole thing lined with attractive buildings housing boutiques, restaurants and cafés. You can easily go from one end to the other, without stopping too much, in 30 minutes, but you probably want to pause and explore, especially some of the lanes. You should also make time to walk by the River Ljubljanica, ideally along both sides so you get to see the colourful and well-preserved mansions that give this part of town a very picturesque chocolate box look.
Everyone takes a picture at Dragon Bridge. Photo JL Flanner
Even if only in town for a half a day you'll also want to see Dragon Bridge (6), although be prepared to be underwhelmed. Far prettier, in my opinion, are Triple Bridge (7) and Cobbler's Bridge (8), and the best place to take pictures of both is from the easy to miss Fishmarket Footbridge, as outlined here.
Taking a picture from Fishmarket Footbridge. Photo JL Flanner
Things to do with 24 to 48 hours in Ljubljana
If you have more time in town then you can take in some culture, nature and nightlife, with plenty of options for all tastes, and all packed into or nearby the pedestrianised area.
"The best" is obviously subjective, so here I'll just focus on the museums and galleries with the broadest appeal and biggest collections. If you like art then you'll want to check out the National Gallery (9) and the Modern Gallery's main branch (10), both near Tivoli Park. The former has everything from the Middle Ages to mid-20th century, while the latter contains the nation's collection of modern art, with contemporary art housed in another branch by Metelkova. With regard to museums, the big two are the National Museum of Slovenia (11) and the City Museum (12), focusing on Slovenia as a whole and Ljubljana in particular, respectively.
Contemporary art at the Modern Gallery's Metelkova branch. Photo JL Flanner
Street art: Photo: Alternative Ljubljana
Metelkova (13), the city's graffiti-covered squat turned art space / autonomous area is worth visiting in the daytime to see the grittier side of the art scene, while at night it plays hosts to various music and performance venues. Note that unlike some similar looking places in Europe it's not an open (or legal) drug market, so don't go looking for trouble (or expecting it).
The Opera House is one of Ljubljana's many beautiful buildings. Photo: Wikimedia - Grega Pirc CC-by-4.0
For nightlife beyond cafés and bars there are plenty of clubs and live music venues, and a usual week will see these offering a broad range of music, from classical to techno, death metal to jazz, flamenco to dub, house music to experimental noise, with many all-night events, while there's also a ballet and opera house, along with a number of cinemas. For all of these the best place to find out what's on is TSN's very own What's on in Ljubljana this Week.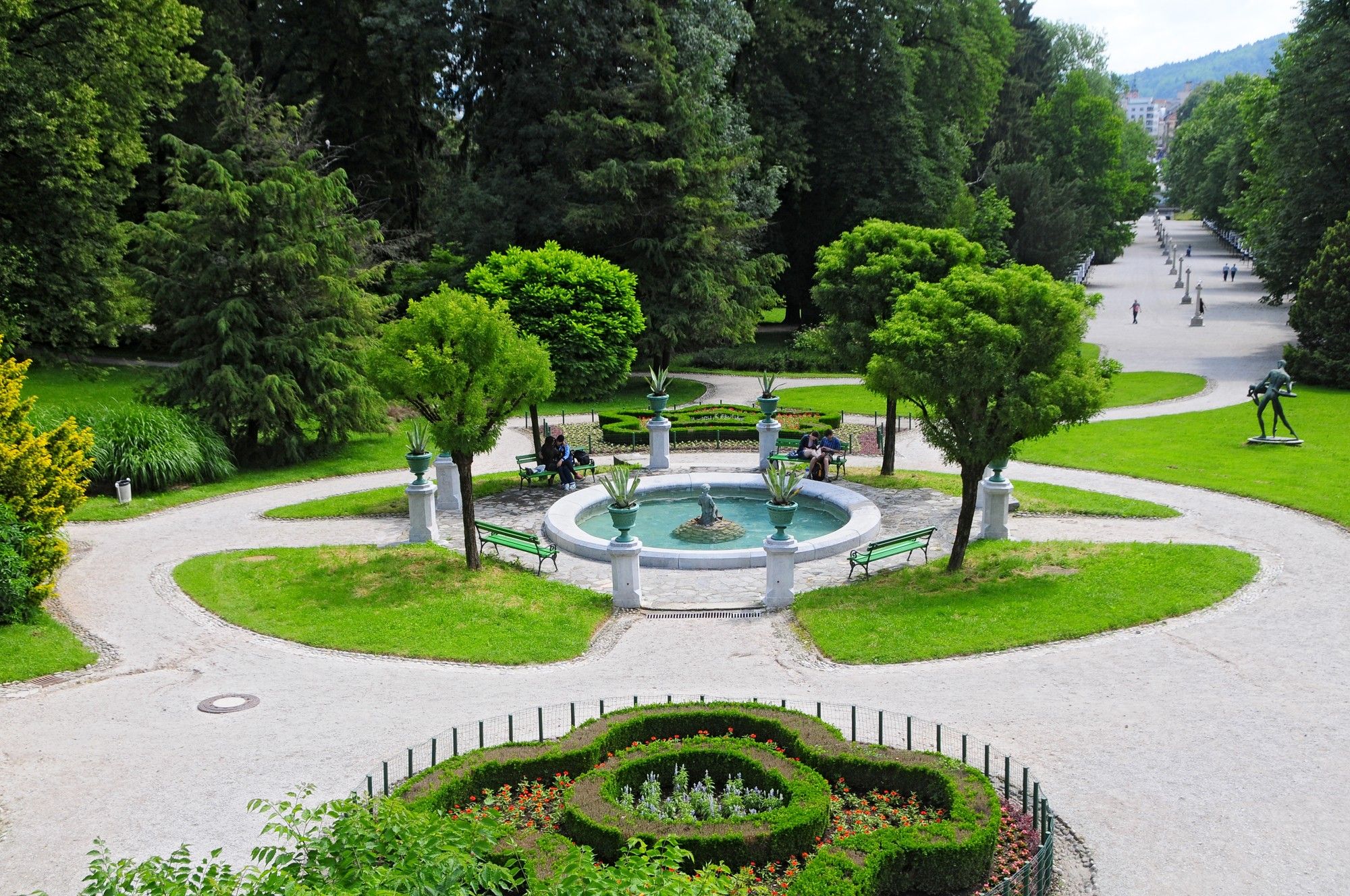 Tivoli Park. Photo: D Wedam for Visit Ljubljana
If you're the kind of traveller who likes to walk or run then you have several options. Going up and down Castle Hill will certainly get the blood pumping and air in your lungs, without taking you off schedule, while if you want something longer then head to Rožnik Hill in Tivoli Park, with both areas having plenty of paths and trails to explore if you want to go jogging. The river can also be walked along in both directions, although going upstream is the more scenic route.
Further upriver. Photo: bananaway.eu
For children, in addition to the Castle, consider trips to the Puppet Theatre (near 3), the very popular Museum of Illusions or Ljubljana Zoo (13) (I haven't been, but also haven't heard bad things). Check out our obligatory Top 10 things for kids in Ljubljana story here.
Photo: Open Kitchen
Fine dining, street food and cafés in Ljubljana
If you want to eat "the best" then you can head to a review website and find something to your taste. The names that come up most with regard to fine dining are Strelec (in the Castle) and JB (14) on the architecturally interesting Miklošičeva Street , although check the prices before sitting down. Cheaper options are easy to find, and while Slovenian food is good there's no real "must-eat" dish to put on your schedule, so relax and eat what you want. If that's "ethnic food", then head to Trubarjeva cesta (15) . If hungry after midnight then your options are very limited, but a few places can be found here. If visiting in the warmer months, and on a Friday, then don't miss Open Kitchen in the marketplace next to the Cathedral.
With regard to cafés and bars, the best thing is just to find somewhere with a free table that looks like your kind of thing, order a drink and settle down, as with most of the places you get what you see or hear from the outside.
Photo: JL Flanner
Tourist shopping in Ljubljana
Ljubljana isn't known for its shopping, with most of the more functional stores out of town at the massive BTC shopping complex, which isn't really worth visiting if you're a tourist. No, if you're just looking cute boutiques and places to pick up a souvenir then the Old Town will have you covered, while if you need any toiletries or stationary then head to Müller (16), on Čopova (near the McDonald's).
If you need prescription drugs, or even just aspirin, head to the Lekarna (17) in Prešeren Square (the one with the big pink church by Triple Bridge). When I travel I like to visit supermarkets, both to pick up some snacks and drinks for my hotel room, and to get some idea of the local products on offer. The two main chains in town are Spar and Mercator, which you'll come across just walking around. However, note that while this is a capital city there are no 24-hour, or even very late night, convenience stores, so do your shopping before 20:00 or risk disappointment.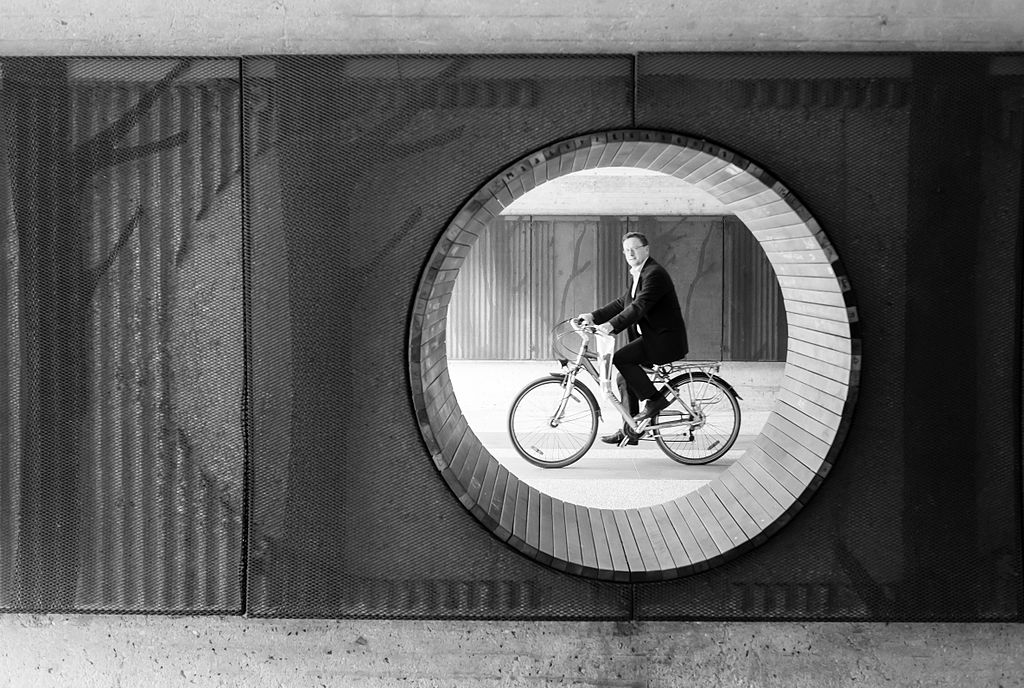 Photo: Wikimedia - Thomas Geiregger CC by 2.0
Getting around Ljubljana
Everything is within easy walking range, if you find walking easy, although if you want to experience the city "like a local", and see more, faster, then rent a bike. These can be borrowed from the city's Bicikelj system, but can also be rented from various hotels and hostels, so if you're spending the night somewhere ask there. There are city buses, but if you're only in town for a day or two then you're unlikely to need one.
If you're in a wheelchair or less mobile than you'd like then don't worry. Ljubljana is an old city, and there are still steps in many places, but the municipality is also working hard to improve accessibility. The best way to learn about this, and to find out which places have ramps, where the Eurokey bathrooms are, and so on, is with the Ljubljana by Wheelchair app.
In short, whether spending four or 48 hours in Ljubljana there's plenty to enjoy without feeling too rushed, and if you're a first-time visitor then I envy the pleasures of discovery that await you.